Picnic: A Love Story
Posted at Jun. 17, 2011 at 11:52 AM

My mom has a vintage picnic tin that was stocked for most of my childhood with homemade potato salad, chocolate chip cookies and egg salad sandwiches. I have watery, foggy summer memories of picnics at lakes, under trees and near streams. I even remember eating corn on the cob in the woods with my grandparents. In my mind, it's as if I am viewing that memory through the kind of yellow tint that makes it seem like a 1970s memory scene in a movie.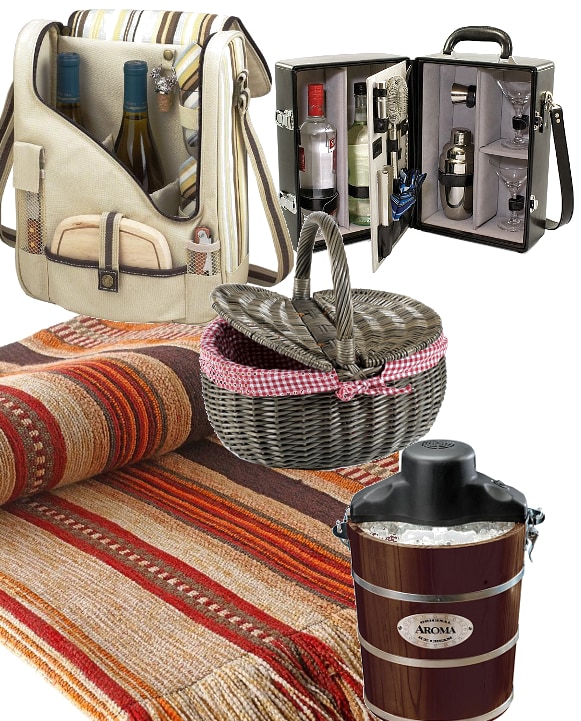 Wine tote, cocktail case, ice cream maker, colorful cotton blanket, picnic basket
This summer, I am determined not to let a weekend go by without attempting to create the perfect outdoor dining experience. The first thing I must do is stock up on gear. This adorable picnic basket will put me in an adventurous mood. I will fill it with breads, salads and cupcakes. When cupcakes aren't available, homemade ice cream does nicely. Any established park should have an electrically wired pavilion for this wood barrel ice cream maker. As I sprawl out on a colorful cotton blanket, I'll want opulent beverage service. Wine is usually my drink of choice. This cute insulated tote can hold up to three bottles of wine, as well as glasses, tools and a cheese board. Though a martini seems a bit much for a warm afternoon, I can't seem to pass up this darling retro Manhattan cocktail case. Open the handy train case to reveal glasses, bar accessories and space for liquor and cocktail mixes.
So who's in? Should I double my cupcake recipe? Do you opt for classic picnic food or get more creative?
Posted by Maegan Crandall