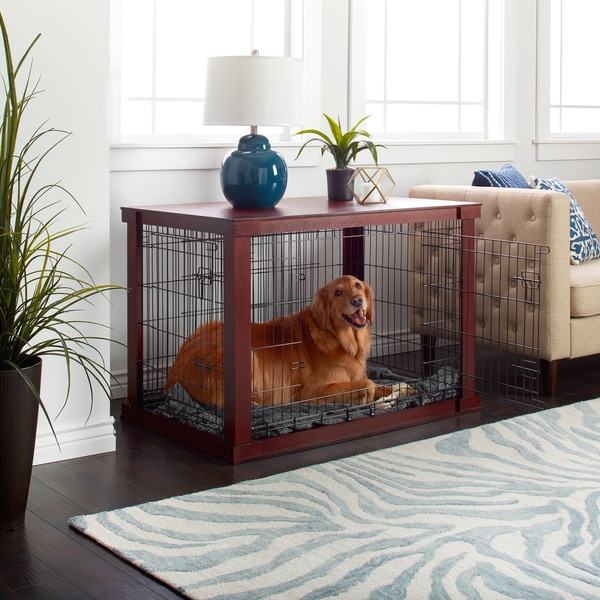 I am so happy I chose this crate after searching for the right one. It is well made and sturdy. I finally have a crate that looks fantastic in my family room, and Bandit loves his new home!
...
This user earned $2.00 in rewards for writing this review.Learn More
Details
ITEM#: 13391514
Crate your pet without creating an eye-sore when you use this wooden pet crate by Merry Products. The crate is crafted from durable, solid wood veneers in a dark brown finish, and features a powder coated steel cage portion, combing practical application with style. The crate can double as a side table, and includes a removable plastic tray for easy cleaning.
Features:
Won't limit your pet's visibility
Removable plastic tray for easy cleaning
Made from durable solid wood veneer and powder coated steel
Lovely dark brown finish
Available in small, medium or large to meet your needs
Small crate is designed for pets up to 25 pounds
Medium crate is designed for pets up to 50 pounds
Large crate is designed for pets up to 100 pounds
Includes a secure latch door closure for safety of your pet
Small Dimensions:
Internal: 24 inches long x 19 inches wide x 18 inches high
External: 27 inches long x 22.5 inches wide x 20.5 inches high
Medium Dimensions:
Internal: 30 inches long x 21 inches wide x 19 inches high
External: 32.5 inches long x 23.5 inches wide x 21.5 inches high
Large Dimensions:
Internal: 42 inches long x 30 inches wide x 28 inches high
External: 44.5 inches high x 31.5 inches wide x 30 inches high
Assembly required
Specs
Features
Style
Traditional
Material
Wood
Finish
Mahogany Finish
Pet
Cat, Dog
Color
Brown
Set Includes
1 Piece
| | |
| --- | --- |
| Dimensions | See details |
| Warranty | 1 year Limited Manufacturer |
| Model Number | MPMC001 |
| Country of Origin | China |

Most Recent

I am so happy I chose this crate after searching for the right one. It is well made and sturdy. I finally have a crate that looks fantastic in my family room, and Bandit loves his new home!

Read More

Great product. Easy to clean. Bigger than expected

Read More

Very nice, easy assembly quality piece. Everyone who comes in to my house has said how much they like it. I use it as an end table goes so well with my other furniture.

Read More

Beautiful Piece of Furniture

My last dog crate appeared to always be in the way and an eye sore. When I found this one I knew I had to try it. I am glad I did. It is a little smaller than my previous crate (large) but my German shepherd mix has plenty of room still. We had it but up in just 10 minutes. There wood casing fits it perfectly and is beautiful sitting in front of our window. No longer an eye sore and we have gotten tons of complements this holiday season from guests. Well worth it.

Read More

My uncle's dog loves this crate. He often just sits in there without anyone telling him to go inside. It also looks good as an end table in the living room, nice piece of furniture.

Read More
Most Helpful

Good value, easy assembly

This is certainly more attractive than a conventional crate, and the furniture top gives it convenient dual functionality. Mine is doubling as a bedside table and puppy retreat/house training aid. The slide out plastic tray and the wire divider make it particularly valuable in house training. The divider can be used to make the puppy's area smaller and decrease the chances of her soiling her den. Having doors in both the front and side is also a convenience. Assembly was a breeze. This isn't the sturdiest crate I've ever seen, although that should not be a problem for a dog used to crating or a young puppy, like mine, who will grow into it. It's also not hugely portable, and I'll probably be buying another crate for travelling. I priced other furniture style crates, and this is a great value.

Read More

I just adopted my first dog, a 4 month old lab. I refused to buy a plastic crate that'd look tacky in the home. Boy, am I glad I didn't settle for a plastic crate. For just a few extra bucks I got a cage that looks nice and my dog is comfy in! It's a large cage and makes for a great end table! We keep it next to our desk and have put the printer on top of it. This product is easy to set up. There are no screws, you do not need tools. You unfold the cage and it pops up into a rectagular cage. So for travel purposes, all you do is pop off the wood on the crate and fold the cage down. When the cage is folded, it has latches on the side so it doesn't come unfolded. I keep seeing complaints about the front wood part coming off. That wood is the only part of the crate held together by magnets, and that;s why it comes off easily. But, I promise you that is no big deal unless your dog is extremely rambunctious. All of the other wood parts connect together. My only compaints are the doors are fairly small, so my lab was a little hestiant to step into a metal hole. But, after a few treats, she didn't notice the small door anymore. The first night, she slept all night in her cage and didn't make a peep. It is definitely a cage she can grow into for awhile. It has a separator that is easily removeable when your dog grows into the cage. She will only have a cage while she is potty training, but I assume she'll outgrow this cage in two years? It's big, but labs (I think) are bigger when they are full grown! This is my first product review. I am honestly so pleased with this buy, that I felt it necessary to spread the word! Your dog will love you for buying this!

Read More

You will NOT say "woof" seeing this!

I did not want my dog living in Alcatraz. Every crate I saw looked like the space a prisoner uses when they are locked away and have rec time. I have a, 1,100 sq ft apartment (not too small, but not big enough to have an ugly eyesore as a perm piece). The crate was going in my bedroom--I needed something that would be attractive AND useful. The top is sturdy and can handle books, plants....unless your dog is nuts in the crate and is whacking the top....I think it's okay to put goods on there. Really enhanced my room---and I feel good that my dog is going to have a lovely crate to chill out in. It's a lot of money---but if you are going to have the crate for a decade or so---it really is worth owning something nice. My dog is a dutch sheepdog---will weigh 42lbs---I'd say he's the size of a Springer Spaniel. The medium would have been too tight a fit. This is NOT made of genuine wood---think Ikea (if they block the brand name think of the massive superstore from the Netherlands that has a blue and gold theme) wood. So it chips and scratches if you are not careful. Mine arrived dented and scratched---Overstock was lovely and has dispatched a new top, sans charge. If you take the wood away from the crate (it's easy to set up--but not meant to be assembled and reassembled) it has a collapsable cage. If you want to do this once in a while, cool. But, this is not a portable crate. This is meant to stay in one neck of the woods in your home. I looked on other sites and the prices were more expensive for the same piece---what makes this the sell from Overstock specifically is the base shipping no matter the weight and the lack of sales tax. That's where you will save--some sites wanted 60plus dollars just for shipping and CA has a 10% sales tax. Enjoy....I think my dog will ;)

Read More

Useful and attractive dog crate!

I got tired of running into my dogs big metal cage, and tired of looking at it too! We got this cage in order to hide the dog cage a bit! It was a great choice, I had looked at several different "decorative dog crates" and a lot of the other ones did not even come with the cage! This one came all together and was really easy to put together. All of the pieces fit snugly and the last piece you put on is held in place with a really strong magnet so it is easy to take apart when necessary. I was initially concerned that this piece would fall off but it has not moved at all since I put it together.

Read More

We have 3 dogs, so we purchased 3 of these crates. These are wonderful! I always had a hard time trying to fit the pet boxes into a room, and these are perfect to use as side tables or just anywhere into a room, they are good quality, easy to clean and our pups love them! I would recommend them to everyone who uses crates!

Read More
Q:

"Can you remove the door and just use as a bed?"

A:

No, it really is a crate. You can just leave the door open but not really remove it.

Q:

"what are the dimensions for the medium crate?"

A:

Medium: Internal dimensions of the medium crate are 30 inches long x 21 inches wide x 19 inches high External dimensions of the medium crate are 32.5 inches long x 23.5 inches wide x 21.5 inches high

Q:

"My dog will weight approx. 110 pounds when fully grown. Will the large crate be big enough to accommodate her?"

A:

The large is 42 W x 28 D x 30 H.

A:

Sorry . but no you need a larger one

Read more Read less

Q:

"Does the medium crate have a divider?"

A:

Yes. ours did..it's a very lovely cage...we keep it in our office and it looks like furniture...our Cavalier King Charles also loves that it has a top, I think she feels protected as opposed to having an open crate on top.

Q:

"What cushions do you sell to fit inside the crate ?"

A:

I just bought 42 in cushions at a dog show. Cushions for a regular 400 dog crate

Q:

"My puppy will get between 20-30 lbs. full grown, should I purchase the small or medium size?"

A:

I have 3 of these. My male Mini Schnauzers about 20 lbs. have plenty of room in medium to sleep eat and have a bowl of water hung on the side of the crate. My female, 16 lbs., has a small and there is plenty of room for her and those activities as well. If your pup is going to spend extended periods and eat in the crate my suggestion would be probably a medium. It does come with a partition that can be used while he is growing. Hopefully that helps.

A:

My pup is 23lbs and the medium is just big enough for him to sleep comfortably. If you want extra room for food and water, get the large. But don't go smaller than the medium.

Read more Read less

Q:

"I purchased the medium crate to have my two pugs room together. Is there bedding for these crates available?"

A:

At this time, we do not have bedding designed specifically for this crate.

Q:

"Does the wire portion of the crate work on its on and/or collapse?"

A:

Yes it collapses and the wooded corners are not glued to the crate which makes it easy to take apart.

Q:

"According to the questions only certain sizes come with the divider? Is that correct? Does the large crate come with a divider?"

A:

No The large crate has no divider. For me it worked out great since I have two Jack Russell's who are unseperable. They love the crate and sleep there at night.

Q:

"Hi! I'm getting two York terrier puppies and would like them to sleep together. I like the fact that this crate works as a training aid with a divider (not shown) to separate the spaces they sleep and poo in. Reading some of the reviews it sounds like the crate is very unstable?. I want to make sure that the puppies are safe in it and that it will not collapse on them. Secondly, if I were to pick up the crate to move it to another location is it's going to collapse or with it be easy enough to move to another room without un-assembling it? Does the crate rattle? thanks!"

A:

The crate its self is sturdy. There is a wood base, 4 woos legs and a wood top. Once it's put together it is sturdy enough. It is kind of a pain to put together though so I wouldn't suggest moving it once you have it together. I didn't use the divider. There is a plastic tray that slides out of the bottom that makes for easy cleaning. The only time the crate rattled was when the dog scratches on it wanting out. The crate itself can be moved without fear of collapse. I also like that it has a door on the side as well as the front. I would buy it again if I got another dog.

A:

The actual crate is fine the wooden part that surrounds it is unstable.but if it will be staying in one place and not moving it around it's fine

A:

Hi.....the crate itself is sturdy, but the wooden trim is not. As soon as we move it (even to slide it a few inches) the wooden trim falls off. It is held with magnets. My Husband wants to use screws to hold the wood in place. If you do that, it should hold together better. I don't think it would ever fall apart so that my pup is harmed, but if you want to move this around your house it will be a hassle. The crate doesn't rattle unless my pup wants out. And all crates do that.

A:

The crate doesn't move easily. The wood surrounding the crate tends to fall off. The cage part is fairly solid - our bulldog hasn't escaped or plowed his way through the wire part yet - though we did have to wire tie the side entrance door because he figured out how to open it. I think it would be fine for yorkie puppies, though the metal crate part does rattle a bit.

Read more Read less

Q:

"Hello, I wonder if this item (size-medium) is still available for shipping? Also I would like to ask if you can ship this item as a gift for my friend and do not include any price tags for this order? And how fast can you send this item? Thak u!"

A:

You can find the options we currently have available by using the options drop down menu. To find out the shipping estimate, please use the delivery estimates tab.

Q:

"what are the sizes of crate trays that go inside these crates?"

A:

Standard, depending on the size crate you order. It's a regular dog crate underneath the wood and comes with a tray.

A:

We have the medium crate. It came with a 29 x 18 removable tray.

Read more Read less

Q:

"In the picture, this looks to have a double door system, front and side. Is that correct? I did not see anything about that in the description."

A:

yes, this has two doors one in front and one side door.

Q:

"My 7lb Maltese/ Poodle gets a little antsy/ and likes to try and get out of her cage. Is this secure on all sides? Top is secured and not just resting on the structure?"

A:

The top is not attached, but unless your Maltese is pretty tall and strong, I think it would be hard for him/her to knock it off unless you order the smallest size.

A:

It is scure on all sides :) I have 2 small dogs the same size as yours and it works great! I did buy the largest size so they would have room to walk around and I also can put a small water dish inside the cage. It is also very good looking for a dog cage.

A:

It is a regular wire crate, so that is what the wood top rests on. The crate is beautiful. Really looks nice in the room.

A:

I have a cocker spaniel pup, weighs 9 lbs and gets a little frisky. She stays in her cage at night and sometime during the day and I have never had a problem with her tearing up the cage. Looks great in room as an end table. Would recommend this to anyone who needs their pet caged while at work or at night.

A:

I fostered a large boxer mix who became ill with pneumonia shortly after I got him. I had to keep him crated and had the bigger size of this crate. he was actually taller than the crate, and, as he improved, was pretty restless in the crate, although the vet told me to keep him crated except for occasional trips outside. He was never able to unseat the top or do anything to damage or unseat any part of the crate.

A:

The crate (metal) is secure on all sides, top and bottom. there are two latched doors; one on the side and one on the end. I'm sure your dog will be safe and secure inside the crate without worry of escaping. The wood structure is assembled on the "outside" of the fully contained metal crate. Very safe.

Read more Read less

Q:

"The last furniture crate I ordered has the wooden slats at the top for the dog to see through. Sophie is about 30 lbs., and the second time in the crate she chewed out a couple of the slats and was waiting for us at the front door. The item is damaged so I can return it. Does this furniture crate have protected interior wood pieces so they can't be chewed? Thanks so much. "

A:

You will be contacted by Customer Care. Have a great day.

Q:

"I am getting a cavalier king charles spaniel. it will weigh 13 to 18 labs when an adult which size crate is appropriate. What is the measurement for that size crate. thank you. Ginny"

A:

Hello ginnyq, you would need a large size for your cavalier king charles spaniel. I hope this helps. The external dimensions of the large crate are 44.5 inches high x 31.5 inches wide x 30 inches high. Have a great day!

Q:

"I have two poodle puppies who are tiny now but will be 8-10 pounds each. What size do you recommend? I'd like to crate them together."

A:

Hello KES, I would recommend a medium size crate so that each dog will have room to turn around etc. Please let us know if you have additional questions. Thanks for shopping with us!

Q:

"Is the direction of the door opening optional or is it only built to open one way?"

A:

Hello blsnet14, the door cannot be reversed. Thank you for shopping with us.

Q:

"what size for a 65 lb boxer"

A:

Hello lynette, for a 65 pound boxer, the largest size may be the most appropriate option. It really depends on the actual size of the dog. Thanks for shopping with us!

Q:

"Does this crate collapse relatively easily for storage once you're done with it?"

A:

Hello penni, this pet crate is not collapsible. Thank you for shopping with us!
Shopping Tips & Inspiration
Shipping & Returns
Contact Information
Shipping:
Usually leaves our warehouse in 1-2 business days. *
Shipping Information:
Our standard shipping method is ground shipping. We also offer expedited shipping for most items. Your final shipping cost and estimated delivery timeframe will be available at checkout.
Standard shipping details
Expedited shipping details
Standard Return Policy:
Items must be returned in new or unused condition and contain all original materials included with the shipment. More Details
FINAL SALE EXCLUSION: Items marked as FINAL SALE are not returnable unless the problem you experience is the result of our error.
For your protection, all orders are screened for security purposes. If your order is selected for review, our Loss Prevention Team may contact you by phone or email. There may be a two business day delay to process your order.
** Most Oversize orders are delivered within 1-4 weeks. Some orders may take 6 weeks to be delivered.