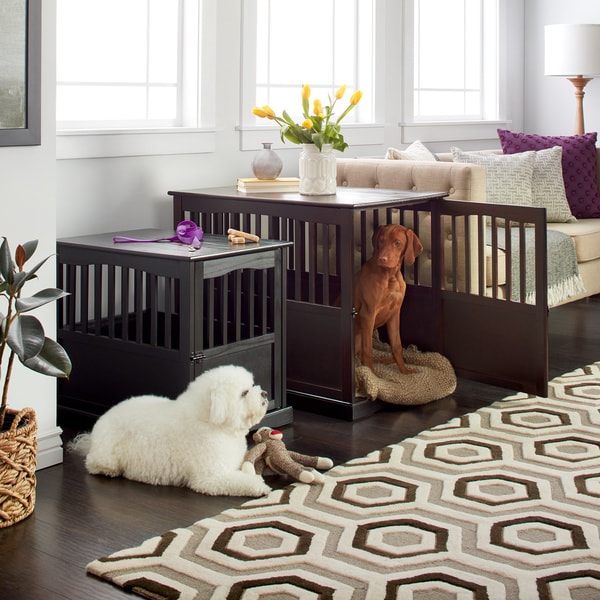 Purchased this end table/pet crate to accommodate my aging Frenchies. My oldest gal likes the enclosure. It fit nicely with my decor. We didn't add the door until a bit later. And it functioned very well. Wood withstood her itching her chin on the edge. I have 2 young boys and the top withstood Legos, cars, occasional spills, and crashing lamps.
...
This user earned $2.00 in rewards for writing this review.Learn More
Wooden End Table and Pet Crate
Details
ITEM#: 15293900
Our solid wood Pet Crate End Table provides a cozy, private spot for your pet to sleep and relax. Strong lockable gate door allows for peace of mind when you are away from home. Rich finish/color options allow you to incorporate it with your other home furnishings.


End table design gives this pet crate a native feel that blends
Lockable gate for your peace of mind
End table style top provides an additional storage space
Suitable for non-chewers
Solid wood construction for increased durability and longevity
Color: Espresso, black
Light and easy assembly
Weight small: 28.25 pounds
Weight large: 41.75 pounds
Interior dimensions: Small: 21 inches high x 16.5 inches wide x 24.25 inches deep
Interior dimensions: Large: 26 inches high x 21 inches wide x 33 inches deep
Overall dimensions: Large: 27.75 inches high x 24 inches wide x 36.5 inches deep
Overall dimensions: Small: 24 inches high x 20 inches wide x 27.50 inches deep
.

Click here to view additional information about this small item

Click here to view additional information about this large item

Specs
Features
Style
Traditional
Material
Wood
Finish
Dark Mahogany Finish
Pet
Dog, Small Animals
Color
Black, Brown
Set Includes
1 Piece
| | |
| --- | --- |
| Dimensions | 27.5 In. X 20.0 In. X 24.0 In. |
| Warranty | 30 day Limited Manufacturer |
| Model Number | 600-XX |
| Country of Origin | Thailand |

Most Recent

Purchased this end table/pet crate to accommodate my aging Frenchies. My oldest gal likes the enclosure. It fit nicely with my decor. We didn't add the door until a bit later. And it functioned very well. Wood withstood her itching her chin on the edge. I have 2 young boys and the top withstood Legos, cars, occasional spills, and crashing lamps.

Read More

Great quality, but my dog wouldn't go in

I wanted a nice looking piece since it's in the living room. Our dog loved her metal crate, but wouldn't go in this one even to get a treat. I think it may have been because she couldn't see out of it since the sides are solid. I did sell it on Craigslist for the same price I bought it for, so nothing lost!

Read More

Multi-Functional and Stylish

The end table crate is the perfect way to turn an unwanted eye sore into a decorative piece. No one ones an ugly dog crate sitting in the middle of the living room floor. This table solves that problem as the crate is barely noticeable!

Read More

Easy to assemble.great quality for a good price.

Read More
Most Helpful

The old adage, "You get what you pay for" applies, but not in a sense of being taken advantage of. The product looks very nice, and it is a value to get something completely made of wood at this price point. It has been an eye sore to have a full wire kennel and a full plastic kennel in the family room for the past couple of years. It is a relief to have a nice looking kennel in the corner between our couch and love seat that can easily be glanced over as a nice end table. In regards to assembly, be gentle unpacking the pieces from the box. Since the item is already pre-fabricated, the large side pieces are not very substantive and gain their durability as part of the complete assembled box shape. My only issue was with the order of the steps in the asembly instructions. The instructions indicate that the sides should be attached to the bottom panel first and that the top be attached last. Since the holes for screwing the top onto the sides are inside the finished kennel, you either have to lay on your back inside the kennel to reach the screws, or you have to squeeze your hands through the slats and deal with the allen wrench at difficult angles. The step of securing the top was by far the most time consuming, awkward, and at times painful portion of the assembly (my wrists got stuck between the slats trying to manipulate the allen wrench from outside the box, and my back was sore from laying over the lip on the floor panel while trying to complete the assembly from inside the box). Therefore, I strongly suggest that you carefully attach the sides to the top panel first so that you have much easier access to the screw holes. Add the bottom panel while the tops and sides are laying upside down. The access to the screw holes for the bottom panel will be incredibly easy since they are exposed from the outside of the box -- no crawling inside nor sticking you hands through slats.

Read More

This crate was difficult to put together, but it looked nice.....until my dog chewed through the bars. The wooden crate is not a good idea for pups but if your dog is already trained it should work out for you.

Read More

Just what I was looking for!

My 85 lb. golden is terrified of thunderstorms and fireworks, and tries to squeeze himself under my bed. I was looking for a place for him to "hide" when he gets nervous, but didn't want a traditional crate in my room. This crate is perfect! I did not install the door, since I want my dog to be able to go in and out. He is not crate trained, so it took him about a week to warm up to it, but after lots of cheese treats, he is sleeping in it every night. *DO NOT FOLLOW THE INSTRUCTIONS WHEN PUTTING THIS TOGETHER! - I had no trouble assembling this crate by myself. Thankfully, I had read the reviews that said NOT to follow the instructions when putting it together. Attach the sides and back to the TOP first, then turn it on it's side to attach the bottom. If you assemble it following the instructions, you will have crawl inside to attach the top, or try to fit your hand thru the bars.

Read More

I should have read the reviews on this first. I was looking for an affordable wooden crate for my German Shepherd and thought that this was it. When it arrived I was immediately disappointed in the plywood sides, not wood sides like it appears in the picture. While assembling I realized that the pre drilled holes did not match up on one side. It was a pain to put together and took two people. Also, the wooden bars on the side are not screwed in, which I discovered when one of them slid over while I had my hand on it to hold the piece in place. There is no way this crate will hold my dog. It will be a pain to take apart, and repackage, and I am out about $20 for trying this product. Live and learn I guess.

Read More

Good product but......BUYER BEWARE

So the item is half the cost that it was on other sites, so I won't complain too much. However, BUYER BEWARE, there are a few quality issues. Some of the holes were not aligned and we had to drill new holes in order to get it together. The holes for the hinges were so misaligned that we had to drill holes for the hinges on the opposite side. As a result we had to move the latch to the other side. If your dog is still in the chewing stages, it may be a good idea to spray the bars with something (bitter spray) to dissuade your pup from chewing on the wood. Other than that....we have a nice looking product. It just required a drill and some patience! Not too bad for half the price.

Read More
Q:

"I have a large Doberman. Would he fit in this comfortably? "

A:

No. I have a pit/bull mastiff and he was way too big

A:

I have two 6 pound yorkies and it's perfect for them due to their small size but I don't think a doberman would be happy in there.

A:

maybe. My sons dog was very tall but only about 35 lbs - a puppy still. She needed this for height. The door fell apart though.

A:

Please see detailed interior dimensions for this crate to determine if your dog will fit. We do sell an Extra Large crate #20030476 you may want to look at as well.

A:

Mine is a Dalmatian mix. He fits with enough room to lay down and turn around but he definitely stretches his legs when he gets out. I'd go with the bigger o-one if you have the space for it

A:

I got this for my pit/lab mix 50 lbs I'd say she's medium sized to almost large, but a dobbie has long legs just make sure to order a large and should be fine. good luck

A:

No. I have a pitbull and he barely fits in there. I use this for my English bulldog and it's perfect for her medium size

Read more Read less

Q:

"What is the weight of large crate?"

Q:

"How hard is assembling this dog crate?"

A:

The crate was actually rather simple to assemble. My husband and I did it together following the directions. Because of the size of the crate, it does help to have two people.

A:

I assembled this crate by myself (I'm a middle-aged woman). We purchased the small crate. The instructions were easy to follow and the crate is a good size to turn and manipulate for one person to assemble.

A:

Where did you find instructions? My shipment didn't come with any..

Read more Read less

Q:

"What is the max weight the top of the Kennel can hold?"

A:

I have the large and my dog is &0lbs. I would think sitting on the floor any Lg dog would fit up to a Dane. As long as your not going to leave them in there all day and night. They would have some room to move in it. Hope this helps.

A:

It is very sturdy ... probably 150 to 200 lbs

A:

The two previous answers given are supporting the top weight that can be held within the kennel, whereas I understood, the question was about the max weight the top of the kennel can hold. I use one of mine as a side table - lamp, book, etc....the second has a cat bed (13# cat) and 3 plants, probably another 25# and it holds up just fine without any creaking or swaying. I hope this helps to answer your question.

A:

I would say 40-50 lbs. Mine has a table lamp as well as several books.

Read more Read less

Q:

"I'm confused on the sizes...on this link it says "small" "arge" (assuming that's medium?) and "large". If that is a MEDIUM, there are no measurements listed? I see the small and large but no medium size measurements?"

A:

I bought the larger sized dog crate. I had a golden retriever puppy who was about 10 lbs at the time. He had plenty of room. He is 65lbs now. He would still fit comfortably but we no longer use. I don't this help with your question on the smaller one.

A:

I don't understand exactly what your trying to ask? If you already have the large size and you have a Golden it is a prefect size for him. I have a Auzzie that has the Large and she is very comfortable in it. We only have it for her because it is her hiding spot during storms. I hope this helps. If not, please let me know.

A:

I bought the small for our Sheltie pup. He has grown to be 35 pounds and is so long. I bought the bigger one and he goes back to the small one. He fits it I have a cushy pad and blankets and he loves it.

A:

I believe that they only have Small and Large.

Read more Read less

Q:

"Can you fit a plastic floor in the bottom of this that can be taken out for cleaning?"

A:

Why would you want to? If your gonna lay a bed /pillow for your baby in there. Or lay paper if it's a puppy and you think there will be ,,,,,,,,goodies in there? I just wipe it out with a wet/not soaked towel and dawn dish soap. Cleans up great!

A:

I sure you can. I used a blanket throw and under that I used a bed liner, at's what I use on my dad to protect his chair. So I would washed my throw and I have several more throws and replace the chair with bedliner and throw. That's what I did with my little boston terrier.

A:

I purchased both a large and medium. Was able to find trays that fit in each. Beds fit nicely over the tray but if someone does have an accident, it's not all over my floor and under crate

A:

There are two choices small and large. Look at dog size examples in picture. Look at height of both crates in dimensions and measure height of your dog. Judge from there

Read more Read less

Q:

"I was wondering if the door can be mounted to open the other direction? I need to put the pins the door swings on, on the left, so that it opens on the right."

A:

The door can only be mounted as shown: with the lock on the left and the hinge on the right.

A:

I realize that now. After having already purchased it and put it together. Just to find out it won't work for me.

A:

Don't see why not. It comes dissembled.We kept it off, but you could change it to the other side.

A:

Sure can, Wee did with no prob.

Read more Read less

Q:

"Is it possible to order a replacement door?"

A:

I really don't know. I'd contact the manufacturer.

Q:

"Hello, I want to order for my friends 3 items: 1 size small in color espresso, and 2 large in colors black and espresso! I wonder if these items is still available for shipping? Also I would like to ask if you can ship this item as a gift and do not include any price tags for this order? And how fast can you send this item? Thak u!"

A:

The available options are located in the drop down menu. The item can be shipped as a gift. That option is available upon checkout.

Q:

"Unfortunately I don't have the information for the manufacturer. I would really like to order a replacement door, is that possible ??? This crate is beautiful and I get a lot of compliments on it. My Boston terrier evidently loved it a lot as a puppy too!!! In my opinion this crate is great for older dogs who don't chew :)"

A:

Please contact us at 1-800-The-BIG-O (1-800-843-2446) for immediate assistance.

Q:

"I need to get replacement parts who do I contact?"

A:

I have the cage still in the box unopened since my dogs destroy cages the box is ripped in the corner where my cats clawed it but everything should be in the box

A:

You would vontact the manufacturer, their contact info should be on the pamphlet that came with the item

Read more Read less

Q:

"Will the large crate be big enough for a Golden Retriever ? What size are the interior dimensions ?"

A:

The interior dimensions for the large crate is approximately 33 in L x 21 in W x 26 in H. It is intended for dogs up to 38 inches long and 29 inches tall.

A:

We had a large crate for our Bernedoodle ... He is 77# and very comfortable.

Read more Read less

Q:

"Can the small crate fit a cairn terror, he is 27 pounds"

A:

My dog is 30 lbs and she fits in it but it is snug. She measures 32 inches long by 21 inches tall. Could had used a medium. Also if dog is a puppy they will eat the wood.

A:

I would say yes, with room to spare.

A:

It is better for an adult dog that is already housebroken...a puppy will destroy the wood. I think it is big enough for a cairn terrior adult.

Read more Read less

Q:

"I would like to contact the manufacturer for a replacement part. Can you help me with this?"

A:

Hello brittlee, you will be contacted by Customer Care regarding the replacement part. Have a great day!

Q:

"one description says 100& solid wood, rubberwood then further description says only 75% wood and 25% mdf. Please"

A:

Hello quinjas, the crate is 100-percent solid wood. Thanks for shopping with us!

Q:

"Hello, can you advise the interior dimensions of the Small crate. Thank you Kindly."

A:

Hello Buaymother, the interior dimensions are approximately 21.13" inches high x 16.75" inches wide x 24.25" inches deep. Please let us know if you have additional questions. Thanks for shopping with us.

Q:

"Can someone provide me with theinterior dimensions Forth small size crate so I can gauge whether a crate tray will fit?"

A:

Hello Kev3045, the interior dimensions for the small pet crate are approximately 24.25 in L x 16.75 in W x 21.13 in H. The interior dimensions for 600-24P large pet crate is 33 in L x 21 in W x 26 in H. Have a great day!

Q:

"What are the inside dimensions. I want to get a pet mat for inside. Thanks."

A:

Hello jh215, the interior dimensions of the Wooden Furniture Pet Crate are approximately; 25 inches h x 20 inches w x 34 inches l. Have a great day.

Q:

"Hello, I wanted to see if I can contact the manufacturer about purchasing replacement parts, but I did not keep the paperwork that came with the crate. Would you be able to help me with this?"

A:

Hello arichard, you will be contacted by Customer Care. Have a great day.

Q:

"Why did you choose this product?"

A:

Its stylish and hopefully is what I need for my new puppy. the sizing was slightly hard to understand I hope its the right fit.

A:

Previously owned similar unit

A:

Much nicer than a plastic or wire crate

A:

We didn't have room for dogs bed. So killed two birds one stone..

A:

We've been looking for a table to house all of the media equipment. The subwoofer is 21" deep and that proved hard to accommodate. All of the cords can fit too and the cable box will work through the open top.

A:

The nicest design, fastest shipping, and best price I could find online.

A:

My dogs have outgrown the crate they previously had.

A:

This is a much nicer option than having a metal cage in my family room.

A:

I need something for my new dog that can be hidden from view due to space issues. This is a perfect solution when crate training.

A:

The size and the price was right

A:

It look like a nice piece of furniture

Read more Read less
Shopping Tips & Inspiration
Shipping & Returns
Contact Information
Shipping:
Usually leaves our warehouse in 1-2 business days. *
Shipping Information:
Our standard shipping method is ground shipping. We also offer expedited shipping for most items. Your final shipping cost and estimated delivery timeframe will be available at checkout.
Standard shipping details
Expedited shipping details
Standard Return Policy:
Items must be returned in new or unused condition and contain all original materials included with the shipment. More Details
FINAL SALE EXCLUSION: Items marked as FINAL SALE are not returnable unless the problem you experience is the result of our error.
NOTE:
This item cannot be shipped to Alaska or Hawaii. More details
For your protection, all orders are screened for security purposes. If your order is selected for review, our Loss Prevention Team may contact you by phone or email. There may be a two business day delay to process your order.
** Most Oversize orders are delivered within 1-4 weeks. Some orders may take 6 weeks to be delivered.