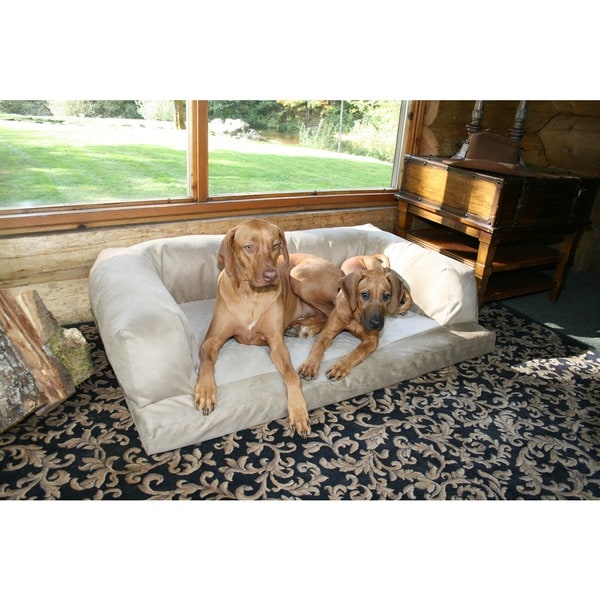 This was exactly what I was hoping for. A large dog bed, that is solid enough, and not flimsy. I'm very happy with the purchase
...
Hidden Valley Extra-large Baxter Orthopedic Dog Couch and Bed
Details
ITEM#: 13862928
This extra-large orthopedic dog couch accommodates the larger of your four-legged canine friends. Available in calm, neutral colors, this dog couch is perfect for any decor style. Featuring a plush polar fleece top and an orthopedic foam bottom, this dog couch is comfortable for your pooch, and it is lightweight, allowing for easy mobility.


Three (3) bolstered pillows
Removable cover
Machine washable, air dry
Color: Microsuede Stone, Microsuede Mocha
Materials: Microsuede, plush polar fleece top, orthopedic foam mattress, hypo-loft fiber filling
Fill: Recycled and virgin hypo-loft fiber filling and orthopedic foam bottom
Weight: 13 pounds
Model: Baxter Couch with Fleece
Outer Dimensions:
Extra Large: 34 inches deep x 54 inches wide x 12 inches high
Large: 30 inches deep x 40 inches wide x 11 inches high
Sleeping Area Dimensions:
Extra Large: 24 inches deep x 36 inches wide x 8 inches high
Large: 20 inches deep x 27 inches wide x 8 inches high
Specs
Features
Type
Dog
Pet
Dog
Pet Size
Large
| | |
| --- | --- |
| Dimensions | See description |
| Model Number | BK/PST/XL |
| Country of Origin | United States |
Most Recent

This was exactly what I was hoping for. A large dog bed, that is solid enough, and not flimsy. I'm very happy with the purchase

Read More

Love it!!! Our dog with separation anxiety will not sleep in his bed in a different room and not on the floor next to us - Yay!

Read More

He's a little selective with dog beds. I've bought several and he won't use them.....when this one came and was opened up, he got right in it. Glad I bought this! Money well spent.

Read More

Large enough for both dogs and they love it.

Read More

I just ordered this bed for my 95 lb. Great Dane & I am impressed! It's great quality for the price, and came packaged very well. I ordered the XL size and it is plenty big- honestly, I probably could've gotten away with the L. Extremely happy with this product!

Read More
Most Helpful

Really Nice Bed for the Pooches

This is a really nice bed and I should know as I buy different beds all the time for my 10 Bernese Mtn. Dogs. I've had people see the bed in a picture and email me to find out where I got it. The dogs seem to like the raised back and arms as well. The quality is excellent and it is holding up well to usage. I would definately buy another one and am sure I will :)

Read More

Boomer is a 12 yr old lab and his bones are very brittle, I thought he might like this to lounge on during the day. He really likes it and he has decided to sleep on it at night, too. When he gets up he is not as "stiff" as he used to be and he likes to put his head on the arm of the couch to watch what's going on. This was a VERY GOOD investment for a VERY OLD dog!!

Read More

I purchased two of these extra large dog couches for my two Golden Retrievers. I was absolutely delighted with the quality and the product! Everyone asks me where I purchased them, and I happy tell them Overstock.com! The dogs love them, especially the bolster on three sides, as they often rest their heads on these, and it provides a secure surrounded feeling when they are sleeping. Thanks very much and I highly recommend to other shoppers! Caroline from Canada PS: Shipping and delivery was excellent as well!

Read More

This is an excellent dog bed for our extra large (8 months old, 110 pounds, Great Dane puppy). He loves the sofa and the bolster pillows on this bed mimic the "people sofa". It's certainly long enough and wide enough for him. Good support with the orthopedic pad, too. The cover is machine washable and it's made in the USA. It's a winner for us, all the way around!

Read More

This is the second purchase of this item for my house. I have two dogs and they have each taken their turns in the old dog couch but now that there's two that's where you will find them! They love the security and support of the bolster design. It's just the right size for them to rest their head on like a pillow. This product is well made and will last a long time. The design is great as it zips apart for easy washing. It's a bit expensive for a dog bed but it's so worth it when you see how happy your dogs are.

Read More
Q:

"My dog is 143lbs. Will it support his weight?"

A:

My dog is 95lbs and it works great. The foam pad is thick and she loves the rolled edges to snuggle against. We have been happy with this purchase. Hope that helps!

A:

the bed is solf big I mean big I have a 90 pound German shepherd he won't sleep in it

Read more Read less

Q:

"As well just pulled off. Cover to dog bed and washed in machine few days back it looks new all over again "

Q:

"Is the foam in the base of the dog bed a single piece or a "bag" of cut up orthopedic foam pieces?"

A:

It's a single piece. Egg carton design

A:

It's a single piece EXCELLENT DOG BED

A:

I would agree with deepishes evaluation Excellent description

Read more Read less

Q:

"In what size box does this bed ship? I'm wanting to order 4 and am just wanting to know if they will fit in my car when I pick them up."

A:

The box is 14 H x 10 W x 35 L.

A:

Small tube box it is rolled up in a tube and vacume sealed tight so it is light and not a bulky box unless you are getting four maybe they would put all in one big box

A:

YES WRAPPED IN BUBBLE WRAP

Read more Read less

Q:

"The first picture shows two big dogs. The dimensions and reviews don't come across as big enough for two even with the extra large bed. My 55lb boxer and 50lb standard poodle like to sleep together."

A:

My Golden Retriever weighs a bit over 100 lbs (maybe 105?) and she fits quite comfortably on it. Her cat buddy (weighs about 6 lbs) joins her and fits well too. I should think that it might work. Good Luck!

A:

I have two golden retrievers each between 75 and 85 pounds. During they winter they both fit quite comfortably on the bed with some room to spare. During warmer weather, the younger likes to sprawl out and takes the entire bed to herself and the older is too much of a gentleman to nudge her aside.

A:

They will easily fit and you may as well too! This bed is deep and wide, I crawl in with two medium sized dogs with no problem at all, plenty of room left!

A:

We have a English setter that weighs about 60 lb. he takes up about half of it . I would say 2- 50lb dogs could easily fit.

A:

I have 145 pound Argentina Dogo that that's the bed fine with room for me to snuggle with him. The other hundred pound dog prefers her own bed she's 100 pounds . If your dog sleep close together they should be fine if they have to have space between them I just get two and have them lay side-by-side or you could push them together and they could step over the edge and sleep in their own little comfortable bed. . I love the beds.

A:

I have 2 english bulldogs about 50lbs each and they can fit but does not look like they are very comfortable.

A:

I have a Chocolate Lab that is 88 lbs, an 18lb Chinese Crested & a 10lb German Spitz. They all pile on theirs together with no problem.

A:

I have a 165 lb Mastiff. She has plenty of room so I would think your 2 dogs would be just fine

A:

Hi FIGJAM, i have 2 of these beds for my 3 dogs. Our 12 lb dachshund can share a bed with our 50 lb beagle or our 75 lb shepherd...but the bed isn't large enough for the beagle and the shepherd to share. Hope this helps!

A:

I bought this for a friend. Her Pit mix weighs 65 pounds and her Terrier mix weighs 35 pounds. If the Pit stretches out the Terrier still has room to get in bed and one of the cats joins them. They use the arms as pillows.

Read more Read less

Q:

"Description says cover is removable & washable. Is it a Zipper close or Velcro close cover?"

A:

Zipper.... It's pretty easy and washes up beautifully!!! My dog LOVES this bed and it always looks nice and kept.

Q:

"Will my 90 pound Pitt Bull terrier lay comfortable "

A:

yes my 80 lb boxer fit comfortably and she liked to stretch out!

A:

yes. My 120 lb Anatolian Shepard fits well with room to spare.

Read more Read less

Q:

"and which one is sage/cream? Thanks!"

A:

Sage and cream is the 3rd image on site.

Q:

"Is the entire cover including the pillow covers machine washable? thanks"

A:

The cover is removable. Machine wash cold and dry low.

A:

It is a two part cover; the bottom flat part has a separate zippered compartment for the egg crate mattress and the bolster pillow has its own zippered compartment. It does wash up easily, but it took me a minute or two to figure out how to stuff it all back in.

Read more Read less

Q:

"Yu say the INSIDE measure of the xlarge bed is about 28 x 39 long. If the outside measure is 54" how could it be 15 inches smaller in length inside? I keep vacillating between the large or extra large for my Collie who seems to be very long! What is the INSIDE measure for the large bed then?"

A:

The bolsters around the edge of the bed account for the difference. I have purchased two of these beds, and my dogs love them. We have the XL sizes, and we have both a Great Dane and a French Mastiff. Both dogs fit fine and sleep in them nightly.

A:

The inside measures 39 inches.

A:

I own the xlarge bed; so only can give measurements for that. I just grabbed the tape measurer and the bed measures 38 inches across; from side to side. And measures about 28 inches from the inside of the back bolster to the front of the bed. My dog is a lab/boxer cross; weighs about 80 pounds and loves her bed! She can easily curl up in it and also can stretch out comfortably in it. I had a collie some years back and I feel you would be a lot happier with the xlarge bed for her.

A:

As all the previous answers pointed out the bolster around three sides of the bed are thick and make up the difference between the inside and outside measurements. We have a 70lb Dobie who sleeps curled up and only uses 1/2 the bed. Our larger 105lb dog likes to stretch out on her back and fills the inside space. If I were to buy again I'd get the next size smaller as the 105lb dog prefers the family room sofa! The Dobie loves the bed for the comfort of the snuggling against the bolster ... but she doesn't need the xlg because she prefers to curl up. Take your dog's preferred sleep position into account ... this bed takes up a large space.

A:

I have both the xtra lg and large. I measured and the sleeping area for xlarge is 37" long x 26" wide and the large is 26" long and 23" wide.

A:

The inside measure is 38 inches long and 21.5 deep.

A:

Awesome bed and washable! The bolsters are really thick and big.

Read more Read less

Q:

"How big is the x-large bed"

A:

Here are the sizes for both the large & x-large Large (40" L x 30" W) Size Overall: 8" H x 30" W x 40" D Extra Large (54" L x 34" W) Size Overall: 8" H x 34" W x 54" D

A:

We have a St.Bernard and she has plenty of space on this bed and she loves it ,even shares it with the Golden and still has room.

A:

I have a German Shepard and he fits comfortably, he loves to use the side as head rest.

A:

I have a 115 lb coonhound and he can lay flat on this bed with no problem. He loves this bed!

A:

My two Weim's have room to spare highly recommend for larger dogs.

Read more Read less

Q:

"How big is the large bed"

A:

The Large is approximately 40" L x 30" W.

Q:

"It was verified that the mattress was approximately 3" thick but the photo looks as if it is around 8". What is the thickness of the mattress without the bolster?"

A:

Hello Sharpeilovercobb, the mattress is approximately 3 inches thick. Thank you for shopping with us.

A:

The 3 inches is pretty much spot on. Very nice though, Dog loves it.

A:

The mattress itself is 3" thick. My boxer/lab loves her bed and uses the bolsters to rest her head. I highly recommend this bed for your pets. (our little dog also likes to sleep on this bed and I find the cats also cuddling up in it from time to time.

A:

The main thickness is 3". The foam is convoluted (egg crate) so the dips are about 2.5" thick.

Read more Read less

Q:

"What is the thickness of the mattress without the bolster?"

A:

Hello Sharpeilovercobb, the seating portion is approximately 3 inches high. Thanks for shopping with us!

Q:

"I have this superb bed for my lab. Just washed it, is it possible to put it in the tumble dryer ??? Thanks"

A:

Hello Sophie, this is machine washable but should be air dried. Thanks for shopping with us!

A:

I put the cover in the dryer with no problem

Read more Read less

Q:

"Are the dimensions given for the XL bed the inside dimensions or the overall dimensions including the bolsters?"

A:

Hello gab, the dimensions listed are the overall, approximate measurements.Including the bolster liner, the bed is approximately 8 inches high. The inner area for the extra large is approximately 28 inches wide x 39 inches long. I hope this information helps. Thanks for shopping with us!

Q:

"What grade is the orthopedic mattress is it a 4 or 5?"

A:

Hello Myso2010, thank you for your inquiry. Unfortunately, the information you have requested is currently unavailable. You will receive an email notification once an answer is posted. Have a great day.

Q:

"Is this a "final sale" item?"

A:

Hello triquetra33, this item is not on final sale currently. Thank you for shopping with us.

Q:

"Hello, there are different color choices mentioned at the description and different mentioned at the purchase tab. Are there any Microsuede Stone, Microsuede Mocha? Or these colors match somehow with the colors mentioned at the purchase tab? Thank you in advance"

A:

Hello Konstantinos, the tan/cream option is the lighter option and the microsuede chocolate is the darker color. Thanks for shopping with us!

Q:

"hello, I bought this bed in July 2015 and the seems are already falling apart and we have only washed it a couple times. Is this normal or was this bed not made properly? Is there someone I need to contact about this.?"

A:

Hello ajbsinger. For assistance with this issue please contact Customer Care at the number below. I hope this helps, thank you for shopping with us! U.S. and Canada Toll free: 1-800-The-BIG-O (843-2446).
Shopping Tips & Inspiration
Shipping & Returns
Shipping:
Usually leaves our warehouse in 1-2 business days. *
Standard Return Policy:
Items must be returned in new or unused condition and contain all original materials included with the shipment. More Details
FINAL SALE EXCLUSION: Items marked as FINAL SALE are not returnable unless the problem you experience is the result of our error.
Shipping Information:
Our standard shipping method is ground shipping. We also offer expedited shipping for most items. Your final shipping cost and estimated delivery timeframe will be available at checkout.
Standard shipping details
Expedited shipping details
For your protection, all orders are screened for security purposes. If your order is selected for review, our Loss Prevention Team may contact you by phone or email. There may be a two business day delay to process your order.
** Most Oversize orders are delivered within 1-4 weeks. Some orders may take 6 weeks to be delivered.