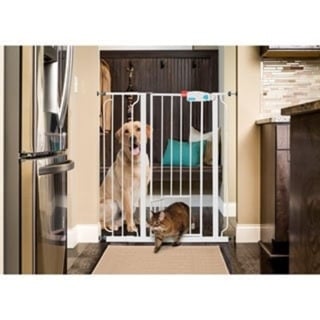 needed something to keep the dog out of a room works great no marks on the door frame
...
Details
ITEM#: 12108635
The versatile Carlson Extra Tall Walk-Thru Pet Gate is a chew-proof way to protect not only your home but also your pet. Made of an all-steel construction, the sturdy pet gate can be operated with ease and is designed to make passing through the gate frequently a breeze. The 36" tall pet gate is easily expandable, featuring a pressure mount system for installation, and equipped with an easy to use door for pass through. The expandable nature of the gate is ideal for openings between 29-38". The convenient walk through door keeps you from needing to step over the gate. To make life even simpler, the same convenience is provided to your pet as the gate features a 10" x 7" pet door letting small animals pass through while keeping everyone else stays out.
Specs
Features
Material
Steel
Type
Extra Tall, Pressure Mount Gates
Pet
Cat, Dog
Color
Black, Silver, White
Set Includes
1 Piece
| | |
| --- | --- |
| Dimensions | 38.0 In. X 4.0 In. X 36.0 In. |
| Model Number | 0941PW |
| Country of Origin | China |

Most Recent

needed something to keep the dog out of a room works great no marks on the door frame

Read More

This gate is perfect for any family that has two pets. Our small dog found the little opening immediately and our larger dog waited patiently on the other side. It is easy to open at latch too if you want to open gate wide. We are thrilled we purchased.

Read More

Installed in 5 minutes. Seems well made and works well. I like the smaller opening to let my cats come and go while keeping the dog out of that area of the house.

Read More

Carlson Extra-tall walk through pet gate

I love the gate. It took me forever to figure out how to install it...but once I figured it out....I love it. It keeps the dogs on one side of the door, and from getting into mischief. I wanted to order another one....but couldn't find the same one. It also needs to be wider. ...48 inches

Read More

Great price, nice smooth edges, and would buy another!

Read More
Most Helpful

Extra Tall Pet Gate GREAT for CATS

I recently purchased the Carlson extra-tall, extra-wide pet gate. I have four adult cats and need to keep them out of my bedroom for allergy reasons. Shutting the door just wasn't an option. This gate is perfect for keeping the cats out of the room. They are unable to jump the gate due to it's height of 41". They're also unable to get through the slats, though they did try for a few hours, to no avail. Now they just sit outside and look at me, feel reassured, then lie down and relax. With the door's being closed, they used to scratch and meow to no end! I LOVE THIS GATE! (I cannot address how this gate would work for large dogs; only how it works for me with the cats.) Gate is easy to install in a doorway because it has tension rods. No screws or nails needed. Installing at top of stairs might be different, but I can't address that. The gate comes with a width extension for an open-hallway stairs. To enter/exit the room, the gate has a "people door" easily accessed by lifting a lever on the top, Also, there's a door at the bottom of the gate for your small pet. The gate is made of white metal, resists scratching, and is attractive -- actually, it's interesting to look at. I would highly recommend this product. Will definitely buy another one in the near future.

Read More

Be clear that this is not a tension gate but a pressure mount gate. It includes cup that can be screwed into your wall if you want it to be a more permanent installation or as advised when used at the top of stairs. It comes with a 6 inch extender but because of my base board I'm going to have to order the 4 inch to use instead at the top of my stairs because it's too wide at the bottom. Just something to keep in mind. Works great in an interior door and my cat loves the little pet door when she wants to get away from the pup. Overall a helpful gate.

Read More

I got this gate to keep my retriever out of the cat-only area of the house, so he wouldn't get into the litter boxes and cat food. It works GREAT!! It was very simple to install and is very simple to use. My 2 (almost 3) year old can easily open, go through, and close the gate (to get to the bathroom on the other side!). My cats have no hesitation going through the cat gate either. The only complaint I have is that the pressure mounting does not hold up to the 3 yr old pushing against it. I did not attach the more permanent cups, which I may to to alleviate this problem, but as of now it is easy to just reposition it back in place. It truly is not a baby gate. To address a different, previous complaint, there is no way my 60 pound dog could fit through the cat door if he tried!! I don't think he could even get his head through, let alone his legs and shoulders. In short, I am thrilled with this gate. It is sharp and effective and easy to use!

Read More

They say you don't need the plastic cups unless the gate is at the top or bottom of a staricase, but you need them whereever you install it, but no big deal there. The real issue is the cheap handle. Plastic components broke in less than 2 weeks. We have it in a high traffic area so it is getting used a lot by our large family, but still, this is a component that should be made out of something far far sturdier than super cheap plastic.

Read More

Cats can jump this fence.

This is an excellent fence, however, I bought it to keep my cats from being able to access certain areas of our home..... they can BOTH jump this fence. One has a gimpy hind leg, to, and he can still jump it... :: sigh :: I don't know what to do to keep these cats contained. HOWEVER, if you want to purchase this product for any other reason..... this fence is great!

Read More
Q:

"How long does it take to be delivered. I livery in Florida zip 32735"

A:

We got it in 8 days. Love this gate! My dog was knocking down our old plastic gate, this gate hasn't been knocked down once. Great buy!

Q:

"I have an opening that is 47" wide. I know that the gate is 34" wide and it comes with a 6" extension. Can you put a 6" extension together with a 12" extension to get the added width? The 24" extension would make it too wide but the 12" alone isn't enough."

A:

Hello Ammee, this item could be used with the 4 inch (ITEM# 12108636) and 12 inch extender to help fit your opening properly. Thank you for shopping with us.

Q:

"How wide is the space between the bars?"

A:

Hello zillal, the spacing is approximately 2.25 inches. I hope this info helps. Thanks for shopping with us!

Q:

"Why did you choose this product?"

A:

It was tall to keep dogs from jumping it and it had a cat door. I also like that it swings both ways.

A:

Looks sturdy and its very tall. I have big tall dogs.

A:

Attaches without marring the door frame; tall enough to prevent jumping over; ease of opening; "doggie door" feature.

A:

We have two large dogs that we keep in the living room and kitchen during the day while we are at work. We also have 4 cats that go in and out of that area during the day while we are gone. The gate that we were laying against the doorway at an angle (so the cats could squeeze through) was tearing up the wood door frame. So we needed a permanent solution. This is perfect and we are so excited to try it out!

A:

We have cats and dogs - want to keep the dog contained, while letting the cats roam. Also, love the height - our dogs are pretty tall, so they won't try to jump over this height.

A:

Because i have owned them in the pass and they are the only gate that appears to keep my large dogs out of my kitchen.

A:

tallest available for jumping dog

A:

Have one and it is a super product. Very happy with it.

A:

I need to keep one of our cats away from the others

A:

Half the price of same on Amazon. Good reviews of product.

A:

need to keep cats out of one room

A:

Height and smaller pet door is just what we were looking for. Price for same style of gate at stores nearest to our location were pretty much double!!!

A:

Tall, looks nicer than the average the pet gate

A:

needed an extra tall gate for a jumping dog.

A:

Purchased one at a another store and love the quality and durability of this product.

A:

Height and the spring loaded installation method

Read more Read less

Q:

"can the door to the small pet opening be locked?"

A:

It has a spring loaded pin that locked it closed

Q:

"My room openings do not have wooden frames. Do the cups work well if screwed into a plaster wall?"

A:

use plaster screws for it if your dogs push or are large or both. i've used mine for a few years and love it. versatile

A:

Hello whisper, it would depend how how tight you put the cups against the plaster/drywall. It possibly could make a little bit of an indent into the wall due to drywall or plaster considering it being softer materials. I hope this helps. Please let us know if you have any additional questions. Thank you for shopping with us!

A:

I don't even use the cups, as they also don't work for my situation. The gate stays put just fine!

Read more Read less

Q:

"What are the dimensions of the cat gate? Also, if the door widt is slightly more narrow than 29", can you take off two of the cushions on one side to make it fit?"

A:

Hello yolyfe, the smaller pet opening is approximatly 10 inches high x 7 inches wide. Thanks for shopping with us! -Amanda P

Q:

"I have a space 80". I purchased 2. 24" extensions, is this goin go be to long for the space?"

A:

Hello sadieminx, The gate itself can expand to cover 40 inches. If used with two 24-inch extensions, it will fit an 80-inch space.Thanks for shopping with us!

Q:

"I am wondering if your item 12108635 which is a 41" tall pet gate will fit with TWO item12108639 which is a 24" extension which is also 41" tall and they say is compatible with the gate...will two of these extensions fit on both sides and is there something else to be able to extend the spanning part of it to make the gate 40" plus 2 extensions 48" which equals 88" across...how does the spanning of these work?"

A:

Hello sadieminx, The largest compatible extensions are 24 inches wide. We recommend using a maximum of two extensions per gate to ensure safety and stability. The gate itself can expand to 40 inches wide. If you use one 24-inch extension on either side, you would have a total width of 88 inches.Thanks for shopping with us!

Q:

"How can I get an additonal pressure mount system and/or extra mounting screws?"

A:

Thank you for your inquiry imwarreng; you will be contacted by Customer Care. Happy holidays!

Q:

"I am considering buying this for a 72" wide opening...what extension pieces would i need to buy?"

A:

Hello baglady118, The gate extendes to 40". You would need to purchased the 24" and the 12 " in order to accommodate your opening of 72". Thanks for shopping with us. Jennifer E

A:

It comes with extension pieces.

Read more Read less

Q:

"I need to keep the cats out of my son's bedroom. This gate looks like it will work, but can he still close his bedroom door when needed while the gate is up?"

A:

Hello saracat1, It looks like it is possible, but it all depends on how wide your door jamb is. Click through the "image gallery" to the image showing how it is affixed to the door jamb. Thank you for shopping with us.

Q:

"Will the gate hold if the dog stands up and puts its paws on the top kind of leaning on it?"

A:

I have a 90 pound "puppy" (Black Russian Terrier) and she enthusiastically greets a neighbor boy "dog walker" daily by placing her paws on top of the gate. I have the gate screwed into the walls now and it holds up very well. When I first received the gate and just tried using tension to hold it in place, it would topple in a very few seconds.

A:

I have a large dog,the gate is high she hasn`t even thought about leaning on it.I have it pressure fastened between my french doors It works well

Read more Read less

Q:

"Does the cat door lock? Would a dog be able to push it open when it is closed?"

A:

Hello nicolenoel16, Yes the cat door does lock and should be any problem with a dog be able to push it open when locked. The Carlson Extra-tall Walk Through Pet Gate is Chew-proof, all-steel construction is sturdy, durable, lead free, and nontoxic. Please feel free to contact us again with any further questions. Thank you for shopping with us!

Q:

"Does the gate open in both directions or just one?"

A:

Thank you for shopping with us gigi814. It opens in one direction. Have a great day.

A:

Just one. Be aware that if a larger dog places their weight on top of the gate, it will lock the gate, and then can become unwieldy trying to open with one hand.

A:

It opens in both directions. I just received mine.

Read more Read less

Q:

"I have an opening that is 39 1/2 inches wide. Will it fit? Or does it have to 29 inches or 40 inches wide?"

A:

Thank you for your inquiry about the Carlson Walk Through Pet Gate. Yes this will fit your 39 1/2 inch opening. It starts at 30" wide but slides open to a total of 40". I hope this answer helps you.

A:

It has a good adjustment set up. Very easy to set up and adjust.

Read more Read less

Q:

"How wide is the gate opening itself (the gap that you walk through)?"

A:

If you look at the item the walk thru is between the wide white bars. I just measured mine and it is just shy of 18 inches.

A:

Thank you for your interest. The human walk-thru door is about 16 inches. Please feel free to contact us again with any further questions.

Read more Read less

Q:

"I'm trying to block an area leading to a bedroom door that my dog chews the carpet and molding. The height is perfect as she jumps. Can I buy the extension to make it cover more area and can the addition allow the gate to do a zig zag layout or does it have to be a straight wall to wall connection? Can this be installed directly to a wall rather then a door frame and if so how?"

A:

12108645 is an extra wide model, no to zig zag, tension mounted.

Q:

"Does the cat door close automatically? How does it work?"

A:

The smaller pet door does not close automatically. It can be left open to allow smaller pets to pass through, or left closed to keep them out.

Q:

"What size extensions are included with this?"

A:

I'm not sure what you mean regarding what extensions are included. This product is 41 inches tall and extends from 29 to 40 inches wide. Additional 4-, 6-, 12-, and 24-inch extensions sold separately. This item is only compatible with item numbers 12108636, 12108637, 12108638 and 12108639.

A:

I purchased and it includes a 6 inch extension. Other retailers have it including a 6 inch and 4 inch. That it includes one extension should be in the description. This allows the purchaser to know what they are getting. The response given saying you don't know what I mean is concerning since you should be aware of your product and not just repeating the basics of what is on the description page. I read it and the description is not complete, hence the question.

Read more Read less
Shopping Tips & Inspiration
Stocking Stuffer Ideas

In the hurry and flurry of Christmas Day, don't overlook the gifts found in Christmas stockings. Stocking stuffers are usually smaller and less expensive than what you put under the tree, but they're a thoughtful and ideal way to celebrate the personality or interests of those on your list. Peruse our options and you'll be ready to grant the holiday wishes of the special people in your life.
Shipping & Returns
Contact Information
Shipping:
Usually leaves our warehouse in 1-2 business days. *
Shipping Information:
Our standard shipping method is ground shipping. We also offer expedited shipping for most items. Your final shipping cost and estimated delivery timeframe will be available at checkout.
Standard shipping details
Expedited shipping details
Standard Return Policy:
Items must be returned in new or unused condition and contain all original materials included with the shipment. More Details
FINAL SALE EXCLUSION: Items marked as FINAL SALE are not returnable unless the problem you experience is the result of our error.
For your protection, all orders are screened for security purposes. If your order is selected for review, our Loss Prevention Team may contact you by phone or email. There may be a two business day delay to process your order.
** Most Oversize orders are delivered within 1-4 weeks. Some orders may take 6 weeks to be delivered.