Peridot: A Birthstone for Summer
Posted at Aug. 20, 2012 at 1:29 PM

What gem could be more appropriate as the August birthstone than the peridot? Its enchanting green hues reflect summer's most inviting color palette. And like a warm, sunny August day, peridot can calm the emotions and soothe the nerves (well, according to folklore anyway). Peridot jewelry is a wonderful gift for anyone with a late summer birthday, of course, but you can wear it all year long, too.
Ancient Egyptians decorated jewelry with peridot gems as far back as the 2nd millienium B.C., and, according to legend, Cleopatra loved green gemstones, wearing both peridots and emeralds. This old stone, which is the gem-quality form of the mineral olivine, has become popular again in recent years. Peridot is one of the few gemstones that only come in one color. Although it is always green, peridot's exact shade can range from sunny lime and grass green to olive and bottle green.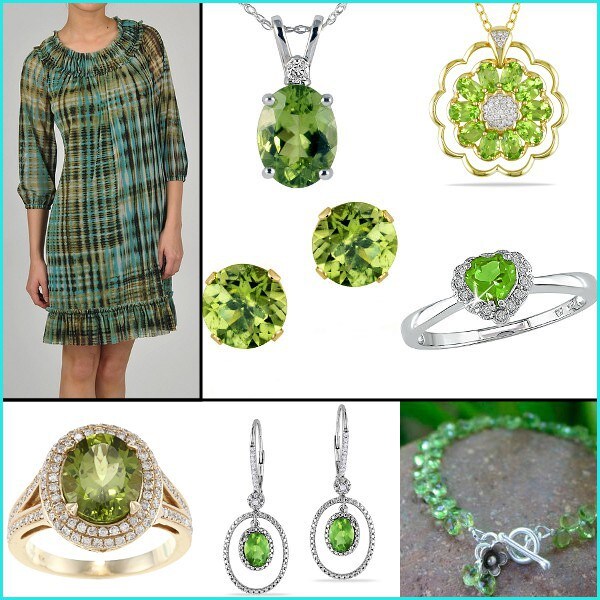 Sparkling bright green peridots complement the delicate prints and gauzy white fabrics of summer. A pendant necklace or gemstone chip bracelet, like this one handmade in Thailand, is perfect for a casual sundress. Get a pretty party or date night look by pairing dangling earrings or a diamond-accented ring with a flowery print dress.
Fall brings darker colors and a more luxurious feel to fashions, but peridot jewelry can still work with this wardrobe change. Although peridot is associated with the sun, it is sometimes called the evening emerald because of the soft glow it emits in moonlight or candlelight. Look for the darker olive green stones set in yellow gold and accented with diamonds or pearls. Of course, a pair of peridot stud earrings is a lovely gift for the August birthday girl, but since studs and button earrings are popular for fall, consider getting a pair and adding this enchanting gemstone to your jewelry box. They'll match muted autumn color palettes and add a pop of color to a black turtleneck on a cool day.
What are your favorite gemstone colors? Do you like fiery reds and oranges or cool blues, greens, and violets? And, if you have any tips for using jewelry to transition from hot summer fashion to elegant autumn styles, share with us!
Posted by Shawna Edwards