People are Talking: Pick-Me-Up Patterns
Posted at Sep. 18, 2013 at 1:53 PM

The seasons are changing, and it's nearly time to say goodbye to summer until next year. It's no wonder that this month everyone's trying to capture a touch of summery energy in their home with bright, dynamic patterns. Capture the lively, fresh feel of summer all year long with a few of these recommended products.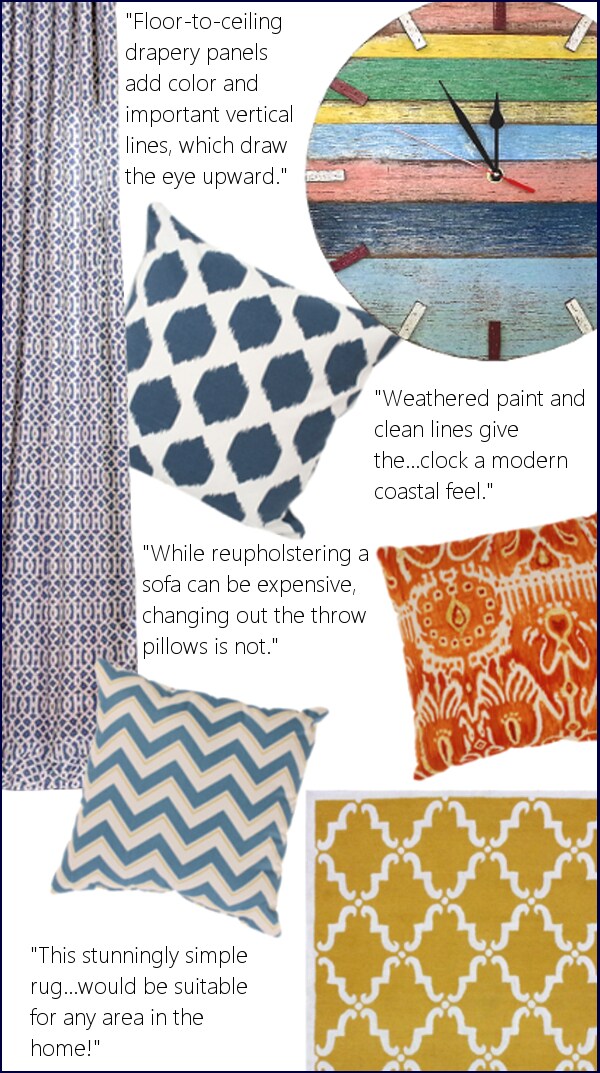 Throw pillows are one of the easiest, and cheapest, ways to add a little color to your space. The Isabella ikat pillow, which comes in eight colors, is a favorite at glo.msn, and Margaret Ely at The Washington Post picked out this blue-and-white chevron pillow and the Cerva pumpkin throw pillow.
The little touches of pick-me-up style don't stop there! Give your place a little boost from floor to ceiling with fresh printed curtains, like these Nairobi printed curtain panels featured by The Washington Post (they're giving us a lot of love!), or a unique clock. Woman's Day loves this recycled boat wood clock, which also comes in several colors. A bright rug underfoot can do wonders for your home, and The Krazy Coupon Lady picked the Marrakesh trellis wool rug out as a "knockout knockoff" of a more expensive rug. And frankly, I like ours better anyway.
How do you keep things bright and lively in your home throughout the cold, dark months of fall and winter?
Posted by Andrea Sparks