People are Talking: Back to School Style
Posted at Sep. 13, 2012 at 1:16 PM

School is well under way now. It's time for the phone calls to start coming from your kids at college about the things they forgot, and it's been long enough for your grade school kids to decide that reusing last year's stuff just isn't cutting it. Of course, even those necessities can be fun. Lately, we've seen people around the Internet and on newsstands talking about products from our site that help kids go back to school in style.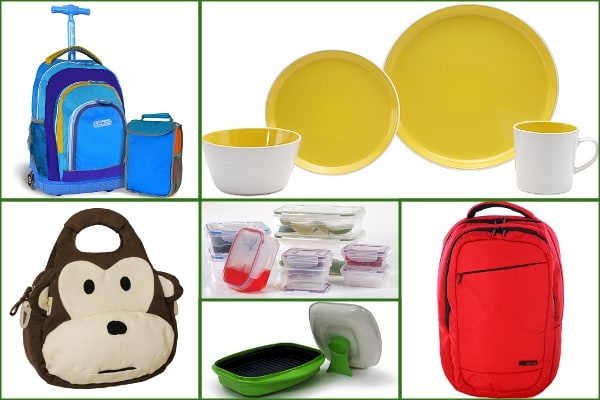 Every student, young or old, needs a backpack, and the back-to-school special issue of All You magazine featured lots of them. For your high school kids, they picked the Olympia Boston red laptop backpack, a practical choice with a pop of color. And for your elementary school children, they suggest the colorful J World "Lollipop" kids' rolling backpack (which comes with a matching lunch bag) to keep the weight off their little backs. (The wheels light up when the bag rolls, too.) If you end up choosing a pack that doesn't come with its own lunch bag, All You suggests the EcoGear EcoZoo monkey lunch tote, which is probably the cutest way a kid could possibly carry around a sandwich.
If you have a kid in college, you know her needs go beyond peanut butter and jelly. Stocking a kitchen for the first time can be tricky, but with the right gear, you can help make sure she's getting three square meals a day -- or at least one square and maybe a couple triangles. Trae Bodge from the Retail Me Not Insider blog singled out the Sunbeam 1.1 cubic-feet digital microwave oven as a great deal. If you're sending one to your college student, Bodge suggests also including a Microhearth grill pan, a clever contraption that lets her grill food right in the microwave. Add to the care package the Lock Store Microban 18-piece food storage set, which has enough containers that your student can lose a few and still have plenty. The bright colors on each one may help her remember to bring them home from campus, though.
Your college student may eat many meals straight out of those storage containers, but on some occasions, she will need a plate. If she doesn't have a set yet, Metro.us suggests the Oneida Color Burst lemon drop dinnerware set, a sunny set of dishes that would brighten her day. When she's done eating and ready to crack open the textbooks, she can settle into the chic chocolate Microsuede bed rest to comfortably read in bed before crashing out for the night. Send one to your student right before midterms, and it will be the perfect mid-semester pick-me-up and a nice alternative to the busy library.
How are you getting back in to the school year? Are there any necessities you've have to get for your kids?
Posted by Stephanie Petersen