People Are Talking: Your Own Taste
Posted at Apr. 17, 2013 at 1:40 PM

Though you may not know his name, Billy Baldwin (no relation to the actor) was one of the most influential American interior decorators of the 20th century. He popularized the use of natural materials and comfortable furniture, and he filled rooms with dramatic colors in ways that hadn't been done in American interiors before. He decorated for Diana Vreeland, Cole Porter, and Jackie Kennedy Onassis. Baldwin died in 1983, but his attitudes on interior decorating live on. This month, the Overstock.com products that people are talking about in magazines and on the Internet reflect the philosophy of the remarkable Billy Baldwin.
"Stick to the things you really love. An honest room is always up to date."
It can be tempting to chase trends in decorating, but bringing in the latest pieces doesn't always reflect your true personality. A classic tufted club chair like this one by Christopher Knight Home is timeless, and if you love the look, it will feel right in your home, too. Jana Randall at SheKnows.com recommended letting it be a neutral backdrop for bold accents, like floral curtains and a chevron rug.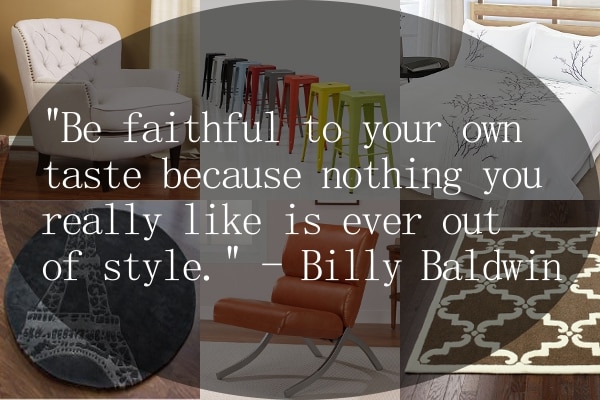 "Decorating is the art of arranging beautiful things comfortably."
A lot of beautiful things may look nice, but they don't actually work for the people who need to use them every day. One piece that always adds comfort and beauty is a well-designed ottoman, like the handmade disco cables pouf recommend in the March 2013 issue of Woman's Day or the Moroccan white leather ottoman that Esther from BuyModernBaby.com liked. Another beautiful thing: these Tabouret bar stools. Their style is undeniable, but they're comfortable, too, which earned a pair of white ones a place in the April 2013 issue of HGTV Magazine.
"Everything in a bedroom should contribute to an atmosphere of peace."
It's the place where you rest, so it only makes sense to choose pieces for your bedroom that feel serene. In an article about preparing to study abroad, Cailey Anne Rizzo from Refinery29.com recommended decking out a bed with this cozy comforter set with a peaceful branch design. The 6-foot round Eiffel Tower rug that Carrie McBride from ApartmentTherapy.com recommended for a children's bedroom would feel relaxing in any bedroom, I think. The grey-on-grey color scheme takes me back to the rainy day I visited the stately landmark, and what's more soothing than a lovely memory?
"Comfort is perhaps the ultimate luxury."
Feeling good in your own home: There really isn't anything more important to consider when you're decorating. A comfortable place to sit is probably the most essential thing. This rust faux leather chair has style and comfort on its side, and it was recommended by designer Paula Tranfaglia, who included it in her design that was featured on WashingtonPost.com. Comfort underfoot goes a long way in a room, too. In the March 29, 2013, issue of All You magazine, the handmade Luna Marrakesh trellis wool rug was singled out as a good buy, and I think the soft wool would add serious luxury to a room.
"Be faithful to your own taste because nothing you really like is ever out of style."
This is the essence of what Billy Baldwin believed. Whether it's vintage furniture that you love or if you can't get enough of animal print, your love of it will make it work in your home.
Is there something you love in your home -- even if it may not be a current trend? Or is there a trend that you're happy to embrace because it really speaks to you?
Posted by Stephanie Petersen