People Are Talking: Winter Warm Up
Posted at Jan. 10, 2013 at 10:09 AM

When I got into my car this past Monday morning, the dashboard thermometer said it was 12 degrees outside. Brrrr! As a California girl transplanted into Utah, it's no wonder I want to hide under the covers this time of year. I've just never quite gotten the hang of winter. Of course, I'm not the only one who is trying to warm up. This month, people are talking about dealing with the winter chill.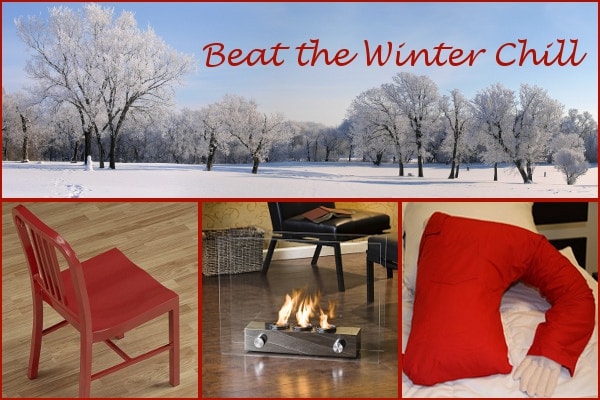 The staff at Woman's Day chose to warm up with winter throw blankets, and they chose the chic Saro herringbone throw in chocolate for a family room or a guest room. I love the menswear-inspired look of this throw; it would look perfect draped over a leather club chair.
A cup of tea is always welcome when the temperatures drop. Baton Rouge Parents Magazine recommended the vintage styling of an Old Dutch cast-iron teapot in their December 2012 issue. Pick up a tea sampler set to go with it and you'll soon feel yourself thawing out from the inside.
Kate Freeman at Mashable.com rounded up several "futuristic fireplaces," including the Loft brushed nickel portable fireplace which can warm your space with either gel fuel cans or pillar candles. The modern style will do its part for bringing the heat, too.
Jennifer Flores at RamblingRenovators.blogspot.ca had the specific goal of warming up a cold basement craft room. There's nothing hotter than red hot, so she chose our red metal side chairs to create a cozy feeling in an otherwise too-white space.
Ami Angelowicz at TheFrisky.com thought Dream Man arm pillow would be the best way to warm up her bed this winter, pointing out that he won't complain if you read poetry to him or if you're crushing him. You could pick up this guy in red for an early Valentine's present for yourself, too.
On the other hand, if you're one of those people who embrace the winter weather, make sure you check out our infographic on winter sports for inspiration on how to get out there into the cold, cold snow.
Are you trying to warm up or are you braving the storms?
Posted by Stephanie Petersen