People Are Talking: What's Your Inspiration?
Posted at Sep. 27, 2012 at 2:43 PM

Decorating inspiration can come from anything. You may have decorated around your favorite color before, but have you thought about decorating your home like one you've seen on a TV show? When you're looking for creative ways to decorate, be sure to notice all the places, spaces, and things that could be the start of your next great room. Here are the blogs, websites, and magazines that are talking about interesting ways to be inspired and the home decor items from Overstock.com that their inspiration led them to.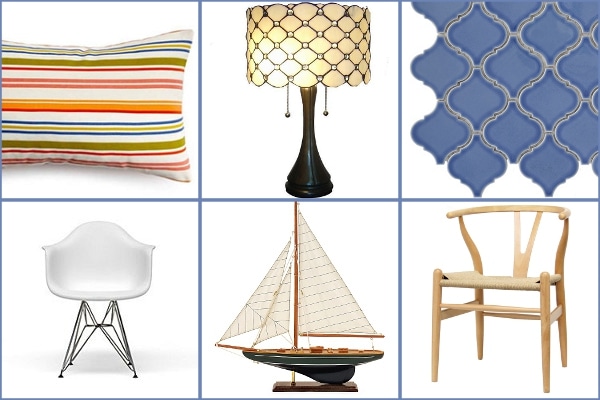 Last month's Olympic Games inspired Melissa Dunlap at SheKnows.com to reconsider the beauty of bronze. She loved the details of this bronze Tiffany-style modern lamp, which gets the gold medal for style. Erinn Connor at NorthJersey.com was inspired by the Olympics' host city when she chose our London pillow. Now that the Games are in the past, I think this is the perfect pillow to lean on while following the latest adventures of the Duke and Duchess of Cambridge.
If you're not as interested in going across the pond as you are in the pond itself, you can look to the sea for inspiration. Tina Chadha at Metro.us curated a collection of nautical-inspired pieces, including the Regent Emerald Isle sailboat, a piece which makes no subtle statement about where your inspiration comes from. Moroccan style is also instantly recognizable because it has been around for centuries. If you're inspired by this exotic, ancient look, try tiling a backsplash or fireplace surround with our Moroccan blue porcelain tiles, which are recommended by Leah Moss of ApartmentTherapy.com. One more timeless design inspiration: Danish modern. FamilyCirlcle.com had this classic style in mind when they featured our bow-back wood chair with a hemp seat. (I especially love that chair in green.)
The editors at Modern Health and Living magazine were true to their name when they looked to the color white for inspiration in last month's issue. It's a relaxing yet modern color, which they showed perfectly when they paired the Andalucia modern white leather bench with a white Buddha similar to this one. They continued the peaceful color inspiration into another room with the Ayer wire base arm chairs. It's like taking the feeling of crisp, clean hotel sheets and spreading it around the house.
Speaking of hotel beds, after Jennifer Hay from MyBoysandTheirToys.com had a great night of sleep in a hotel bed with down pillows, she was inspired to pick up a set of our Hotel Grand Naples down pillows. Decorating like a hotel is one thing, but have you ever looked at what's inside the pillow case to get ideas on what to buy for your home? Next time you sleep well while on vacation, take a peek under the sheets. The pillow or the mattress brand might set off your next shopping trip.
So, how about decorating like a home you saw on TV? You may not have realized that this is an inspiration source for many people. In the September 2012 issue of HGTV Magazine, the editors showed how to copy one of the homes from Modern Family. They chose the Jiti Pillows rainbow stripe throw pillow as a good imitation of the pair seen in the Dunphy's family room. Two of those on a couch like this cream microfiber sofa, and I think you would have the look nailed. For more inspiring home decor ideas from television and movies, you have to check out the list that Julia from HookedonHouses.net has compiled. I am so impressed.
So what inspires you when you decorate? Have you found an unusual source of inspiration?
Posted by Stephanie Petersen