People Are Talking: Update Your Home for the Holidays
Posted at Dec. 5, 2012 at 5:26 PM

Whether you're having a few guests over for a holiday cocktail party or your whole extended family is coming to stay for a week, you want to make sure your home is prepared for entertaining. You're busy, so this isn't the time for an extreme home makeover; a few pieces can freshen up the whole place and make it more inviting for your guests. These suggestions, made in blogs, magazines, and newspapers, could be just the thing to get your home ready for the holidays.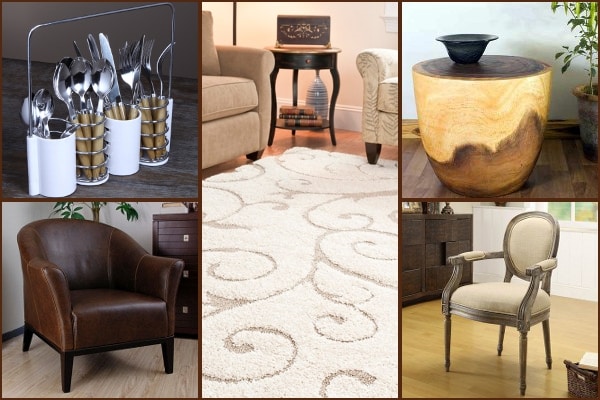 Living Room
Give your living room a welcoming feeling with a few key pieces. Shandra Hill Smith at Atlanta's SeasonMagazine.com recommended a makeover that included a sculptural pecan floor lamp, a set of arm chairs in beige to create a conversation area, and a monkey pod wood end table that added texture and function to the room.
It's all those layers of texture and softness that will let your guests know you want them to linger longer. Bring the feeling down to the floor with a cream shag rug like the one recommended by Meredith Galante at BusinessInsider.com. Throw pillows make the sofa a comfortable place to relax and enjoy each other's company. The editors at WomansDay.com picked a trendy orange chevron pillow, while the editors at Women's World magazine (in the November 12, 2012 issue) suggested warming up the room with red. They liked our silky red diamond embroidered cover and our charming French linen toss pillow.
Dining Room and Kitchen
You simply can't entertain guests without offering them some food. If you're planning to prepare a large meal, Stacie at SimplyStacie.net recommends getting yourself a food processor; she liked the Black and Decker combo food processor and blender because it let her do so much more in the kitchen so quickly.
If your plans include serving a sit-down meal, make sure you have everything you need to set the table for a crowd. Gillian Barth liked the rustic look of the LeBrun faux wood flatware set and recommended it in the November/December 2012 tablet edition of This Old House magazine. Just like in the living room, a little update like this in the dining room will make people feel comfortable and welcome.
Guest Bedroom
If your holiday houseguests are staying overnight, then the comfort needs to extend to the guest bedroom. If the whole room needs sprucing up, try the hand-woven jute rug recommended in the October 2012 issue of Better Homes and Gardens. Adding a chair to the guest bedroom will give your visitors a place to relax at the end of a busy day; GoodHousekeeping.com and DIY Network's Blog Cabin picked the Tivoli dark brown leather arm chair for this purpose.
If you just need to make the guest bed more comfortable -- or if you need to make a couch into a passable guest bed -- start by updating the pillows. Stacie back at SimplyStacie.net liked our gel memory foam pillow so much that she's going to get one for her husband for Christmas, so they're sure to be good enough for your guests. Finish off the bed with a throw blanket, in case your guest needs a little extra warmth in the night. Melanie Munk at Everett, Washington's The Sunday Herald recommended our cheery polka dot reversible throw in the October 28, 2012 issue.
Do you have guests coming for the holidays? What have you done to get ready?
Posted by Stephanie Petersen