People Are Talking: The Colors of Summer
Posted at Jul. 19, 2013 at 1:45 PM

What is the color of summer where you live? Is it the blue of swimming pools or the light brown of a sandy beach? Is it a sprawling red desert or a thick, dark green forest? Does the yellow sun mean summer to you, or do you prefer the black night sky, when it's salted with white stars? This month, people are talking about bringing all those colors of summer into their homes and their wardrobes.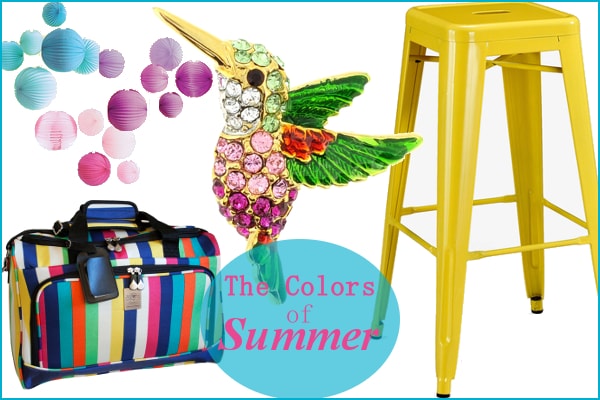 Yellow is the color of the sun as well as summer's favorite drink, lemonade. In a Redbook article urging readers to "amp up your summer style," our 24-inch metal stools in lemon yellow were singled out as pieces that will bring hip bistro style home. That size is sold out, but you can still get 24-inch stools in other summer colors (like lime green, tangerine orange, and sky blue) as well as the 30-inch yellow barstools.
Ashley Phipps at She Knows put together five summery bedrooms for under $500 each, and we weren't surprised to see that some of our bedding made the cut. She chose the Lush Decor Venetian comforter set in white, which is perfect for feeling like you're sleeping in a little fluffy cloud all summer long.
According to the St. Louis Post-Dispatch, if you're looking for a quick makeover this summer, "try adding a pop of color into your lifestyle." They chose the Jenni Chan multi-stripe duffel bag that would be perfect piece of luggage for any weekend trips you may be taking in the next month or two.
In the June 17, 2013 issue of Woman's Day, the editors suggested brightening your day with hummingbirds. Since these lovely, happy birds hang around my backyard in summer, I think the multi-colored crystal hummingbird brooch they chose is the perfect way to accessorize for the season.
Are you throwing an outdoor fete this summer? Angie Cho at Apartment Therapy suggests using Martha Stewart paper lanterns as part of your decor. They come in pink, blue, and purple, and they'd be adorable hanging from a tree or a pergola, over a dining table or over a buffet.
If the summer colors you're thinking of come in the form of fruits and vegetables, then you may want to bring home the Omega J8005 masticating juicer. Alexa Hotz at Yahoo Homes recommended it, saying that "a cold press, or masticating juicer, processes ingredients with a low motor and at a low speed, which retains more enzymes, nutrients, and cuts down on the oxidation of the juice so it lasts longer in the refrigerator."
Which colors mean summer to you? Do you like to bring them into your home and your wardrobe, or do you prefer the tones of another season?
Posted by Stephanie Petersen