People Are Talking: Summertime Style
Posted at Jun. 26, 2012 at 2:52 PM

Now that the summer solstice has passed and the 4th of July is right around the corner, summertime is officially in full force. The long days and warm nights of summer make going outside irresistible, but to make the most of the season, you need the right supplies. This month, people are talking about the summertime gear that gets them out into the sun -- at home and away.
Out and About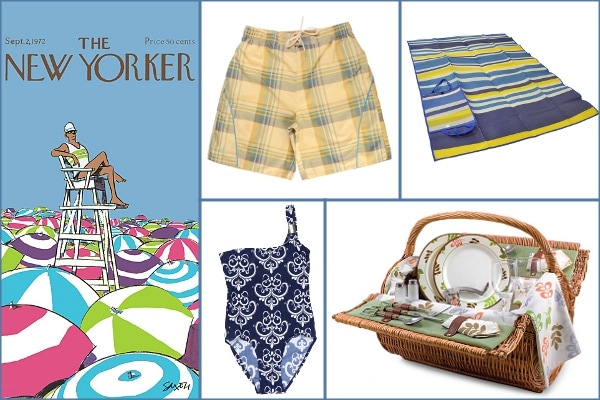 Whether you're planning a day at the beach or an afternoon at the park, it's always fun to bring your own food. The Union Tribune San Diego recommends packing a picnic in this handcrafted picnic basket that comes stocked with supplies (including wine glasses and a corkscrew) for two people. Need something to sit on? Caylin Harris at GoodHousekeeping.com recommended our foldable striped travel mat for picnics as well as backyard stargazing.
If you're just interested in catching some rays, you'll need the right swimsuit. Time Out New York's trend watcher Rachel LeWinter was on a quest to find the best men's swimsuits and women's swimwear under $50. For the guys, she chose a pair of preppy yellow plaid swim shorts and for the ladies, a playful blue one-shoulder tank. Then you can stretch out on this towel that looks like a vintage cover of The New Yorker; Georgia Kovanis at the Detroit Free Press thinks it's perfect for showing off your literary side, even if all you're reading is Fifty Shades of Grey.
If your summer adventures are taking you farther than your local swimming pool, you'll need a good set of luggage. Maureen O'Connor at AlternativeConsumer.com is into going green with the Heys EcoCase 3-piece luggage set; it comes in a few different colors, so you can take "green" literally, if you want.
Your Own Backyard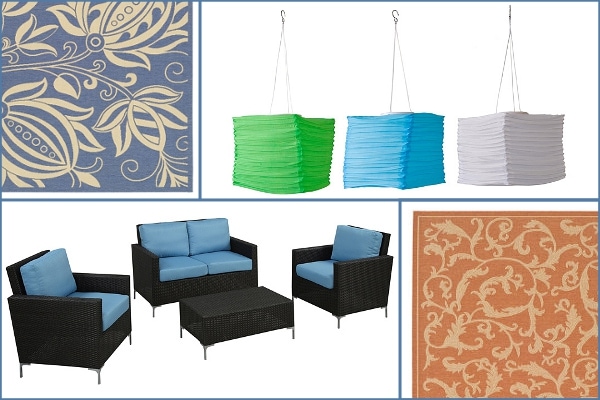 With the right pieces, your backyard can be the best summer destination of all. Abe Abbas at About.com recommends starting with this angelo:HOME 4-piece wicker set that you can enjoy on your own or with a few friends. Next, add an area rug to anchor the seating area. Shana Ecker from Styleist.com likes the pattern on this blue square outdoor rug, and Bob Tedeschi at the NewYorkTimes.com recommends this terra cotta colored outdoor rug from Safavieh. To complete your seating area, add some lighting. The editors of All You magazine like our solar powered lanterns because you can hang them all over your deck and yard.
No backyard is complete without some kind of barbecue. Bethany Seawright at ApartmentTherapy.com likes this minimalist grill that folds up and packs away. Cindy Clark and Alison Maxwell at USAToday.com love the luxurious look of this modern, round grill.
The park, the pool, the porch, or the patio: Where do you like to spend the summer? What are your essential summer supplies?
Posted by Stephanie Petersen