People Are Talking: Summer Is Coming
Posted at May. 29, 2013 at 2:26 PM

It's been a rough winter in many places this year, and it seems like summer is taking its sweet time getting here. But it will come eventually, and people all over the Internet are talking about getting ready for the warmest of all seasons, the brightest time of year. Whether it's your home or your wardrobe that needs a little preparation for summertime, our fans have picked out the products that can help.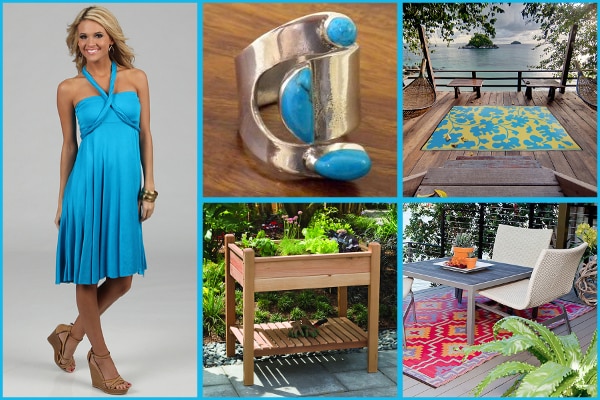 Outdoor Updates
Nothing says summer more than dining al fresco, and if you need some patio dining furniture, then take a look at the Bimini Jim 42-inch round dining table. It has a bamboo look, just with the sturdiness of aluminum, and it was a favorite of Jason Loper's on ApartmentTherapy.com. In another ApartmentTherapy.com post, Loper rounded up several outdoor poufs, including the Chateau Designs outdoor bean bag ottoman with a playful orange chevron design. This is perfect for adding some casual seating in your backyard.
Outdoor rugs are an easy way to dress up a porch, and I've heard they can even help you put off refinishing a deck for a year (ahem). Sue Doerfler from AZCentral.com picked out two of our eco-friendly outdoor rugs, and to make it even more fun, they're both reversible. One rug is purple and orange, the other is turquoise and lemon yellow, and either one would be a vibrant addition to an outdoor space.
A planter box is a great way to bring some greenery from the garden up onto the patio, and Laura Trevey at BrightBoldBeautiful.com loved the Phat Tommy elevated planter box. It's perfect for anyone who wants to tend to a few flowers, herbs, or vegetables, but doesn't want (or isn't able) to bend down.
Summer Style
If getting ready for summer means picking up some comfortable clothing, look no further than Elan's convertible dress, which was featured in the May 20, 2013 issue of First for Women. It can be worn eight different ways, so it's perfect for packing. And speaking of packing, Bee-Shyuan Chang at Fodors.com recommends packing our handcrafted silver and turquoise Attitude ring for your next trip. For men who need a summer wardrobe update, Cristina Velocci at TimeOut.com recommends a pair of contrast-lined chino pants, which are lightweight and right on trend.
Summer is coming, even though there may be a few more rainstorms first. How are you getting ready for summertime?
Posted by Stephanie Petersen