People Are Talking: Sophisticated Comfort
Posted at Mar. 14, 2012 at 11:36 AM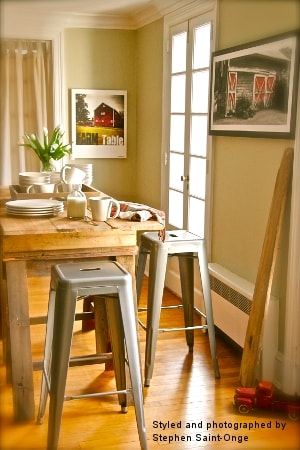 How do you get the perfect blend of comfort and sophistication in your home? You want it to be a place you can relax and unwind, but you shouldn't have to sacrifice style. This month, people are talking about the Overstock.com products that have helped them bring sophisticated comfort into their homes.
The rule is actually pretty simple: Just combine cozy textures and bold accents. But where do you start? Many of us already have the comfort part down. An old sofa, a pile of throw pillows, or a hand-me-down dresser may take up a spot in your home.
Abe Abbas, furniture writer at about.com, has several suggestions for bringing in the sophistication, and they all come from the movies. What could be more stylish than a silver-leaf cabinet that looks like it came from the set of "The Artist"? Susan Siravo from Say it Right noted that often all it takes to add luxury to a room is a new light fixture, like our Chrome and Black 6-light Crystal Chandelier.
What do you look for when you want to bring in pieces that embody both the luxury and the coziness? When on-trend color meets touchable texture, that's where you'll find sophisticated comfort. For cozy texture, Leah Ingram at Home Goes Strong recommended our Alexa Standard Flokati Rug. To keep it chic, she suggested choosing the black-and-white color option, which is exactly the Pantone spring 2012 color Driftwood Grey.
It's not always about color, though. Sometimes, the materials are what bring the two together. Designer and Family Circle contributing editor Stephen Saint-Onge had the right idea when he mixed a rustic barn-wood table with our industrial metal chairs and stools (shown above). On his blog, Designer Dad, he showed one table styled three ways with our Tabouret metal barstools, silver Tabouret stacking chairs, and red Tabouret stacking chairs. The soothing patina of the aged wood combined with the sleek metal of the chairs: Now that's how it's done.
(By the way, Jackie at My Simple Home Life also thought the Tabouret metal barstools were a smart buy, and fans of Gwyneth Paltrow's Goop newsletter may remember that she had the same stools in one of her homes. Two stylish friends of mine both have those stools, and I can tell you this from seeing them in their homes: These barstools alone will up the sophistication factor in your home.)
How do you combine style and comfort in your home? Do you find yourself going more toward one or the other?
Posted by Stephanie Petersen