People Are Talking: Small Changes
Posted at Nov. 21, 2013 at 3:19 PM

A small change in decor can make a big impact in a room. Add a bit of texture or a spot of color and the space suddenly seems brighter or calmer, livelier or cozier. This season, people are talking about those little touches that personalize your living space.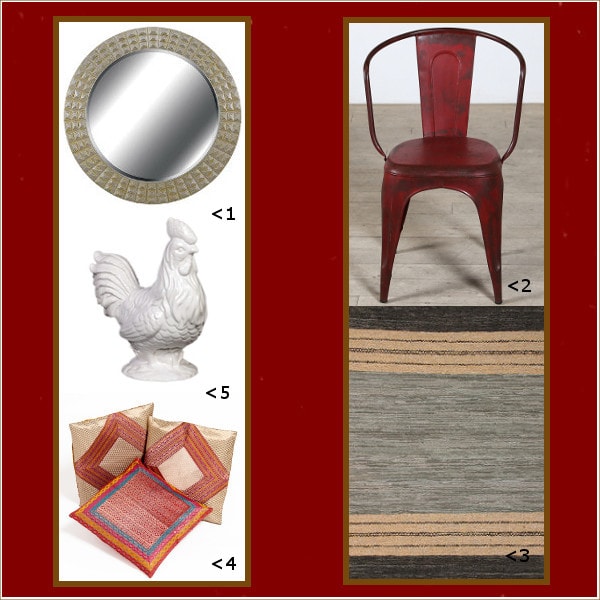 Sometimes, all it takes is a light-reflecting mirror to brighten a room. At Apartment Therapy, Kim R. McCormick picked out our Hardeman silver/gold gilt wall mirror in an article highlighting the soft, subtle look of round mirrors. Another way to make your decor cozier for the colder months is to switch out the bold colors of summer for the warm, neutral shades of fall and winter. Kirsten Grove at Simply Grove likes our Chindi grey leather rug for the bedroom, saying "switching out rugs is one of my favorite ways to change a space with little effort."
Of course, a splash of color can set the mood perfectly, especially if you love to entertain. Tara Bellucci, also at Apartment Therapy, chose the Miller metal chair from our Worldstock store in an article on prepping a beautiful harvest brunch for friends. Claire Gallam at SheKnows.com has been picking out new throw pillows for a quick style update in the family room. She likes the brocade weave and colors of the Banaras cushion covers from India, which she said would "look great with a red, tan, or even brown sofa." Clair also suggested the fall colors of this brown and beige damask throw pillow.
Maybe country charm is just what you're after. In the October 7, 2013, issue of Woman's World magazine, the editors chose a white rooster from our home decor category as part of a layout on chic new country decorating, saying "this ceramic rooster is the perfect accent for a mantel or cozy corner."
Have you found a great product on Overstock.com and told all your friends about it? Share it with us!
Posted by Shawna Edwards