People Are Talking: Pintervention
Posted at Mar. 11, 2013 at 2:15 PM

People talk about Overstock.com products all over the Internet and in magazines, and when I look through each month's mentions, I often have a moment where I think, "Hey, I saw that on Pinterest, too." Like many people these days, many of my conversations begin with "I saw this thing on Pinterest …" so it's no wonder the products and trends people write about have been pinned, too.
For the uninitiated, Pinterest.com is a virtual pin-board website, perfect for collecting and sorting images and links to things all over the Internet. It's much more visual than bookmarking pages in your browser, and since you can share your pins with followers, it's much more social, too. And it's easy to check it several times a day; I have the app on my phone and on my iPad, and it's bookmarked on both my work and home computers.
But just because checking Pinterest is the first thing I do in the morning and often the last thing I do at night, it doesn't mean I need a Pintervention. After all, if it weren't for Pinterest, I may not have heard about all of these pinnable products. And I can quit any time. Really.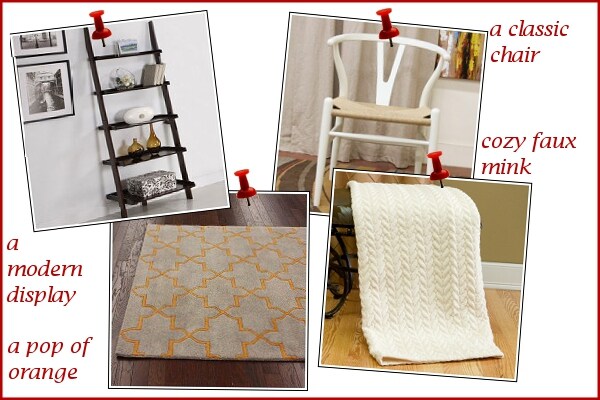 In the February 2013 issue of Country Living magazine, Beth Ann Fennelly was inspired by antiques' dealer Sarah Anderson's home, and she recommended our using quilted cable micro mink throw to copy Anderson's style. No surprise: White faux mink throws have been all over Pinterest lately.
One of the people I follow has been pinning a lot of leaning ladder shelves on Pinterest, and Jason Loper over at ApartmentTherapy.com is into the look, too. He suggested using our walnut five-tier ladder shelf.
Pinterest users have pinned wishbone chairs in every color and in every kind of room: rustic living rooms, mod bedrooms, contemporary kitchens. Kate Riley from the Better Homes and Gardens blog thought our ivory wood wishbone chair was also very versatile.
Emily Hamlin Smith at Cleveland.com thought our black toile baby bassinet was worthy of celebrity baby. Pinterest users thinking they're worthy of their babies, too, and they've been pinning loads of toile bassinets.
I've seen polka dots on Pinterest on everything from clothes to cakes to refrigerators. Alison Gerber on ApartmentTherapy.com is also into polka dots, and she suggested our kids' polka bean bag chair in lavender, if you want to bring home this trend.
Angie Cho, also of ApartmentTherapy.com, is wild about orange, and she suggested using our handmade wool trellis rug to bring a bit of the citrus hue home. Pinterest users are fans of orange decor, too, pinning everything from orange chairs to orange curtains.
Have you discovered the joys of pinning? Are you following Overstock.com on Pinterest? Do you need a Pintervention or can you keep it under control?
Posted by Stephanie Petersen