People Are Talking: No Room Undecorated
Posted at Aug. 8, 2012 at 1:11 PM

Decorating one room from top to bottom is very satisfying, even a little exhilarating -- until you walk into the next room and -- ugh! -- everything seems tired and old in comparison. If you want to take that fresh feeling into the rest of your home without redoing everything, try updating just one thing in each room. This month, people are talking about that one affordable piece that can help you revitalize every room without spending a lot of money.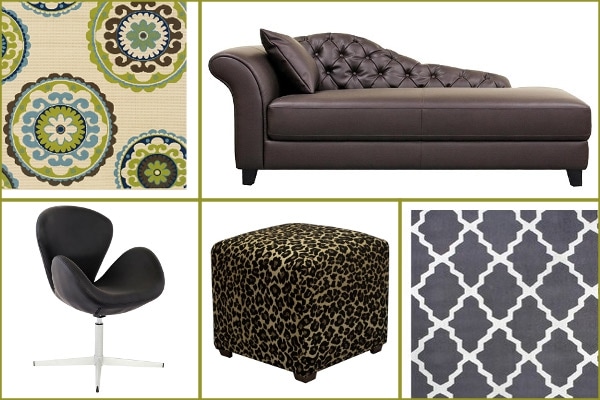 The easiest place to start is in the living room, where many people spend a lot of time. It's also the room guests will see the most, so some eye-catching seating will add function as well as that fresh feeling you want. Jana Randall at SheKnows.com recommends our turned leg zebra print arm chair, while the June 2012 issue of Your Home and Lifestyle magazine suggests this set of 2 red ottomans for accommodating guests.
Sue Morris at WickedLocal.com also has ottomans on the brain, and in her search for the perfect affordable footrest, she found our round red storage ottoman and our leopard cube ottoman. Both are bold choices that would be enough to make the whole room feel renewed. If you like the idea of something more subtle, take this suggestion from Alesandra Dubin of iVillage.com: "Get a traditional look and gain storage too with this bench done in chocolate-colored synthetic leather."
Once you have the living room updated, it's time to move on to the rest of the house. Your office may not be the room you show off the most, but it should be a room where you feel inspired. Ali at AZLifeandStyle.com put together a selection of home office decor items that includes the Swan black leatherette chair and the hand-hooked Alexa Moroccan trellis wool rug to help you get your creative juices flowing.
If your bedroom doesn't need to be fully redecorated, why not just add some seating? Karen Deer of SLToday.com thinks this brown Victorian chaise would be perfect for a glamorous, romantic bedroom. If it's your kid's room that needs a shot of style, add one of the vibrant Cool Skin Kid's Kushy bean sacks, as seen in the June 2012 issue of Women's Day magazine.
Everyone knows the kitchen and the bathroom are the rooms that make the house comfortable, so don't forget to include a few small additions in those rooms. How about an ultra-modern stainless toaster on the kitchen counter? The HuffingtonPost.com thinks it's a good choice. If it's your bathroom that needs the update, Kentucky.com recommends reading our shower curtain buying guide for tips on finding the perfect one.
Why stop refreshing your decor at the backdoor? Let's take the fun outside. You can update the whole garden with the right lighting, and the Stylelist.com thinks our stainless steel white LED lights are a smart choice. GoodHousekeeping.com likes our cedar rectangular planters for plants outside as well as for magazine storage inside. In their July 2012 issue, All You magazine recommends adding the Catalina ivory and green outdoor rug to your patio seating area to "make the space more inviting."
If I could totally redo one room, it would be my bathroom, but I wouldn't mind a new duvet cover and some new dining room chairs, too. If you could totally redo one room, which room would it be? And how would you take that refreshed feeling into the rest of your house?
Posted by Stephanie Petersen