People Are Talking: Make It Yours
Posted at May. 31, 2012 at 3:58 PM

When birds feather their nests, they don't look around for the exact same twigs and bits of string all the other birds have. They seek out what strikes their fancy. If you need a few nest feathers in your home, learn from the birds: The trick to making it comfortable and welcoming is to bring in interesting items and using them in your own way. This month, people have been talking about the ways Overstock.com can help you personalize your "nest."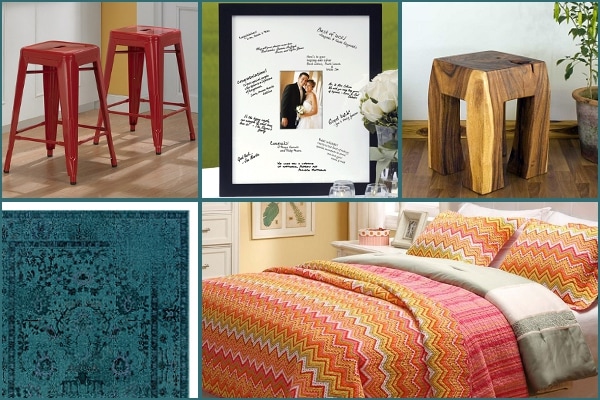 Country Living magazine had the right idea in their May 2012 issue when they recommended using our Thai hand-carved wooden stool as a night stand. Taking a piece that was meant for sitting and using it for setting is a perfect way to make it your own. I love that they also took something from Thailand and gave it an Americana twist with the right accessories, like a jar full of wildflowers and a vintage camera.
Sarah Coffey at ApartmentTherapy.com took personalizing to another level when she recommended our canvas DIY room divider. She said it's "a blank tri-fold canvas that can be painted any color you choose or covered in fabric to create a custom screen." The possibilities for designs are endless. I love the idea of using a room divider as a headboard; just cover it in a fabric that coordinates with the bedding. A painted room divider could also be a good way to add some bold color to a corner. The fun part would be choosing how to paint it.
Color and prints let you really express yourself. Redbookmag.com suggests adding our red Tabouret bar stools to your kitchen to add bold color without much cost. And just imagine how bright and fun your bedroom would be with the orange zigzag quilt set that Women's World Magazine suggested in their May 7, 2012 issue; if you have a sunny disposition, this bedding will reflect that. Liana Walker at ApartmentTherapy.com is thinking about bringing in color with an overdyed rug, the latest trend in area rugs. She picked out our Presley teal and grey rug as an affordable way to get in on the vibrant style.
If showing off what you love is important to your style, then take a cue from Melissa Dunlap at SheKnows.com. She picked out products to get the retro woodland look of the diner where Little Red Riding Hood works on the TV show Once Upon a Time. If you're a fan of the show (or even just of the set design), you'll love the 1-light nickel pendant she chose. If the TV show that speaks to you is more Mad Men than fairy tale fantasy, then you'll love these look-for-less picks: TheBudgetBabe.com recommended our LC white leather sofa, and Tricia Romano, a RetailMeNot.com insider, suggested our Vinnie cradle chair.
One of the best ways to make your nest your own is to fill it with things that remind you of the "birds" who live in it and the good times you've had. Framed photographs always make a home cozy, and a photo from your wedding will bring back warm memories. Miss Treasure at WeddingBee.com suggests using a photo frame that doubles as a guestbook, so you can see who shared your special day with you every day.
How do you personalize your home?
Posted by Stephanie Petersen