People Are Talking: Make Every Day Special
Posted at May. 2, 2012 at 12:42 PM

One of the best parts about shopping is imagining how the lovely new things you're adding to your cart will look in your home or on you. A new light fixture, a pretty dress, or a beautifully decorated glass may be all it takes to make life just a little more fun. This month, we've noticed that people are talking about how to make every day special, and they've featured Overstock.com products -- big and small -- that will make the everyday exceptional.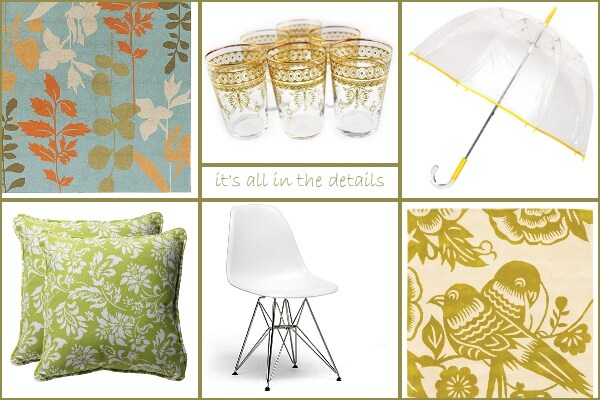 Shaunna at Perfectly Imperfect is our featured Decorating Diva blogger. She's got great tips on embracing the imperfections in our lives, homes, and families and making them part of what we love. Check out her blog and see where she uses Overstock.com finds, like a sisal rug and elegant throw pillows, in her own home.
Lia Wiedemann at iVillage knows that details really matter, and that's why she suggests using hand-painted Moroccan glasses for a Mother's Day tea party. These glasses would make any get-together more fun. I love using Moroccan glasses for wine, too, and the gold design would make even your daily eight glasses of water an experience.
Over at Shecky's, Kenia Mazariegos points out that something as lovely as a chic pair of Laura Ashley gardening gloves is enough to make working in the garden more personal. "Say goodbye to boring gardening gloves," she urges, and I couldn't agree more. And when you need to turn a "blah" rainy day into something better, the editors at Birmingham, Alabama's My Scoop recommend the most stylish rain gear around. A clear bubble umbrella, Burberry rain boots, and a DKNY trench coat are just a few of their recommendations for brightening up a grey day.
One way to make sure every day is special is to surround yourself with colors you love. Michelle at Apartments I Like in Pennsylvania has great ideas for decorating your home, like infusing the space with pale blue. She singled out our hand-hooked pale blue Bliss rug. At Family Circle, Terry Trucco found that homeowners Barbra and David Bell bring "energy and fun" in their family room with bright colors, like our green and white floral toss pillows. "One morning we decided on a whim to paint the breakfast nook orange," Barbra says. "Now every time I walk into that room, I'm happy."
A bit of elegance in your home can also inspire you. The editors at Casa Sugar know that if you had gold wall sconces that looked like they could be found on the Titanic, your home could feel as glamorous as the tragic, opulent ship. Jayne O'Donnell at USA Today, points out that you can have all that glamour for less when you shop here. She found our elegant 6-light curved iron and crystal chandelier at a stylish, fancy store -- with a price tag that was twice as big as ours. A chic black microsuede nailhead trim headboard would add style to a bedroom, as Court over at Big Beige Box discovered when she bought one for her apartment.
When you have your favorite things around you, you'll never let a bad day slip by. Jeremy Rice at Kentucky Monthly shared that he has "become a bird-brain" and collected a variety of bird-themed products to celebrate his new obsession. I particularly loved the Thomaspaul Love Birds rug he found here, and I wouldn't say no to the tangerine Amelia bird-decorated pillow cover, either.
Sometimes classic design in your home can transport you from the commonplace to the extraordinary. Step into the 1930s with a Parsons desk; Jason Loper at Apartment Therapy likes the value of our white student desk. Go back to the 1960s with our Ronnie wire base white chairs, which Lia, back at iVillage, thinks would bring that hip, Mad Men feeling into your home.
What would really make today special is winning our Mother's Day sweepstakes, and we couldn't help but notice all the bloggers who are talking about that. Even if you don't win, you'll still score when you shop for Mom here. Dee at Cocktails with Mom has some great gift ideas, including a blue Peugeot women's watch, which would make every one of your mom's days special, too.
How do you like to make every day special?
Posted by Stephanie Petersen