People Are Talking: Lighten Up
Posted at Feb. 7, 2012 at 11:58 AM

With hundreds of thousands of products available here on Overstock.com, it's no wonder we get mentioned all over the Web. This month, the winter gloom has everyone wondering how they can brighten up their homes. Whether it's to add a splash of color or to swap out something dark for something light, the products we've seen suggested lately would add a sunny feeling to any cold day.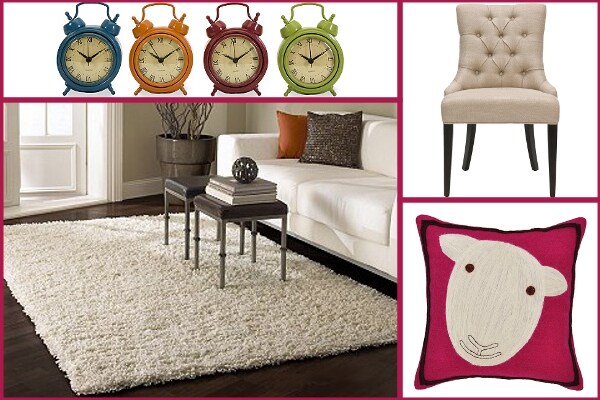 Women's Day gave reader Francesca Mingione a bright and cheerful living room makeover. Among the many changes in this inspiring overhaul, a dark couch in a corner was replaced with a Nimes Khaki Grey Tufted Linen Side Chair, making what was once a dreary spot a welcoming oasis. Cassie at Hi Sugarplum! took one look at her dark dining room and also decided some light-colored chairs were in order. She picked up a few sets of the Crown Off-white Fabric Dining Chairs, and the switch from brown to cream made all the difference. I'm so impressed with the change those chairs made, and she didn't even have to paint the room for a whole new look.
Light chairs aren't the only way to bring light into a room. Betty Confidential suggested freshening up the look in your home by updating an old lamp with our Round Silk Off-white Lamp Shade. Washington's Tri-City Herald had the same idea when they suggested taking the cave out of the man cave with a white, cream or silver Alexa My Soft and Plush Multi Shag Rug.
Other people had anything but neutrals in mind when they were shopping on Overstock.com. Our Silk Organza Square Pillows from India were among the "5 Accessories to Re-energize Any Room" suggested by Irina Gonzalez at Mamas Latinas, and with their multicolor trims, these pillows could easily end the winter doldrums. Missouri's STL Today was thinking about shots of color, too, when they suggested our Set of 4 Multicolored Clocks as a holiday gift; I think these clocks would make a great Valentine's Day gift, too. I would love to see them all lined up on my fireplace mantel.
The DIY Maven at Curbly had just one color in mind: Pantone's 2012 Color of the Year, Tangerine Tango. Just like our Andrea, she showed a phenomenal collection of products in the sunny citrus hue, including the Hand-tufted Safari Orange Rug and the amazing Felted Orange and Cream Wool Pouf. Georgea Kovanis at the Detroit Free Press honed in on one tangerine treasure, the Orange Sheep Wool Decorative Pillow, which doesn't just rely on color to brighten your day. The adorable smiling sheep pillow is available in pink, too.
Have you been inspired to lighten and brighten your home this winter?
Posted by Stephanie Petersen