People Are Talking: Gifts, Gifts, Gifts!
Posted at Nov. 27, 2012 at 3:07 PM

It's that time of year when gift guides are everywhere, and we're excited to see how often we're showing up on them. It's no wonder so many people are planning to shop on Overstock.com for presents: No matter who you're shopping for, we have something that is sure to please them. Not sure where to start? Consider these recommendations from all over the Internet and newsstands.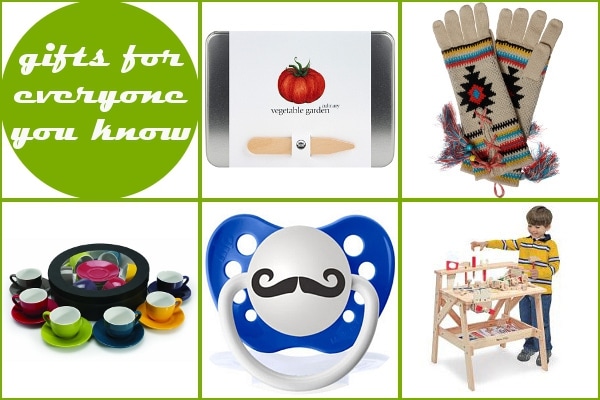 Whether you've been invited to a few parties or you're going to be someone's houseguest for the holidays, you won't want to show up empty-handed. You can ensure you'll get invited back next year by giving a host or hostess gift. In the November 2012 issue of Women's Day and on WomensDay.com, Manouska Jeantus recommended giving our Herbs for Wine Lovers garden kit. It has since sold out, but I think the Gourmet Salad garden kit would be a hit, too. Kate at CentsationalGirl.com also had something in mind for the host's kitchen when she recommended a small marble mortar and pestle set, which is beautiful and interesting enough that the cook may not already have one in his kitchen.
Sometimes the gifts are so good, they are worth buying now and figuring out whom to give them to later. Rachel LeWinter at TimeOut.com recommends the Cordon Blue espresso cup set, a vibrant multi-colored collection that would look cool in any kitchen. Gift sets are also easy to give to those people who may be harder to shop for, and Cristina Velocci, also from TimeOut.com, liked our veggie garden kit and our fragrant flower scatter garden kit, both of which she thought were pretty enough that they didn't even need extra gift wrapping. These are the kinds of gifts I keep under my tree with no tags on them; if someone shows up on my doorstep with an unexpected gift, I can reciprocate the gesture immediately.
Stocking stuffers are often left to the last minute, but I like to have at least one thing in there among the candy that will really get a lot of use. Lisa at FantabulouslyFrugal.com had the same idea in mind when she made her gift guide featuring stocking stuffers for men. She included the Boston Traveler magnetic money clip and the Card Guard RFID-blocking credit card wallet, both of which would become things a guy will likely use the most in 2013. Julia Malacoff at Redbook.com chose the Muk Luk Painted Desert gloves as one her favorite women's winter accessories, earning them a place in a stocking this year. LeWinter back at TimeOut.com recommended the Rock 'N Style microphone hairbrush for kids who can't stop singing along with their favorite songs long enough to brush their hair. And if you're celebrating someone's very first Christmas, be sure to add a handlebar mustache pacifier to their stocking; in the November 4, 2012, issue of the Las Cruces Sun-News, S. Derrickson Moore mentioned that they were perfect for getting babies into the mustache trend.
If this isn't enough to help you cross off everyone on your list, be sure to check out our Cyber Week deals and try out our gift finder.
It's time to start shopping. I have my eye on the Melissa & Doug wooden workbench, which Carrie McBride at ApartmentTherapy.com singled out as a great gift for kids. Are there any gifts you are excited to give?
Posted by Stephanie Petersen