People Are Talking: Get Happy
Posted at Oct. 22, 2012 at 4:38 PM

For four days last month, ParentsConnect.com asked their members "What is your happy place?" Responders had a chance to win an Overstock.com prize package that would let them create a Zen happy place. The package included a teal bamboo and cotton throw blanket, an aqua and lime chevron floor pillow, a copper tabletop fireplace, and a handcrafted floor lamp. It was part of their "Come On, Get Happy Party," and it made me realize: So many websites and magazines have been talking about how to get happy. It's time to not take ourselves so seriously. Let's get happy!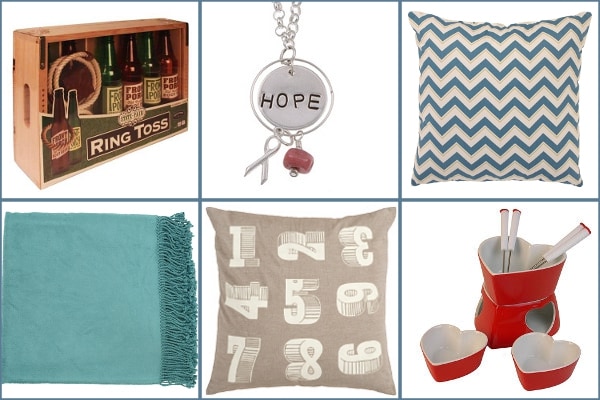 Good times bring happiness, and nothing beats getting together with friends and family to play a game. Monique Valeris of RealSimple.com picked the tailgater's ring toss game for a backyard game. If you're headed to a tailgating party, you can use the wooden crate that it comes in to take it to the parking lot.
If just the prospect of good times is enough to boost your spirits, then you'll love the throw pillow decorated with martinis that Woman's World magazine chose for the October 8, 2012 issue. After all, they call it "happy hour" for a reason! Another throw pillow that can lighten the mood is one decorated with whimsical numbers. The playful design was featured in the September 2012 issue of Parents magazine, and it was a fall style pick by Winona Dimeo-Ediger at TheFrisky.com.
Over on DesignSponge.com, Kate Pruitt talked with homeowner Kristine about her cheery kitchen makeover. In addition to changing the backsplash to a clean white subway tile and taking the doors off most of the cupboards, Kristine changed out her old cabinet hardware for the GlideRite stainless steel bar pulls. Hardware may seem like such a little thing until you realize how much you touch it during the day, and when each touch makes you happy, you're having a pretty good day.
When you think of treats that make you happy, mini cupcakes have to be high on the list. They're just so cute when they're extra small. In the September 2012 issue of Your Home and Lifestyle magazine, the editors recommend using the Wilton mini cupcake stand to serve this adorable treat at your next event. Another food that always brings fun? Fondue. Just try to imagine eating fondue while you're angry or sad. Impossible, especially if you're using the heart-shaped fondue set that Jami Kloet from 24hrs.ca recommended.
October is Breast Cancer Awareness month, and what could be more uplifting than knowing we're closer to finding a cure? It doesn't hurt that the sweet pink products that help support the cause are pretty enough to brighten your day. Tanvier Lee at Examiner.com chose the Scotch pink tape glider, and Hannah Connorton from NationalJeweler.com picked the sterling silver "HOPE" necklace.
My vote for the best way to get happy is to feel healthy. When you're taking care of yourself, everything else seems to fall into place. Eating right is step one, and the Biggest Loser 12 Quick and Easy Cookbook can make that step easier. Kira Lewis at Southwest Florida Parent & Child found that we had the best price online for the book.
Cupcakes and hearts, martinis and games, health and hope: What are the things that bring you happiness?
Posted by Stephanie Petersen