People Are Talking: Father's Day Gifts
Posted at Jun. 14, 2012 at 2:35 PM

Father's Day is this Sunday, June 17, and if you haven't bought a gift for your dad (or your kids' dad), then it's time to focus on what to get for him. You can still have items sent with express shipping, so it's not too late. If choosing a gift is what's slowing you down, consider these suggestions we've seen around the Web and on the newsstand. How do you narrow this list down to the one perfect present? Think about the things you've heard your dad say, and choose a gift that shows him you were listening.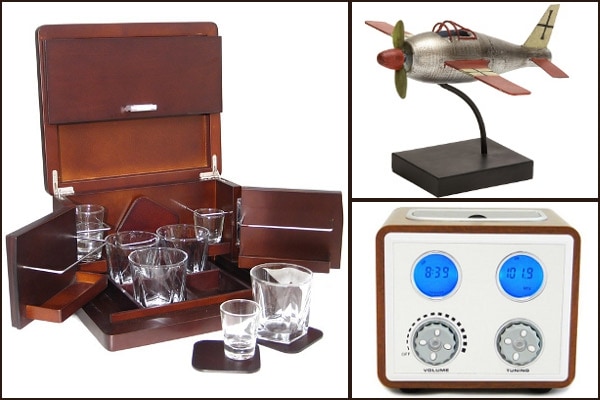 Safety First
Auto maintenance is important for your safety on the road, and many of us learned all about that from our dads. Matt Granite from WKYC.com found that our Ace Home digital tire gauge has one of the best prices online, so you could get your dad something practical without spending a lot.
They Don't Make Them Like They Used to
Rachel DeSchepper at CountryLiving.com suggests getting your dad a reproduction of a toy he had when he was a kid. She picked out a desktop model airplane made of sturdy metal that is sure to impress him -- as well as take him back to the good ol' days. The editors of All You magazine agree that your dad will like something that harkens back to the past, but they think it should also let him indulge in modern gadgets. In their June 22, 2012 issue (out now), they suggest a retro wooden clock radio that also has a dock for an iPod or iPhone.
Take it Outside
Dad may have meant your basketball when he told you to take it outside, but he wouldn't disapprove of taking movie night into the backyard, too. Laura Gaskill at Houzz.com designed the perfect setup for cinema al fresco, including our outdoor speakers that look like rocks, so they disappear into the landscaping when the movie is over. (Want to do the full setup for your dad? I have this Acer projector for backyard viewing parties and can attest to its quality. Hook it up to your laptop, and you're ready for lights, camera, action.)
That'll Put Hair on Your Chest
Christina Caldwell at SheKnows.com suggested helping "bring out your dad's inner Jack Donaghy" (the executive Alec Baldwin plays on NBC's 30 Rock) with a sleek tabletop mini bar. It comes with four shot glasses, four coasters, and four cocktail glasses, and it also holds up to eight 50 milliliter bottles (not included). Jack would fill it with the finest whiskey, I'm sure. What would your dad like? (Hint: Look at the top shelf at the liquor store.) Add one or two of his favorites to make this gift really special.
What are you getting your dad this year?
Posted by Stephanie Petersen