People Are Talking: Dorm Essentials
Posted at Aug. 30, 2013 at 3:10 PM

If you're sending a college student off to school this fall, then you're probably wondering how to send your child fully prepared without breaking the bank. First, check with your son or daughter's dorm to see what the place comes with (so you don't buy any doubles) and what won't fit or isn't allowed (so nothing has to get boxed up and mailed back home). Then, sit down at your computer with your shopping list and see what we have for you. People are talking about our affordable basics that will help you make sure your kid has the best school year ever.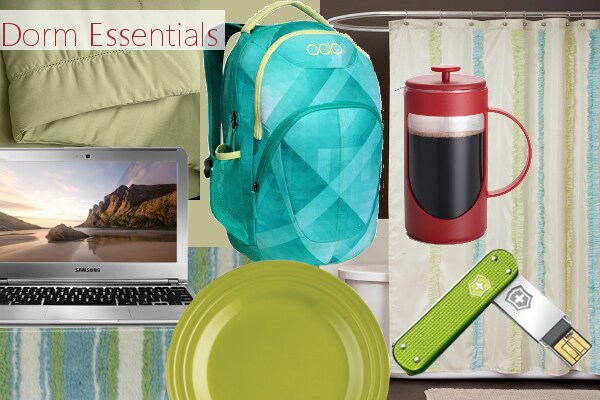 Sleep Tight
If your son or daughter will be dining in the cafeteria, the main thing you need to send him or her with is bedding. Katharine Herrup at AM New York recommends shopping on our site for affordable bedding that will help a dorm room feel more like home, and Movers.com agreed that we're the place to shop for dorm bedding. Carolyn Purnell at Apartment Therapy singled out our 400-thread-count duvet cover set as a good value. When Family Circle magazine's Danielle Blundell went on NBC's Today, she recommended sending college kids off with a body pillow with the Come Sail Away body pillow cover, which would add a touch of nautical style to the room.
Eat Right
When the dorm or apartment includes a kitchen and no meal plan, you'll need to make sure your kid has the cooking basics. All You had lots of ideas for ways to save on kitchen supplies, including the Bonjour 3-cup French press, which is less expensive than most automatic coffee makers. Once the coffee situation is figured out, make sure your kid coordinates with his or her future roommates for the cookware and dishes. They can share everything for the kitchen, and then no one has to spend too much.
Wash Up
When the dorm has communal restrooms, be sure to send your kid to school with a shower tote and a set of bath towels. For an apartment, your child will also need a few pieces to decorate the bathroom with. Jessica Padykula at She Knows loves the fresh feeling of seafoam green accents, especially the sweet ruffles on the Lush Decor Aria shower curtain. Add a coordinating bath mat to the room and your college student should be all set.
Study, Study, Study
It's unlikely that a college campus in 2013 wouldn't have a computer lab your kid can use, but there are often lines to use them, so it can be helpful to have a laptop. The Samsung Chromebook is a top choice of Laptopmag.com. With a good flash drive, your student can write papers on the laptop and then use the printers in the library on campus -- no need to buy a separate printer. Finally, you'll want to make sure your student has a new backpack. Nicole Hutcheson at Land O' Lakes Patch recommended shopping here for affordable backpacks.
These are the barebones essentials for a college student on a budget, but after that, it's fun to add things like art, desk organizers, and even small area rugs. Are you shopping for a college student? What essentials are you looking for?
Posted by Stephanie Petersen