People Are Talking: Calling All Colors
Posted at Feb. 12, 2013 at 1:22 PM

Winter has meant a white-out for many of us, so it's not surprising that many bloggers, magazine editors, and designers have been coming up with ideas for adding color to their homes and outfits. If you're feeling buried in snow, try one of these colors to remind you of sunnier times. Here are a few of the best ideas we've seen this month.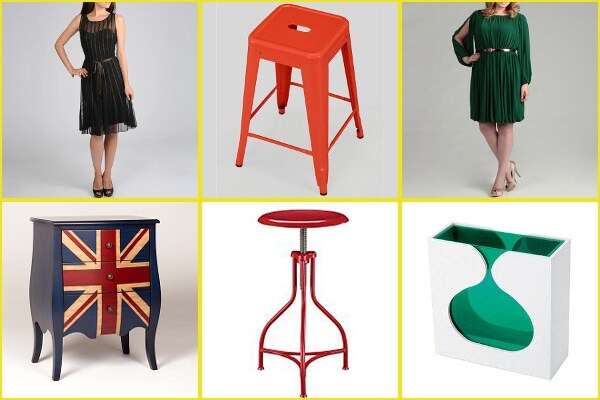 Emily Clark of EmilyAClark.blogspot.com wanted to add a punch of color to her traditional kitchen, so she found a pair of tangerine stools (available in counter height) to do the job. Over at ThisOldHouse.com, Amy Roberts had the same idea when she recommended the bold, red Pavina barstools, which are the right height for desks or dining tables when adjusted to their lowest height.
Bringing color to a room doesn't always mean adding a candy-colored hue. Designer Jaime Meares from Glo.MSN.com took on the transformation of a living room with a tiny $500 budget. Ginger bamboo blinds are just what the dull room needed to feel warmer, and dare I say, spicier?
When you choose one piece that features several colors, you get more bang for your buck. Gillian Barth of ThisOldHouse.com chose a hand-knotted kilim in ivory and green to create an updated English farmhouse look in a home office. Designer Betsy Burnham created a playful dream bedroom for Redbook.com by mixing prints and bold colors, using our Union Jack 3-drawer mini-chest as a nightstand. I'm ready to move right in to the sunny room she created.
Last month, Andrea wrote about the Pantone Color of the Year, and she isn't the only one scouring the site for emerald treasures. The fashion editor at EverythingGirlsLove.com chose the Ellen Tracy emerald belted plus-size dress. Marie Proeller Hueston from BobVila.com picked a set of six emerald-green highball glasses from Mexico. Kristin Allen from NestInteriorDesign.com liked our silk curtains in emerald. And both Abe Abbas from About.com and Karen Deer of the St. Louis Post-Dispatch found the ultra-mod DonnieAnn emerald and white vase, which may explain why it's almost sold out.
When the color is red, as in red carpet, a Little Black Dress is a classic option for standing out. You may not be walking the red carpet anytime soon, but Tammy Ragusa of Country Weekly thinks you can get the look of Kimberly Perry of The Band Perry when you wear a sheer overlay black dress, so you can feel like a country music star when you make your entrance. And if you're interested in getting a celebrity look every day, Christina Caldwell of SheKnows.com also suggests choosing black, this time in the form of black ankle booties similar to the pair that Gwen Stefani was recently seen wearing.
Hali Bernstein Saylor of the Las Vegas Review Journal thinks the same drama that can be achieved with a little black dress can happen in your home decor. In the January 15, 2013 issue, she suggested bringing home our glossy black resin mirror.
Black, orange, emerald green: Are you thinking about adding a new color to your home or wardrobe?
Posted by Stephanie Petersen