People Are Talking: 5 Life Hacks for Your Home
Posted at Jun. 21, 2013 at 12:10 PM

"Helpful tips" are the old way to make your life easier. These days, it's all about life hacks. Are they really any different? Probably not, but it's much more fun to think that you're like a computer hacker, figuring out the system and making things go your way, even when it's just simple solutions for improving your home. This month, people are talking about how products on Overstock.com can help you hack your life and make it better.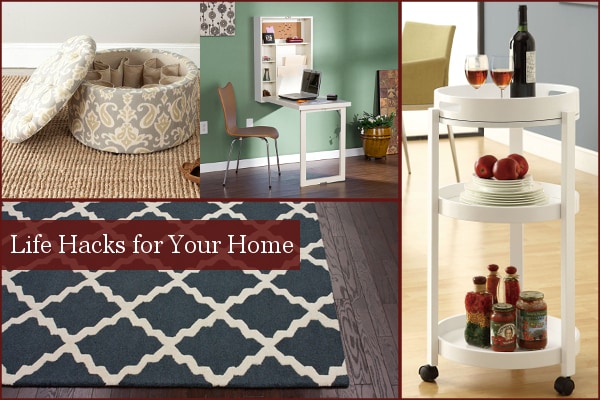 SAVE ON EVERYTHING FOR YOUR HOME ›
Life Hack #1: Choose furniture that does two jobs.
Furniture that doubles as storage has been around for a while, but Kim R. McCormick on Apartment Therapy singled out the Safavieh shoe storage ottoman as a particularly clever design. It's a pretty grey ottoman on the outside, but the inside has ten slots to hold shoes, perfect for storing your out-of-season footwear. Natalie Brown created a list of life hacks for tiny kitchens on BuzzFeed. She included our white fold-out desk that can serve as a table, a counter, or a desk, and it has storage.
Life Hack #2: Transitional style decor is the secret to a happy marriage.
If one of you loves traditional decor, but the other prefers contemporary, then you'll want to take the advice that designer Jessie Kok told Barbara Alden Wilson at She Knows: Choose "transitional pieces that bring both of your preferences together." She thought it would be easy for two people to agree on the Skye Monet flame rug as well as an industrial tripod floor lamp. In another post on She Knows, Jessie recommended the Jiti Pillows green and yellow throw pillow as the perfect style compromise.
Life Hack #3: Love vintage style? Save time and money by shopping for reproductions.
Scouring flea markets and thrift stores for authentic mid-century modern furniture can leave you empty-handed. When you do find what you're looking for, it's often in poor condition or ridiculously overpriced. Tricia Romano at Retail Me Not rounded up a collection of pieces that look like they came from the set of Mad Men, but that are all reproductions and come with much smaller price tags. She suggested picking up our white bar cart on castors, so you can serve drinks in true Peggy Olson style.
Life Hack #4: You can always find less expensive knock-offs of trendy pieces.
When a new trend catches on, it's not long before you can find cheaper versions of it everywhere. Tiffany, a guest blogger on The Krazy Coupon Lady, collected a teen's bedroom full of knock-offs of one particular trendy chain. Among the lower priced pieces she found was our popular hand-hooked Alexa Moroccan trellis wool rug in grey.
Life Hack #5: Don't buy boring art that matches your sofa. Buy a sofa that goes with your bold art.
The editors at Better Homes and Gardens think it's backwards to go neutral on the art when there is so much colorful art to enjoy. They started with Maxwell Dickson's "Audrey Hepburn" art print and filled the room with pieces in colors pulled from the print. I love bold art, so this is a life hack I plan on trying out soon.
Do you have any decor tricks that you count as life hacks?
Posted by Stephanie Petersen