Pearl Jewelry Trends for Summer 2012
Posted at
Jun. 4, 2012 at 4:56 PM
June is the month of pearls. Not only does the pearl adorn many June brides, but it is also June's birthstone. And for summer 2012, this small gem is impacting fashion in a big way. So, if you want to buy pearl jewelry as a nice birthday gift this month, or you just want to add some shimmer to your summer wardrobe, check out these ideas. And check out Andrea's bridal lookbook for tips on creating the perfect look on your wedding day.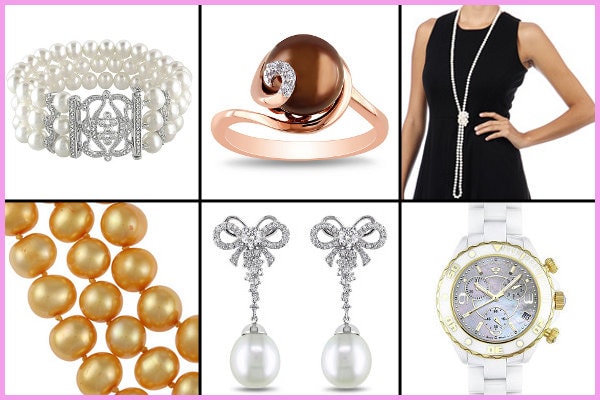 My favorite trend is the return to Jazz Age style in anticipation of this winter's release of a new film version of The Great Gatsby. Ladies attending lawn parties will need long pearl necklaces to accessorize the flowery prints and lightweight silks that define this revival, and over-the-top opulence will be right at home at a Roaring '20s dance party. Ornate pearl bracelets with sparkling gemstone clasps also fit into this style, as do dazzling pearl and diamond earrings.
Speaking of jewelry that dazzles, metallics continue to brighten the fashion scene, and you'll find plenty of pearls in shimmering shades of gold, bronze, and silver. Get the look with a strand of gold pearls or this pretty ring that features a shiny brown pearl set in pink silver. If you're looking to splurge on a special gift, consider golden South Sea or silvery grey Tahitian pearls; either variety is a good alternative for the woman who already has plenty of traditional white pearls.
Freshwater pearls are popular this season, too. They're plentiful, affordable, and available in almost any color imaginable. Jewelry designers took advantage and their creativity will help you personalize your fashion through summer and into autumn. Again, there is an abundance of long necklaces, many with multicolor designs and eye-catching combinations of colored pearls and semi-precious gemstones. Layer and wrap them according to your whims. World jewelry from our Worldstock Fair Trade store also features freshwater pearls in colorful earrings and bracelets.
Guys want birthday presents, too, and while men's pearl jewelry is a rarity, you can honor his June birthstone with some mother-of-pearl accessories. Look for inlaid mother-of-pearl accents on men's rings, cuff links, and pendants. Men's watches, especially the dressier designs, often have shimmering mother-of-pearl dials, so they also make nice gifts for the guy with a June birthday. The Swiss Legend watch pictured here, with its white ceramic bracelet, is a good style for summer, especially if he has a Gatsby-esque lawn party to attend.
How do you wear pearls? Do you like a classic choker paired with a cocktail dress or a more bohemian look? Either way, now is a great time to add more pearls to your treasure chest.
Posted by Shawna Edwards