Pantone Fall Palette: Deep Teal and Cedar
Posted at Sep. 8, 2011 at 8:50 AM

Today we're cooling it down a bit with two more shades from Pantone's 2011 fall color report. The report covers the most prevalent colors seen on the runway during New York Fall Fashion Week. According to Pantone, the blue-green tones of deep teal and cedar are expected to be hugely popular for both fall fashion and home decor this year. Why not take a little fall color inspiration of your own from the cooler side of the spectrum?
Deep Teal: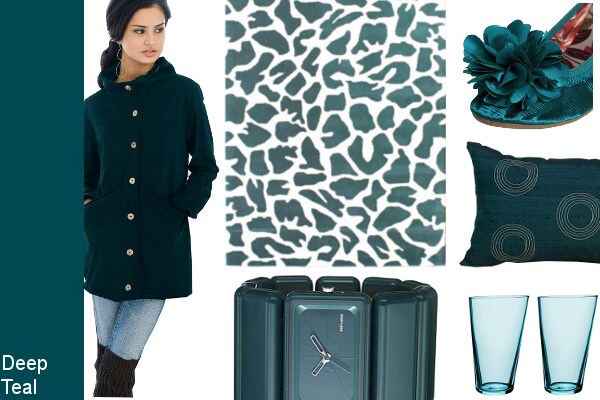 Deep teal is the darkest of Pantone's fall colors, and I love the idea of using such a cool shade in a season dominated by fiery orange and red. The hue is a bit of a toned-down take on last year's turquoise, but its balance between watery blue and earthy forest green makes it a more natural choice for the season. Deep teal can certainly be worn as an accent to a bright mustard or rust, but I would love to see it as a focal color, too. This rich organic cotton cardigan would look absolutely amazing with tall leather boots and an orange cashmere scarf, and I would pick up Nixon's "The Vega" watch to keep a touch of teal all season long.
Cedar: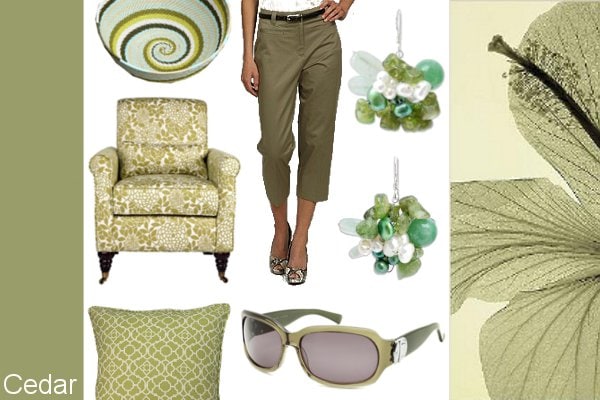 Cedar is this fall's absolute go-to neutral. It's just a soft enough shade of khaki green to flawlessly complement every single color in the fall color report. Incorporating cedar into your wardrobe is easy with a pair of khaki capris, but I'm really excited about using the shade in my home decor color scheme. This cedar-toned "Hibiscus" print by Steven N. Meyers is a warmer take on typical black and white photos, ideal for autumn. I am head over heels for this Harlow chair from angelo:Home. The subtle green is fitting year-round, and a pretty eggplant throw pillow adds a dose of autumn color.
What are your color inspirations for fall? Are these cool autumn tones speaking to you, or do you long for something brighter, like our bamboo and honeysuckle look? Keep watching our blog for more must-have colors from Pantone's fall report.
Posted by Andrea Sparks