Pantone Fall Palette: Coffee Liqueur and Quarry
Posted at Sep. 13, 2011 at 10:49 AM

September is now well underway, and we're responding with two more inspirational hues from Pantone's collection of fall colors for fashion and home. Coffee liqueur and quarry may not be the most stand-out colors in the report, but they are staples for this season's hottest looks nonetheless. Take a peek and see why this low-key pair of neutrals dominates the fall color spectrum.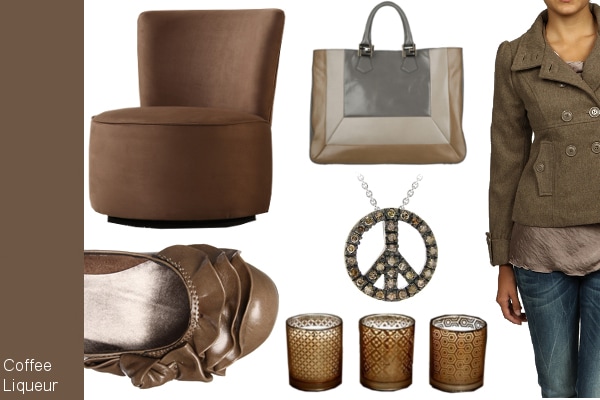 If it weren't for Pantone, I may never have discovered one of my new favorite fall colors: coffee liqueur. It's a classic taupe with a dose of rich milk chocolate. This warm autumn neutral thrives off contrast. Pair a rich, matted coffee liqueur with bright metallics, cooler tones like deep teal, or vibrant pops of aqua and orange. I love the subtle hint of a rose undertone because it flatters the complexion and gently warms any palette. What's my ultimate coffee liqueur must-have? These polycarbonate amber chairs.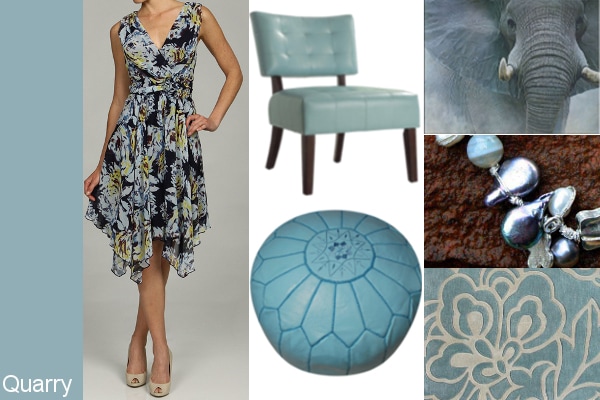 A gentle grey-blue, quarry effortlessly tones the warmer colors of the season. This subtle shade is a seamless complement to the brighter, bolder colors in the Pantone palette, especially coffee liqueur and bamboo. The great thing about quarry is it plays the part of either blue or grey, making it at once both understated and lively. To keep from looking too summery, I'd like to see quarry used as a highlight color to richer shades of orange and brown. In the home, a couple pieces of furniture, like this Moroccan pouf ottoman, give a mod edge to even the coziest autumn decor.
What has been your favorite Pantone color so far? Is it the soft neutrals of coffee liqueur and quarry or the cool tones of deep teal and cedar, or are you ready to turn up the heat with bamboo and honeysuckle? There are still four more Pantone colors in the fall color report, so don't forget to check back to find out what they are.
Posted by Andrea Sparks