Pantone Color of 2013: Emerald
Posted at Jan. 9, 2013 at 2:17 PM

The new year has just begun, and there's no better way to get on board with 2013 than to embrace the color of the year: emerald. The people at Pantone have deemed this deep bluish-green the hottest hue for the new year!
The color of the year is chosen from the biggest trends in fashion and home. Last year, tangerine tango was turning up the heat, but this year we're cooling it down with this elegantly lush green. Pantone themselves described emerald as a hue that "enhances our sense of well-being, balance, and harmony." Highlighting the color of renewal, life, and energy, these picks will have you seeing green all year long.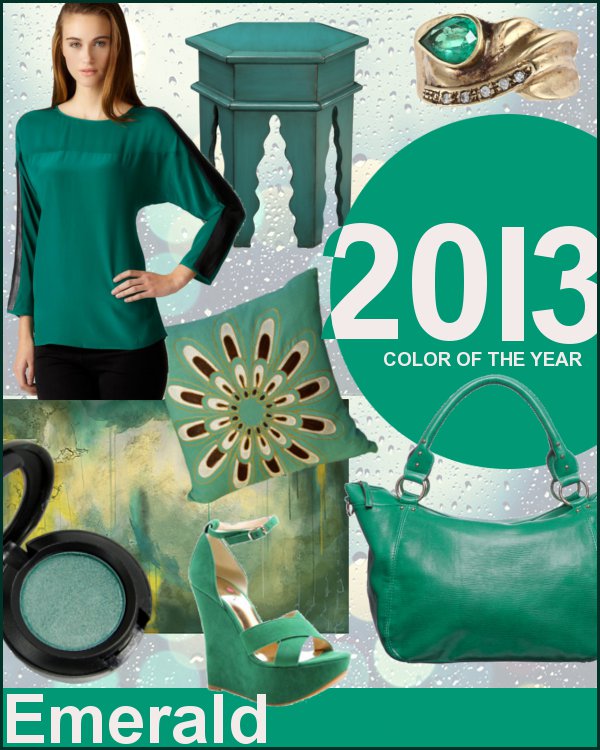 The color of the year is just that: a color for the full year. Luckily, this gorgeous green can be worn all year-round. If you're ready to try it out right now, bring out the deeper tones of the color and try a pair of skinny jeans in the shade, paired with a black sweater and ankle boots. Once spring rolls around, you can keep wearing your emerald skinnies, but lighten it up with a silk blouse and ballet flats. In fact, wear as much emerald as you like this spring season. After all, green is the color of rebirth and renewal. It's the perfect time to carry this bright handbag from Mondani with all the outfits in your spring wardrobe.
For summer, try wearing emerald with other bright colors, like coral (or even last year's tangerine tango), aqua, or even a crisp white. I absolutely adore these suede wedges, and they're the ideal accessory to celebrate warm weather. Emerald has even been touted as a universally flattering hue, so why not try your hand at the bright eye shadow trend and swipe on a sheer layer of emerald eye shadow? It's vibrant, fresh, and fun for the summer heat.
For autumn, you can cool emerald back down by pairing it with other rich jewel tones, like ruby and amethyst. The palette is perfect for those crisp autumn days, and jewel tones have been a big trend for the past few seasons too. And as long as we're talking jewels, why not take the opportunity to wear actual emeralds? There's tons of gorgeous emerald jewelry out there. I'm particularly in love with this emerald and diamond estate ring, but this created emerald and white topaz ring is a more budget-friendly alternative.
The color of the year isn't all about fashion. Emerald was picked as the it color for home decor too. Little touches of the hue can really liven up a room that's in need of a little pick-me-up. I love throw pillows because they're one of the easiest ways to change things up. Toss an emerald-hued pillow on a sofa, bed, or wingback chair. I love this one with an abstract flower design.
If you're looking for something with a little more impact, look for art pieces that feature shades of emerald green. I'm a big fan of abstract art, so I would pick this Serenity Abstract painting by Maxwell Dickson for my own home. If you're into photography or realism, lush green landscapes fit the bill.
How well do you think emerald represents 2013? It's already making a big splash and is popping up in stores everywhere. How would you wear the hot hue?
Posted by Andrea Sparks