Overstock.com is One of the First Websites to Introduce Better Pins on Pinterest
Posted at May. 20, 2013 at 11:57 AM

As a big fan of Pinterest, I couldn't be more excited about this news. Starting today, Overstock.com is among the first websites to have improved pins on Pinterest. We're making sure there is more useful information in every pin that comes from Overstock.com, so it's easy for you to discover the furniture, home decor, clothing, and accessories that are about to be your new favorite things.
How many times have you pinned something that you really loved, only to click through and find that it's sold out? Frustrating, right? Well, starting today, any products you pin from Overstock.com are updated automatically, so you'll know the right price and whether the items you've pinned to your "Dream Home" pinboard are still in stock. We want it to be easy for you to make that dream home a reality.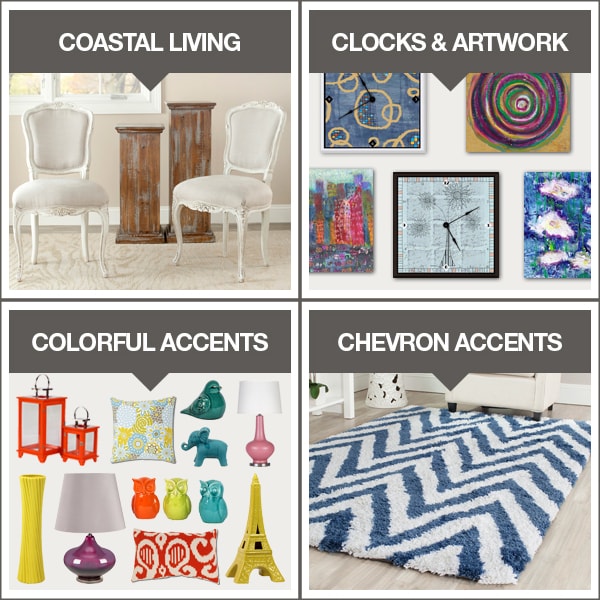 We've been busy pinning our favorite products to the Overstock.com pinboards, and lately, we've been thinking about what's hot in home decor. We're inspired by these four trends that we think you'll love, too.
Coastal Living
The sun, the sand, the sea: When they come together, you feel yourself relaxing and breathing a little more deeply. That's what coastal living is all about, and you can have that seaside feeling every day when you bring home light and bright pieces that were inspired by chic beach cottages.
Clocks & Artwork
Plain white circles? That's the old way to tell time. These days, clock faces are vibrant art pieces. Hang colorful clocks on your walls, along with a few lively art prints, to really wake up the room. These pieces are perfect in rooms where you need a little more energy, like the room where you get ready in the morning, or the room where you do most of your entertaining.
Colorful Accents
What's the easiest way to update a neutral room? With colorful accents that you can change with the seasons -- or whenever the redecorating mood strikes. I have a few sets of multi-color vases that I move around my house whenever I need to change up a room. Throw pillows and lamps will do the trick, too, and you'll be done redesigning your house in minutes.
Chevrons
From area rugs to lamps; chevrons are everywhere. The V-shaped pattern can be bold when it's in black and white, or it can have a preppy feeling when it's in blue and cream. A nearly neutral grey-and-white chevron print is a subtle way to add texture to a serene room.
Better pinning starts today! Are you following our Pinterest boards? What trends are you inspired by right now?
Posted by Stephanie Petersen