Overstock.com Introduces Carbon Neutral Shipping
Posted at May. 18, 2011 at 10:04 AM

If you're like me, you have really good intentions of going green. Maybe you invested in a reusable water bottle made from recycled material and then completely forget to take it anywhere you go, or perhaps you have to-be-recycled stacks of magazines piled up so high you could start repurposing them as coffee tables and ottomans. Reducing your carbon footprint is a worthy endeavor, but sometimes it can become your last priority.
That's why I present to you an easy way to support humanity and save the earth -- go shopping. Overstock.com's Worldstock Fair Trade store currently employs over 10,000 artisans and returns to them 60 to 70 percent of the sales on each item. In an effort to extend our passion for giving back to include the environment, Overstock.com has partnered with Carbonfund.org to provide environmentally conscious shipping for all Worldstock orders.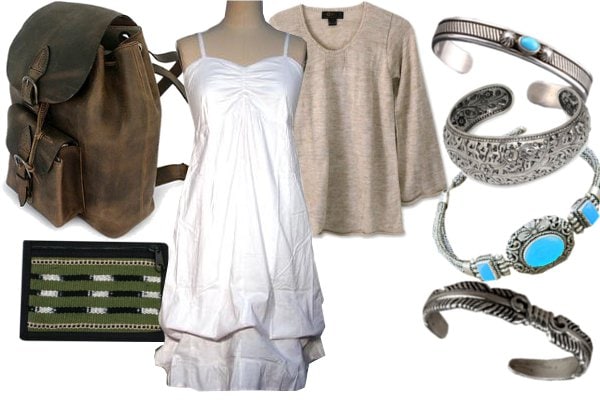 Get the look: Leather backpack, tri-fold wallet, white cotton dress, wool sweater, turquoise cuff, silver cuff, turquoise clasped bracelet, feather cuff bracelet
Providing carbon neutral shipping on all Worldstock Fair Trade items is an attempt to offset the carbon dioxide emissions produced by delivery trucks by giving money to a company that is actively engaged in carbon reduction projects like reforestation. That means you can get the entire outfit pictured above shipped to you in a way that seeks to restore our natural habitat, at no extra shipping cost to you.
We've tried to make it as easy as possible to feel good about shopping online. You'll be able to pick up handcrafted work from artisans all over the world and support humanitarian efforts while giving back environmentally.
For more details about Worldstock Fair Trade and our partnership with carbonfund.org visit our sustainability page.
Posted by Amanda Mears