Overstock Room Makeovers
Posted at Nov. 20, 2013 at 2:35 PM

Who doesn't love a good home makeover? It gives us the ideas and inspiration to take on projects of our own.
We asked some fellow bloggers to give one room in their home a makeover, Overstock style. Armed with a $1,000 gift certificate and their own genius, our four bloggers set to work creating the rooms of their dreams.
Here's a peek at two of the completed rooms. Make sure to check out their blogs, DIY Show Off and The Inspired Room, for more shots, including before and after (trust me, they're worth seeing!).
DIY Show Off's Eclectic Family Room
First off, we absolutely love this redone family room by Roeshel of DIY Show Off. Her color palette of bold blue and pops of pink is balanced with washes of neutral. Roeshel also made the most of her gift card! She packed the room full of fun Overstock.com finds, including my personal favorite, this amazing peacock print. She was also the most creative blogger, adding earrings and decals to a repurposed chandelier. Check out her blog to see what other Overstock.com products she used!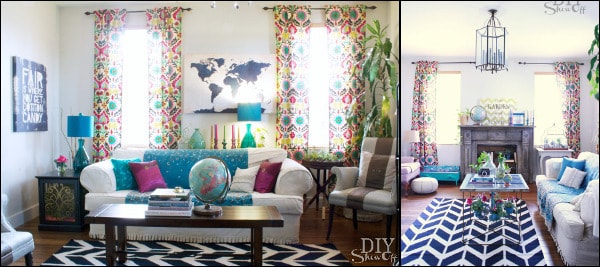 Shop the Look
'Fair V' Canvas Art, Iron Deer Head, Mulberry Thai Silk Cushion Cover, Tweed Braided Basket, Walnut Side Table,'Spring Romance' Wall Hanging, Vintage Metal Bar Stool, 'World Map – Navy' Canvas Art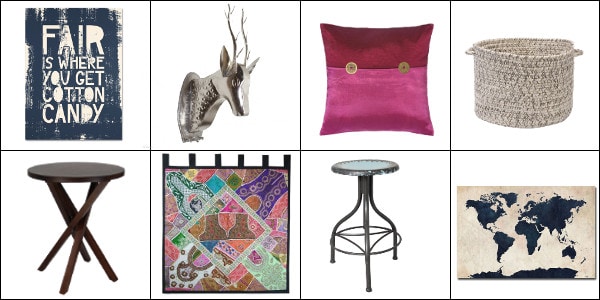 The Inspired Room's Teen Boy Bedroom
The creativity of the bloggers really blew us away. I mean, how hard is it to give a teenager a bedroom makeover they'll love? But Melissa managed to do just that. Check out the way she combined so many different styles, like the outdoorsy-rustic look with a pirate flag, or the way the grown-up ambiance of an antiqued bronze sconce over the bed blends seamlessly with the fresh, fun style of bright blue and orange bedding. The centerpiece of the room is clearly the amazing wingback angelo:HOME bed. See what other updates she made to her son's room on her blog.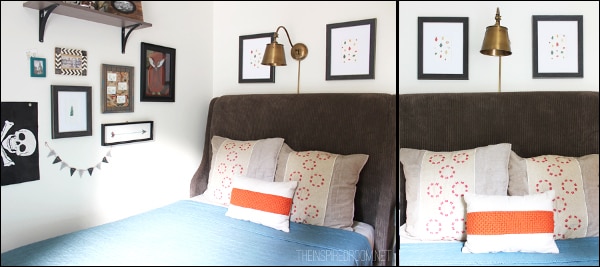 Shop the Look
Wingback Bed, Pennant Garland, 'Dream Owl Blue' Canvas Art, Orange Chevron Throw Pillow, Long Arm Lighted Sconce, Ikat Wool Rug, 'Natural Field' Framed Art Set, Pirate Rug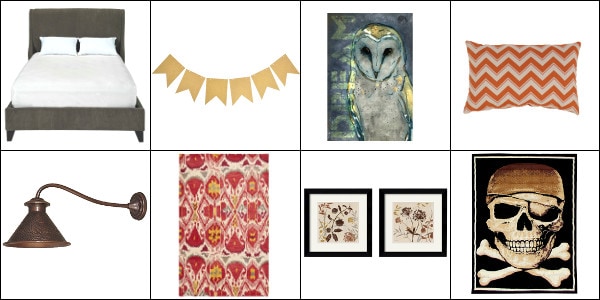 What would you do with an Overstock.com gift card? Are there any rooms in your home in need of an update? Don't forget to check back to see what rooms the other two bloggers chose to redo as well as a peek at some great Overstock products they used in the process!
Posted by Andrea Sparks