Outdoor Eating
Posted at Jul. 10, 2012 at 9:49 AM

One of my favorite parts of summer is dining outside. Whether it's a patio at my favorite restaurant or a barbecue in the backyard, there's no better way to enjoy a warm summer evening. So here's a salute to the barbecue, the picnic, the patio party, and grill masters everywhere.
If you've ever barbecued, you know that the right tools can make all the difference. Start with this 4-piece barbecue tool set, which includes pretty much anything you need to grill up burgers, hot dogs, and veggie kabobs. And if you're anything like me, a good cook book can help you turn a potential disaster into a great meal.
Another huge factor in making your barbecue a success is quality food. This All American Medley is packed with burgers, hot dogs, and even a tasty dessert. To top it all off, this set of barbecue sauces from our Main Street Revolution store has something for every taste.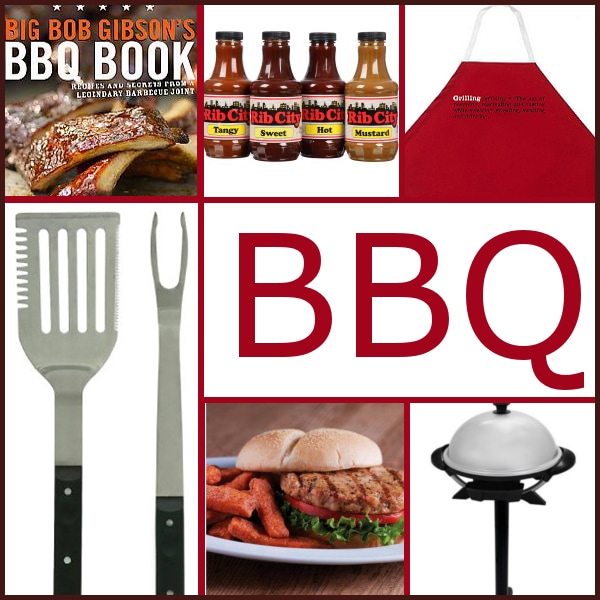 Of course, nothing beats the charm of a summertime picnic. This insulated cooler basket makes it easy to pack up and go; plus, I love that it has that classic picnic-basket look. If you're looking for something to keep drinks chilled on a hot day, this aluminum cooler will do the trick, and it has a built-in bottle opener so you won't have to worry about forgetting one. Personally, I think every good picnic basket should have these plaid melamine plates. They're cute and durable, and they provide service for four.
What better picnic food is there than sandwiches? The Encyclopedia of Sandwiches has enough recipes and ideas to last you all summer long, plus a few helpful tips about sandwich making to keep yours perfectly stacked during the trip to the park, the beach, or wherever your picnicking ambitions take you!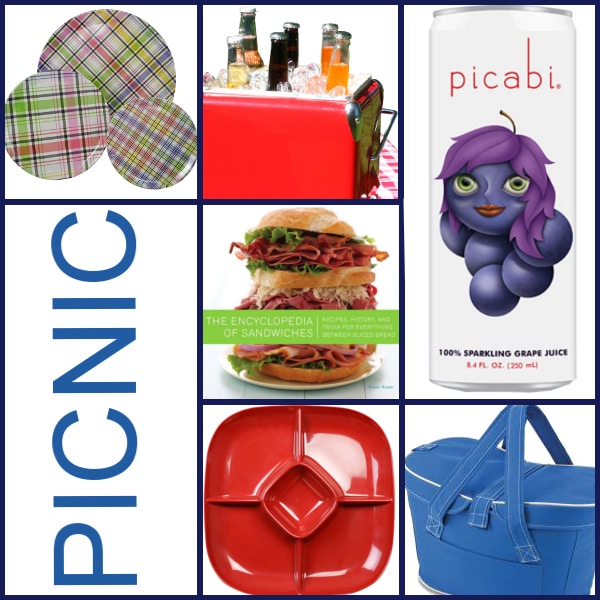 If you're planning on hosting any parties this summer, a fun outdoor patio party is both chic and a great way to take advantage of those warm summer evenings. First things first, you'll need a good umbrella to keep the sun off your guests. This 9-foot patio umbrella can be tilted to the perfect angle, and it comes in four different colors.
As long as you're celebrating, I think you should go for punchy, bright colors. It is summer, after all. This vibrant aqua blue drink dispenser perfectly matches these margarita glasses, and this lime green bamboo salad bowl reveals more and more color the more you eat out of it. A set of bright placemats is an easy alternative to a tablecloth and makes cleanup a cinch.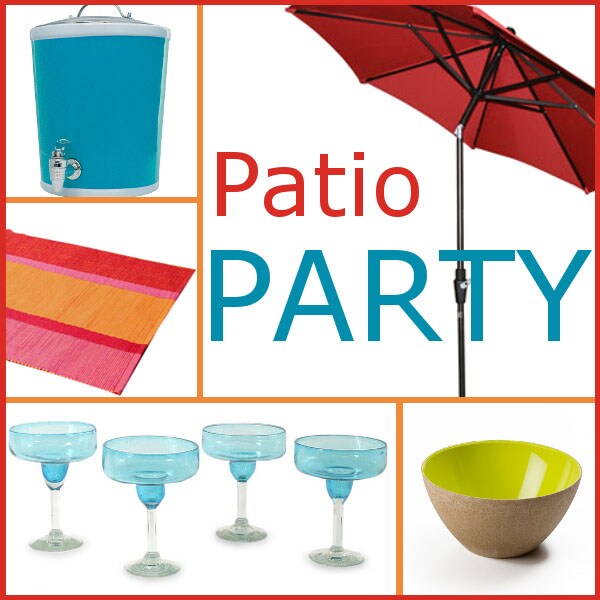 What's your favorite form of outdoor dining? Do you love to barbecue in the backyard, or do you prefer to escape the city for a mountainside picnic?
Posted by Andrea Sparks