On the Road Again
Posted at Mar. 30, 2011 at 12:18 PM

Remember the great American road trip? The freedom of the open road can be hard to resist when spring fever reminds us that we've been indoors for far too long. Car travel is popular again. More and more people are looking for economical yet still meaningful travel experiences, and let's face it: You can't see much from your expensive airplane seat. Of course, preparing for a road trip takes a lot of planning, even if it does have that bohemian, Route 66 feel to it. As you program your GPS, pick up bottled water, pack healthy snacks and generally plan for your next road trip, consider using a good duffel bag for your luggage.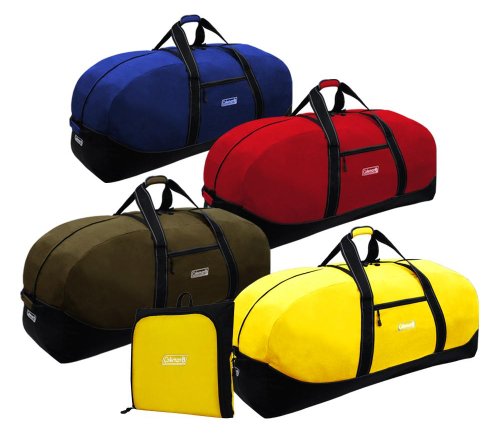 This Coleman Explorer foldable camp duffel is great for car travel. The bag is available in bright colors, so it looks good. Like most duffels, it is also very durable. Whether you stay in motels or at campsites, you move your bags around a lot, but this Coleman foldable duffel bag will survive being tossed in the backseat or stuffed in the trunk several times a day.
Your luggage, just like your clothes and car seats, can get dirty when you're on an extended road trip, especially if you go camping. This is another reason to choose a duffel bag as your on-the-road suitcase. Duffels are easy to clean because they are made of fabric. Just scrub your bag when you get home. Plus, these Coleman bags hold a lot of clothes and gear; just pack it all in for your next road trip (or cram it all in when you're finally worn out). Sling the duffel across your shoulder and hike to your campsite. Save your fancy, matching luggage for trips through airports and opulent hotel lobbies and take your duffel bag on an iconic road trip.
Well, it's early spring. Do you have your road maps out yet? Share your tips on enjoying -- or merely surviving -- a week or two driving across the country.
Posted by Shawna Edwards