Oh My Aching Thumbs!
Posted at Jan. 10, 2011 at 2:53 PM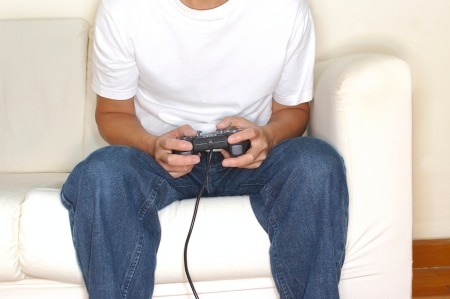 Today, I noticed a post on the forums which asked about gaming televisions. Like any good geek-enabler, I responded with my best advice so that this individual could get his game on by using an HDTV instead of squinting at an inadequate screen.
I've posted before about connecting your gaming PC to your HDTV, but I've never written about the technical details you'll probably want to look for in a TV you'll be using for video games. Here's my best shot at condensing my HDTV advice for gamers and their enablers.
Size
I'd recommend a screen between 32 and 55 inches for gaming. A TV screen above 55 inches will stretch even your game's 1920 x 1080 pixel resolution to a point where you'll start to notice pixels instead of details. Below 32 inches, you won't see much difference between the TV and an actual computer monitor, which can often have a higher native resolution than an HDTV.
Connection types
Gone are the days when your TV's only connection options were coax-cable or red-white-yellow composite video connectors. Most LCD and plasma TVs now feature multiple connection options:
Component video
Component cables feature the red, green and blue connectors. They're used by video game consoles and Blu-ray players to transfer video only. These cables will give you 1080p resolution, but they can suffer image-quality problems when run over longer distances.
Motion blur
One problem with using your HDTV for games is that the images in the games move pretty fast. This can cause blurring effects in the games you play. Sometimes, you can fix blur by turning off the automatic image-processing settings on your TV or by switching to a "game" picture mode in your television's picture settings (which cleared it up on my 42-inch Vizio). Plasma TVs and LED TVs suffer less from motion blur because of their superior pixel-response times (the time it takes for a pixel to change colors). All that said, the best way to beat motion-blur is with high-quality video sources, like the latest generation game consoles and high-end video cards.
That ought to get you pretty close to selecting the best television for your gaming rig. If you've survived combing through the technical jargon, you should feel a small measure of pride at your apparently high tolerance-level for digesting dry electronics specs without losing consciousness. If you, by chance, happen to notice an error in my gaming TV logic, please be kind in your scathing rebuttal below.
Posted by Paul Sanders