Office Space
Posted at May. 13, 2011 at 12:14 PM

Living in a smaller space, you often have to forego the little luxuries in life, like a full-sized refrigerator or a wall between the place where you cook your meals and the place where you sleep every night. When I downsized to a studio, I also found that I had to give up having a designated space for my computer. If you have a tiny house, chances are you've probably played furniture Tetris for hours like I did and still ended up sacrificing something.
Sometimes it's easy to part with excess belongings, but sometimes it's more complicated. Luckily, you don't have give up the essentials if you use a little bit of creativity and a dash of multipurpose furniture. Here are a few ways to pack as much function as possible into a small space to create a makeshift office.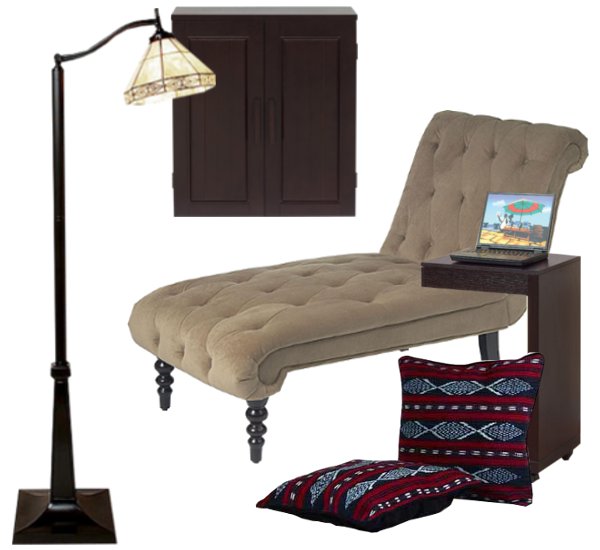 Floor lamp, wall cabinet, chaise lounge, side table, printed pillows
A portable side table is the perfect landing place for a laptop if you're sick of constantly perching it on random surfaces. Look for a side table with wheels that can be stored to the side when you're not using it. A skinny chaise can double as a sofa and works well as a makeshift office chair when you need to get work done. Rather than a filing cabinet that takes up valuable floor space, try repurposing a bathroom cabinet to use for storing office supplies.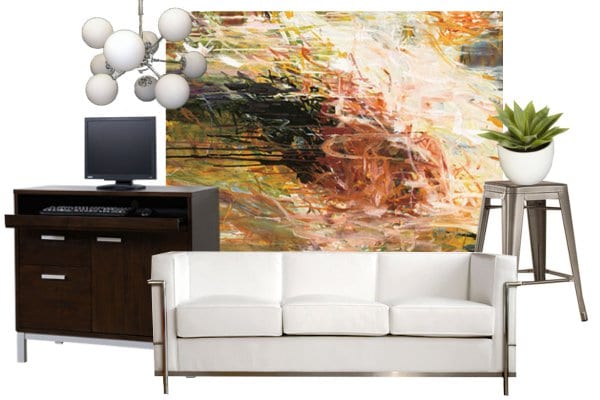 Office cabinet, chrome light fixture, canvas art, agave plant, metal stool, white sofa
For a desktop computer, you will need something stationary and compact. An office cabinet is your best bet because it's typically smaller than a desk and contains lots of storage space. Add an industrial stool that can transition from a seat to an end table and you have a sweet office set up that tucks away neatly when not in use.
Posted by Amanda Mears