New Year's Resolution: Get Organized
Posted at
Dec. 27, 2011 at 2:06 PM
It's easy to shove things aside during the holidays. But once January rolls around, you have a lot of cleaning and organizing to do. Get on top of all the clutter and make getting organized your resolution this year. You can call it early spring cleaning.
The first step to getting organized is to go through all your stuff and decide what you want to keep and what needs to go. Go through everything: clothes, kitchen drawers, the garage. Look for things you don't use anymore, and donate items like gently used clothing and toys to charity. Then it's time to start organizing what's left. It's not as easy as it sounds, though. Sometimes it's hard to find a place for all your stuff. Here are a few of my organizing tips and tricks.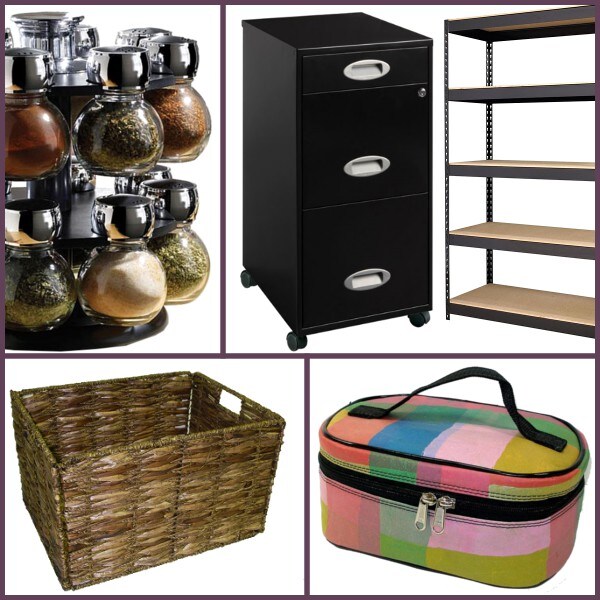 Shelving is probably your number one way to get organized. A good set of storage shelves can be used in so many places, such as your garage, your pantry or your living room. Use bins to keep smaller items organized on the shelves. If you don't like the look of a steel shelf, put a curtain in a fun print in front of it. You'll still have easy access to all your stuff, but the shelving will be attractive.
I like to find as many organizational uses for one item as I can. For example, a spice rack is a great way to de-clutter your kitchen cabinets, but it's also an easy way to store craft glitter. I also like to use utensil trays to organize all my drawers. They're perfect for storing pens, rubber bands and paper clips in a desk drawer, and I even organize my makeup and toiletries in a utensil tray in my bathroom drawers. I like to keep a makeup case on hand, too, so that I can easily throw a few things into it for a weekend trip.
One of the hardest things for me to organize is a meal. Even with a fridge full of food, it's hard to pull it together. I find it helpful to make dishes you can easily freeze, like soups, pasta sauces and even casseroles. You can freeze individual or family-size servings in food containers. I've even started freezing all the ingredients for my morning smoothies in individual freezer bags, so all I have to do is toss them in the blender in the morning.
Kid's rooms are notoriously hard to keep clean. Make their chores easier by storing everything from toys to socks and undies in baskets that you can stick in the closet, in cubbies or even on the bottom shelf of a bookcase. That way, it's easy to clean up fast and stay organized at the same time.
Lastly, let's talk about your filing cabinet. How easy is it to just shove everything in there and forget about it? That makes it much harder to find what you're looking for when you need it, though. There are some things you do need to keep forever, but there's probably plenty of stuff in there that can go. Here's a breakdown of what financial documents you need to keep and for how long:
Forever: Tax returns. File them together so you don't accidentally throw them out.
Six years: W-2s (six years is how long the IRS has to audit your returns), receipts, investment statements and receipts for home improvements. Keep the receipts for home improvements for six years after you sell the home.
One year: Pay stubs. Keep them until you get your W-2 form in January.
Is getting organized one of your resolutions this year? Tell us any tips and tricks you have for getting, and staying, organized.
Posted by Andrea Sparks