New Arrivals: Shop for the Latest
Posted at Apr. 12, 2012 at 3:18 PM

One of the biggest misconceptions about Overstock.com is that we only sell leftover products from last season. Not true! Every day, we have new items coming onsite that are in style right now. Whether you're shopping for some new patio furniture to put in your budding garden now or an electric blanket to put on your bed when the first frost hits in October, you can shop for things here right when you want to start using them. It's a big website, though, so let me show you what to look for when you're online shopping for the latest and greatest.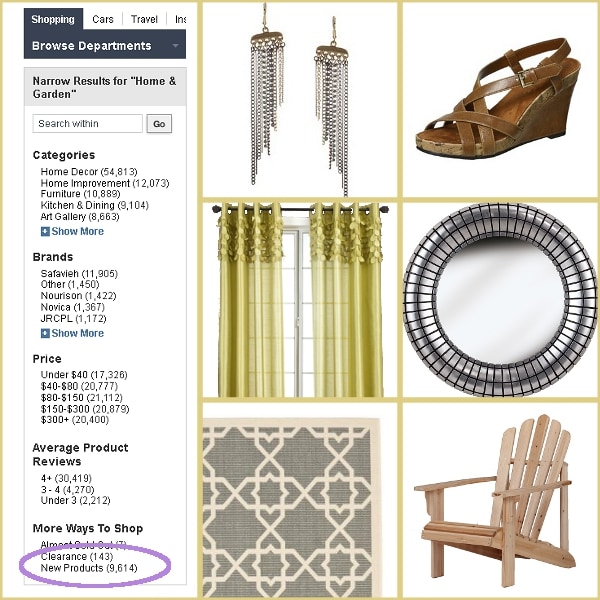 The trick is to use the navigation tools on the left-hand side of the screen. First, narrow down the category you want to shop in under "Browse Departments." Then, look at the bottom of the list on the left where it says "More Ways to Shop." Now, just click on "New Products" and you'll only see the most recent additions to the site within that product category. Let's try it out!
Summer is on my mind right now, and I could use something new to wear. Something about lounging on a patio while drinking white wine spritzers seems to go hand-in-hand with a maxi dress and sandals. This strapless sundress would be perfect with these Aerosoles wedges, or I may pair this printed halter dress with a pair of navy gladiator sandals. These Kenneth Cole multi-chain earrings would be the perfect finishing touch for either outfit.
I'm knee deep in spring cleaning at my house, and I want to bring the sunshine in. I'm thinking about replacing the heavy velvet curtains in my living room with something that lets in more light, like these lime green curtain panels with faux leaves at the top. A new silver framed mirror will help move all that new sunlight around the room, too.
It's time to spruce up my front porch, so I can start relaxing out there while I watch all the activity in my neighborhood. This beige indoor/outdoor rug would be a good foundation for a pair of these unfinished cedar Adirondack chairs. A honey-colored stain would be beautiful on these chairs, but how hot would they look painted bright orange?
As with anything new, there may be a lot of demand for your favorite things. If it's an item that we don't have many of in stock, we'll let you know on the product page by giving you the sell-out risk. When you add the item to your shopping cart, we'll give you an exact number of how many we have in stock, so you'll know if you need to jump on it right away or if you can keep shopping and adding stuff to your cart.
Is there anything new that you're looking for this spring?
Posted by Stephanie Petersen