National Storytelling Day: Not Just for Kids
Posted at Apr. 27, 2012 at 1:36 PM

For many people, storytelling is something that's only for children. Others think it's an old-fashioned folk art that is only enjoyed at quirky festivals held in public parks. Good storytelling is everywhere, though, and in honor of National Storytelling Day -- which is today -- I've gathered a few of my favorite examples.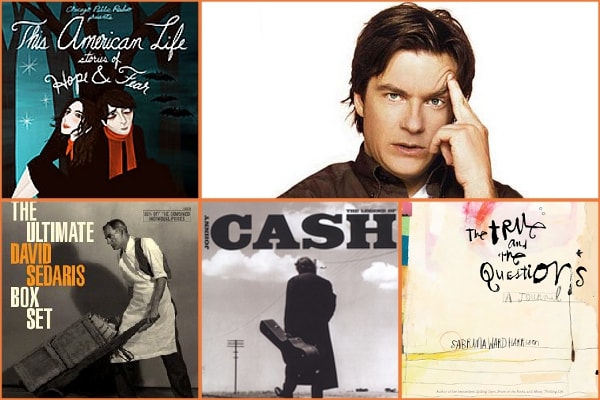 Before there were books, there were people sitting around fires, passing on wisdom by telling the tales of days gone by. Later, people told these stories on the radio, and some of the most compelling tales of human experience are still riding into your home or car on radio waves.
My favorite stories are on Chicago Public Radio's This American Life, a weekly radio program that tells a few stories on one theme in each episode. Some are fiction, but most are true stories about all kinds of people in the United States. If you don't have a chance to hear it on the radio, you can check it out on the CD compilation This American Life: Stories of Hope and Fear.
One regular storyteller on the show is David Sedaris, whose touching and hilarious stories of his life are compiled in books like Naked and Me Talk Pretty One Day. I think these stories are best listened to in his nasally deadpan delivery, so I would recommend David Sedaris: Live for Your Listening Pleasure. If you're already a fan, complete your collection of his books with The Ultimate David Sedaris Box Set.
Part of what makes Sedaris so enjoyable is his delivery and timing, which can elevate a story. One of the masters of this is Bill Cosby. You'd be hard-pressed to find a comic working today who wasn't inspired as a child by listening to Cosby's stories about growing up on I Started out as a Child and about being a father on Bill Cosby Himself.
Spoken word and comedy aren't the only ways to tell a good story. Music and storytelling have gone together for centuries, when epic tales of heroes, their quests, and their loves were performed by wandering minstrels. The modern version is a three-minute pop song, and they sometimes still feature a hero, a quest, and a love. The song "O Valencia!" on The Decemberists' album The Crane Wife tells the tale of two star-crossed lovers. The hero in Johnny Cash's "A Boy Named Sue" is on a quest to find the man who gave him the terrible name.
As a connoisseur of fine television, I love the way stories are told through this medium, unfolding slowly week after week. A classic example is "the story of a wealthy family who lost everything and the one son who had no choice but to keep them all together," which fans will recognize as Arrested Development, which ended its original run after three seasons, but is coming back with a fourth season that, it was announced last week, will be released in its entirety sometime next year on Netflix.
Are you looking for ways to tell your story? Write it all down in a journal. For inspiration, look to a book like Sabrina Ward Harrison's The True and the Questions, which uses prompts to help draw out your creativity. Scrapbooking is an excellent way to visually tell the story of your life. If you're driven more to movement than words or pictures, refer to Dance Composition, a book and DVD set that will help you interpret your stories through dance.
Those are just a few of my favorites, and I'll probably watch a few episodes of Arrested Development tonight to celebrate National Storytelling Day. What are your favorite ways to hear (or tell) a story?
Posted by Stephanie Petersen