National Craft Month Awareness
Posted at Feb. 11, 2011 at 1:00 PM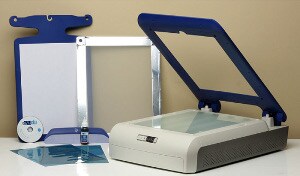 I know I've mentioned this before, but I'm pretty much always trying to find a new hobby. I'm constantly starting new projects with fervor, only to abandon them a week later because I got bored. It's not the most cost-friendly personality trait, but it does mean that I get to be excited about the prospect of something new almost monthly. Lately, it's been this little device -- the screen-printing machine.
I have a dream that, with the help of this machine, I will soon be forcing my friends to wear matching T-shirts to coincide with themed hangouts. Some of my favorites so far? A "We're eating tacos!" shirt for weekly taco nights, a "Birthdays was the worst days … Now we sip champagne when we thirst-ay" shirt for birthday celebrations and, my favorite, the apology shirt for when my friends start to hate theme hangouts.
Although I've considered learning the actual art of screen printing, I've also considered the fact that I have absolutely no patience -- making this little machine seem like a perfect fit in my life. The more I obsess over this little printmaking machine, the more I start to justify the cost. Between buying prints for my giant white bedroom wall, band T-shirts, and handy tote bags, I probably could have bought five screen-printing devices by now.
National Craft Month happens to be coming up in March and gives me a reason to finally purchase this darling little machine. What is National Craft Month? It's the perfect excuse to shower yourself with craft related gifts and may or may not be the reason I was born. No, really, it's a new holiday dedicated to trying new things if you're a beginner or honing your skills if you're an avid crafter.
In honor of National Craft Month, I'm going to try and fulfill my dreams of making a dress and creating my own cards. This adorable Hello Kitty Sewing Machine would make sewing approximately 1,000 times less frustrating, and I could stop dreading running to the store to pick out a cheesy card with the help of a cardmaking kit.
So how are you planning to celebrate this month-long craft holiday? Do you feel naturally inclined to create or is it more of a chore?
Posted by Amanda Mears