National Adopt-a-Cat Month
Posted at Jun. 6, 2012 at 2:36 PM

Cat lovers, unite! It's National Adopt-a-Cat Month, and here at Overstock.com, we've got plenty of pet-friendly gifts to spoil your favorite feline or to help you bring a new furry friend home. If you decide to adopt a cat this month, announce it on this cat-shaped chalkboard decal! It also provides a fun way to keep track of your kitty supply shopping list.
Spring is "kitten season," and each year thousands of newborn kittens join the millions of cats already waiting to find a new home in shelters across the country. During this month, many shelters are waiving adoption and medical fees to encourage people to bring home a new critter. To me, a cat is the perfect pet -- soft and cuddly one minute and fiercely independent the next. They're clean, cuddly, carefree, and kid-friendly -- and if you're looking for a way to teach your kids some responsibility, kitty litter duty may be just the thing. Just last month, I brought home a new furry friend and have been stocking up on new supplies to make him feel at home.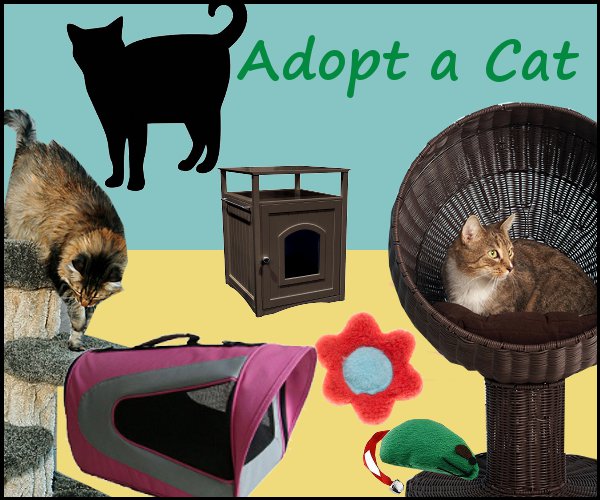 Of course, a litter box is an absolute necessity. It may not be the most pleasant task, but you can make it easier on yourself, and your cat, with this espresso faux wood washroom. This cabinet will blend seamlessly into your decor, provide your cat the privacy he wants, and keep the unsightly litter box out of view.
Don't let a small apartment deter you from adopting a new feline friend. A cat tree will provide plenty of vertical room for exercise without taking up much square footage. Toss your cat a few catnip toys or a squeaky mouse and watch him go wild! Once he's run himself ragged, this cozy rattan cat bed will be a perfect resting spot.
Every cat has a distinct personality; make it shine with a bedazzled collar. This two-row crystal option will make your cat look as regal as he acts. Add a nametag and it will also help him to come home safe if he goes out for a stroll.
Speaking of cats on the move, I've found it's always a bit of a struggle to get my cat to the veterinarian for a checkup. Cats can be uneasy about leaving home, or adapting to a new home, and it's important to have a sturdy and convenient carrier to keep them both safe and comfortable. With its breathable mesh panels, secure 360-degree zipper, and handy shoulder strap, this collapsible traveling carrier is a great option.
Have you or your family been thinking about bringing home a new pet? How do you spoil the pets that are already part of your family?
Posted by Jen Gustavson