Mother's Day Gifts
Posted at May. 6, 2013 at 2:46 PM

Mother's Day is May 12th this year, and that's this Sunday! Have you thought about what you're going to do for your mom? If you haven't figured that out yet, you're in luck: I happen to have experience with both having a mom and being a mom, so I have a few ideas to share with you. Mother's Day is approaching us quickly, so let's get going.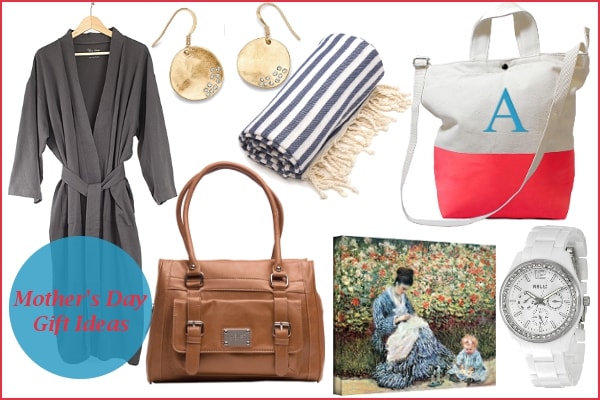 One way to shop for gifts is to use our gift finder. It's designed to help you sort through our huge selection of products and find the things that our buyers think would make great gifts. Another way to find gifts that our buyers think are hot is to shop our O | trends collections. If your mom is into the latest styles, then she'll love a gift that you've found here. And since our moms are some of our favorite women in the world, we've spent all year making sure that our Mother's Day gift idea guides have top-notch tips for helping you find something special for your own mom.
My mom has a very traditional style, so I'm either going to get her a classic brown leather handbag or pearl necklace with a bit of a twist. She'd also love this print of Monet's 'Mother and Child'. It's so pretty and just sentimental enough to be sweet.
Of course, my darling son is the best gift a mama could have -- but I still want to be served breakfast in bed this Mother's Day, preferably wearing this cozy organic cotton bathrobe. I've picked out a few things I wouldn't mind unwrapping on Sunday, too. This playful, bright monogrammed tote bag would be perfect for my upcoming trips to the park and the pool. That bag, paired with this blue Turkish beach towel, would be just about all I need to get ready for summer. I always love something with a little sparkle, and I have my eye on this white Fossil watch as well as these cool crystal-studded goldtone earrings. For something the whole family could enjoy, I would love this Cuisinart soda maker, which would help keep me hydrated and happy.
Are you worried about getting your gift delivered on time? Look for the pink icons that say "DELIVERED BY MOTHER'S DAY" and we'll pay for the expedited shipping to make sure your gift arrives in time for the big day*. You can shop here for gifts we'll expedite for free.
Have you chosen a Mother's Day gift for your mom yet? Are you a mom who's hoping for something special this year? What's on your wish list?
*Actual delivery times vary depending on your location. Items with specific shipping restrictions as denoted on the product page are not guaranteed for delivery by Mother's Day. Please find more information here.
Posted by Stephanie Petersen