May the 4th Be With You
Posted at May. 3, 2013 at 11:36 AM

Tomorrow, May 4th, is Star Wars Day. It's the biggest day of the year for Star Wars fans and the perfect time to celebrate everything Jedi, Sith, Ewok, or Wookiee.
So why May 4th? If you're a huge Star Wars fan, chances are you already know, but for the rest of us, the simple reason is "May the 4th be with you." It may be a terrible pun, but it does give us all a day to celebrate one of the most loved film sagas of all time.
Strangely enough, the phrase "May the fourth be with you," was first used to celebrate Margaret Thatcher's election on May 4, 1979, but the first official celebration of May 4th as Star Wars Day didn't happen until 2011. With six new Star Wars films announced, however, Star Wars fans have even more to celebrate this year. For all you fans of the galaxy far, far away, let's make this year's celebration bigger than ever! Here are some of our ideas for Star Wars Day celebrations big and small.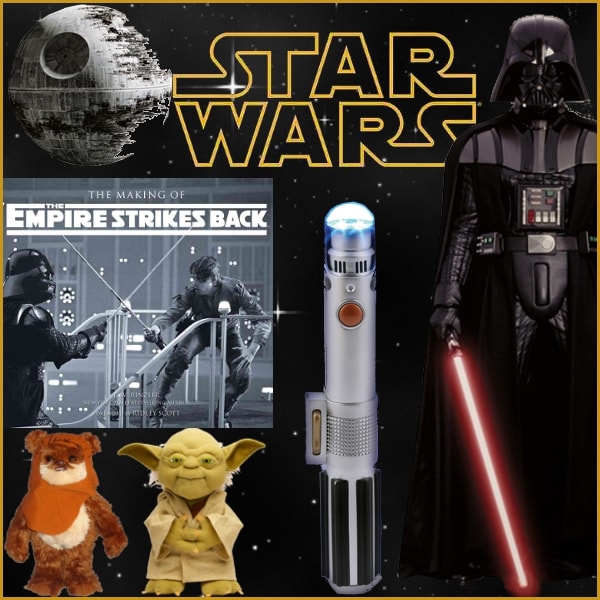 First and foremost, what's Star Wars Day without watching at least one episode of the six-film epic? This Blu-ray box set has them all. Watch your favorite again, or tackle them all in a day-long marathon. Brush up on your Star Wars trivia with The Complete Star Wars Encyclopedia, or pick up The Making of The Empire Strikes Back and learn what it took to get the most popular Star Wars film made.
If you're looking for an easy, fun way to celebrate, there are plenty of Star Wars-themed treats and crafts you can make to delight the youngest fans (or even just the young at heart). Wookiee Pies, Clone Scones, and Other Galactic Goodies comes with cookie cutter molds and is packed with plenty of recipes for your fete, while Ice Sabers: 30 Chilled Treats Using the Force of Your Freezer teaches you how to build your own delicious light saber popsicles. Start a Galactic battle with these Star Wars paper airplanes, or channel your inner Jedi with a lightsaber flashlight (you can also get the Darth Vader version if you've got a penchant for the Dark Side).
People around the world will be dressing up, watching movies, playing games, and doing a hundred different activities for May the 4th. Check local theaters for marathons or mini-conventions to commemorate the holiday, or find more events, activities, and party ideas at maythe4th.starwars.com.
Are you a Star Wars fan? How are you planning on celebrating Star Wars Day? Do you have a favorite film or character from the franchise?
Posted by Andrea Sparks