May Birthstone: Emerald
Posted at May. 8, 2013 at 3:55 PM

May is the month of emerald -- a time to celebrate this legendary gem. Green is the color of life and renewal, which makes emerald the ideal birthstone for late spring. Emerald green also just happens to be Pantone's color of the year for 2013, and it's everywhere in fashion right now. Andrea has some great ideas for wearing the style in her blog post from January. Of course, anyone with a May birthday will want the real thing -- some new emerald jewelry.
Artists have used emerald as decadent decoration since they were dug out of Cleopatra's ancient mines. Today, the dazzling stones are found mostly in Colombia and Zambia. Here are some tips on adding emeralds to your contemporary fashion.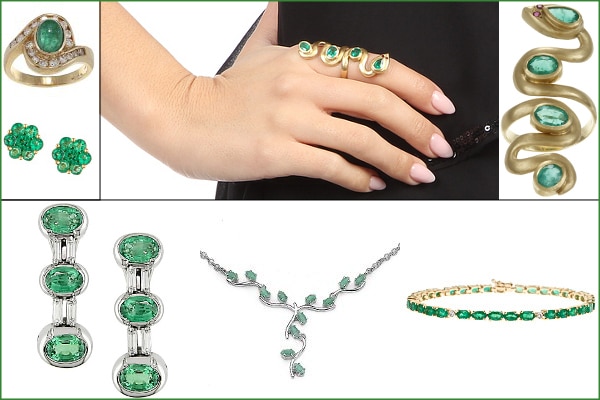 Opulent emeralds have long been associated with legendary beauty, and they have a rich history in jewelry. This green is an enchanting color that gets lots of attention, so it shines in statement jewelry. You'll find these look-at-me designs in a lot of antique estate jewelry and also in earrings and cocktail rings. For example, this gold and emerald snake ring surely will get you noticed during a night on the town. When you wear such a daring piece of jewelry, keep the rest of your outfit simple. A streamlined look will help showcase the jewels.
Emeralds may have a larger-than-life profile, but that doesn't mean they have to be saved for special occasions. The green gems are a lovely match for summer fashions, especially when set in white gold or silver. Pair a pretty emerald necklace with a floral sundress or a cute white linen top. Or choose a pair of emerald stud earrings or an elegant emerald tennis bracelet to accessorize with just the right pop of color.
If you have a May birthday, wearing your emerald birthstone this month will bring you good fortune and renewed vitality, according to gem mythology. Make sure you have plenty of these gems in your jewelry box. And if you don't have a May birthday, treat yourself to some emeralds anyway. After all, this is the year for it.
Have you added emerald green to your wardrobe yet this year? What is your favorite piece of birthstone jewelry? Share your ideas for adding green to the summer of 2013.
Posted by Shawna Edwards