March Birthstone: Aquamarine
Posted at Mar. 20, 2013 at 11:56 AM

As the snow melts and the sun returns to blue skies, it's time to start thinking about spring fashion -- and to continue our look at stylish birthstone jewelry. Aquamarine is the March birthstone, and it's a wonderful gem for this time of year. The colors, ranging from pale green to deep ocean blue, can be either calming or invigorating in the right setting.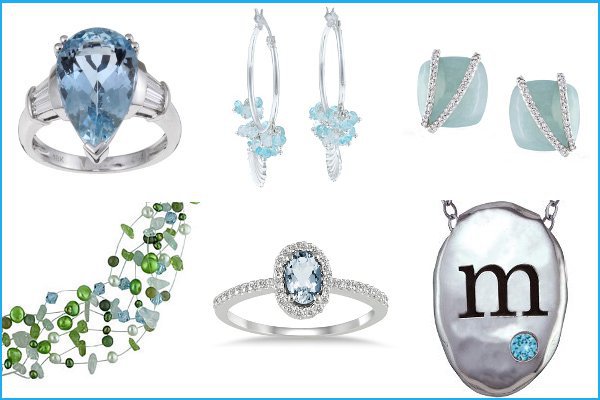 Let's start with statement jewelry. According to ancient folklore, mermaids guarded the enchanting aquamarine jewels in a treasure chest hidden deep in the ocean. Obviously, such a precious gem belongs in your jewelry box. Smooth cabochons are a trend this spring, and you can get the look with these elegant earrings; diamonds form a glittering contrast to the milky aquamarine stones.
Diamond halo rings continue to be popular, so consider choosing one as your March birthstone jewelry. And if you'll soon be shopping for a very special ring -- and don't want the same ring everyone else is wearing -- look to the symbolism of the March gemstone. Aquamarine is said to promote joy and harmony in marriage, so it's the perfect choice for an exquisite one-of-a-kind wedding ring.
Now let's brighten a spring wardrobe. Dangling earrings or hoops accented with aquamarine chips accessorize colorful dresses perfectly, and this mixed-gem beaded choker, full of blues and greens, adds pizzazz to any casual outfit. Choose an initial pendant decorated with one bright birthstone to wear every day.
Aquamarine is beautiful by itself, but it also shines when mixed with various blue and green gemstones and crystals. And its blues complement the emerald green that is Pantone's color of the year. (Be sure to read Andrea's tips on adding emerald to your fashion before you start your spring and summer shopping.)
How do you wear your birthstone? Do you like your gems to be discreet or dazzling? Either way, wearing some aquamarine jewelry is a good way to chase away the winter blues.
Posted by Shawna Edwards