Main Street Revolution: The Spirit of Independence
Posted at Jul. 3, 2012 at 2:31 PM

Between the fireworks, the Stars and Stripes, the wide array of food at barbecues, and the parades, the 4th of July is one of the loudest, most colorful, and most exciting holidays of the whole year. And it should be! After all, we're celebrating independence and the American spirit. One place you can see that spirit in action is in our Main Street Revolution store, where entrepreneurs from around our great nation gather to sell their wares.
To celebrate our Main Street merchants and their independent spirit, we're giving away prizes from their seven of their shops in our Made in America Sweepstakes. If you like us on Facebook or follow us on Twitter, you know that we started last Friday, but it's not too late to win now. Today we're giving away an adorable owl messenger bag, and we're giving away a crystal jewelry set tomorrow and a necklace and earrings set on Thursday.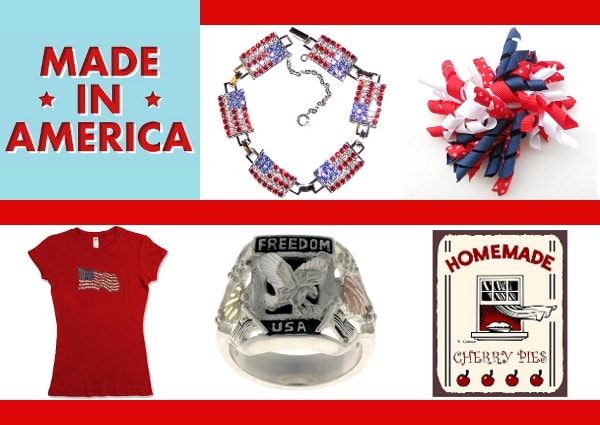 Even if you don't win, we hope you'll stay and shop. I've gathered a collection of patriotic products from the Main Street store to show you the fun stuff that's waiting there for you, but this is just the beginning of the great products available. You'll find furniture, home decor, clothing, baby gear, beauty products, gourmet food, and much more -- all from small business owners who believe in using hard work and imagination to support their families.
Are you a small business owner? We love the can-do attitude that entrepreneurs like you have. We created Main Street to use our distribution channels and help merchants like you reach a larger audience and grow your business. You can learn more about Main Street Revolution here and apply to sell products on Overstock.com here. If you have further questions, please email mainstreet@overstock.com.
I'm so inspired by the Main Street merchants, and I can't wait to celebrate the freedom and independence we all share. My flag is ready to hang and I have all the ingredients ready to make homemade ice cream for the barbecue I'm going to tomorrow. How are you celebrating the 4th of July this year?
Posted by Stephanie Petersen