Love at First Seat: Make a Statement with Furniture
Posted at Feb. 21, 2013 at 3:22 PM

Are you ready for spring? Maybe you're still buried beneath a snow drift? It's been a rough winter for many (even for us snow bunnies here in Utah), but warmer temps are just around the corner! There's just something about more sunshine that motivates me to make big plans, organize my space, and spruce up my surroundings.
And while I can't afford a complete overhaul, I think a new statement-making chair may be all I need to give my space an entirely new look. I also love the idea of swapping my chairs out with the season; a set of clear stacking chairs might seem cold in the winter, but would look entirely cool and collected in the dog days of summer.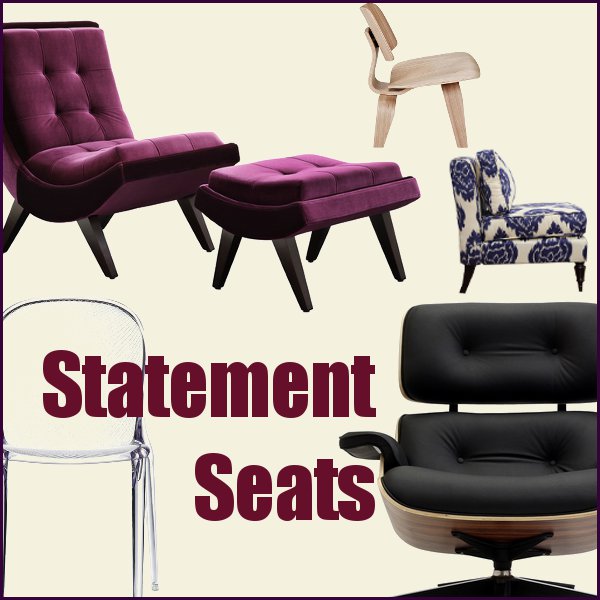 How about a chaise lounge and ottoman in vibrant purple velvet? It's a striking look that adds dimension to a color-rich living room or creates a focal point in an all-neutral space. The same goes for this Ikat-print club chair. Rendered in cobalt blue, which was seen all over the runways at the latest New York Fashion Week, it's the perfect way to add a punch of color to your decor without breaking the bank.
Do you prefer a more streamlined look? Overstock.com has hundreds of mid-century modern styles to match your taste and your budget. No matter your style, you can save an extra 10% on hundreds of pieces of furniture, home decor, bedding, and mattresses now through Monday as part of our Extended Presidents Day Sale.
There's nothing more modern, or iconic, than an Eames-style leather chair and ottoman set or a molded plywood lounge chair, both hailed as some of the greatest design achievements of the 20th century. In your home, they would make a statement in style and simplicity.
Which pieces of furniture make the biggest statements in your home? Do you like to update your decor to match the season? How do you plan to decorate your home for spring?;
Posted by Jen Gustavson